---
How To Get Your Money Back From Scammers?
Want to get your money back from a scam?
Fill in the contact form on the page in this link and you will be able to get help in recovering your lost funds! You will be walked through the entire recovery process by a representative of a recommended fund recovery service after which a case will be opened for you by a case manager.
---
AndinaFX Review

There are millions of people all over the globe who are trading in the financial markets. Some people are able to enjoy massive success, others make moderate profits, while there are also those who end up losing everything. If you speak to any of them, all of them will tell you the same thing; the online broker you use can make a big difference in your trading experience. They are your partner in your journey, one you need to be able to trust. The problem is that scam brokers have made this rather difficult, particularly because distinguishing them has gotten harder than ever.
Most people don't know how to see the red flags and this creates a problem because they may end up falling for the tall promises and claims these brokers make, only to end up being victimized. So, how do you ensure that doesn't happen? You have to know what signs to look for and sort through the options. This means that not believing everything a broker tells you, as in the case of AndinaFX. This AndinaFX review will tell you exactly why you need to avoid doing so.
Presumably located in Peru, AndinaFX has advertised itself as the 'official broker of the Andean community'. According to them, they are a globally recognized brokerage in the forex industry and are catering to millions of traders all over the world. Further claims include providing easy access to an array of trading instruments, such as forex currency pairs and CFDs on precious metals, indices, commodities and shares. They also offer prime trading conditions and two most well-recognized trading platforms i.e. the MetaTrader4 and the MetaTrader5.
All of this definitely sounds great and those who don't know better will mostly fall for everything AndinaFX is trying to tell them. However, you need to learn to look at the red flags and not just believe everything a company is telling you. Otherwise, you will end up getting scammed fairly easily. So, what should you look at? Let's find out: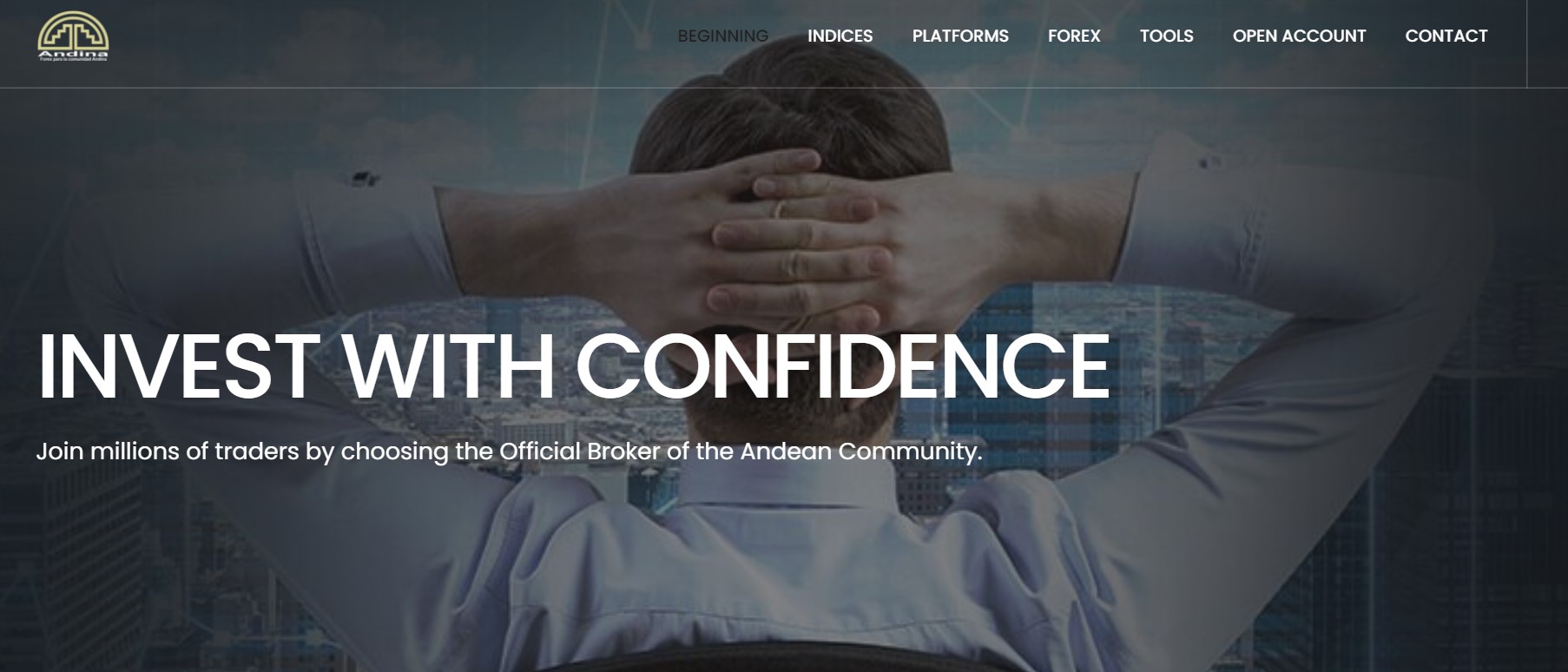 Regulatory status
Just because a brokerage claims to be regulated doesn't mean it really is. As mentioned above, you shouldn't believe everything a company says and this applies to their regulatory status as well. Anyone can create a website and write pretty much anything on it, so it wouldn't be wise to rely on what you find on the internet. As stated earlier, AndinaFX has claimed that it is based in Peru and this is actually all the information you will find about the brokerage. They are not regulated anywhere because the financial authorities in Peru don't pay any attention to the forex industry at all.
Hence, it is not possible for anyone to verify what AndinaFX claims. Moreover, if you go over their website, you will realize that it appears to be fully anonymous. There is absolutely no information provided about the parent company of the broker that founded it, where it may be incorporated, or any other corporate background is given. Having a Peruvian post box address is really meaningless at this point because there is no proper forex license that can really verify it. Hence, it would be clearly unsafe for anyone to trade with AndinaFX because they have no idea who they are dealing with and it is not a licensed platform.
Minimum Deposit
The next issue that you are likely to encounter with AndinaFX is relating to their minimum deposit. If you have checked a couple of brokerages, you are aware that most of them require you to make a minimum deposit for opening a trading account. This is not a problem as most of them usually ask for the standard $200 to $250 deposit, which is quite reasonable. Yes, some brokerages may not ask for any deposit at all, or go even lower, but it is not a big issue.
The real issue is the minimum deposit that you will come across when you check out AndinaFX because they are asking for a whopping $50,000 as minimum deposit. This is beyond reasonable and nothing an authentic and genuine broker will ever ask. The deposit needed for PAMM accounts and institutional accounts is even higher, which is undoubtedly worrisome because a regulated and genuine company would never do so.
Leverage
Brokerages are known for offering leverage and this is an incentive for traders because it gives you room to trade more than what your capital allows you to. Of course, leverage is not without its risks because if the trade doesn't move your way, you end up making a loss. If it does go in your favor, you end up with profits. You will find leverage of 1:888 available at AndinaFX and this will definitely impress many because it means that you can make a lot of big trades.
However, it is important to note that most of the financial regulators around the world have put a cap on the leverage that brokers can offer to their clients. This is because of the risks associated with it and the fact that AndinaFX is offering its clients this kind of leverage should immediately send up a red flag. If it were a truly licensed and regulated company, it wouldn't be doing so. It is clearly offering this kind of leverage to draw people in and you need to be smarter than that.
Payment Methods
It is a given that you have to make deposits and withdrawals during trading and this means looking at the payment methods given to you by a broker. You are promised PayPal, MasterCard, Payza and Skrill as options at Andina FX, but there is no way to ascertain if they are really available or not. The key is to use credit cards, or other options that allow you to file for a chargeback in case of a problem. Otherwise, you may end up losing your funds altogether if you get scammed.
Bottom Line
Despite the offer of the MT4 and MT5 trading platforms, you shouldn't ignore AndinaFX's red flags and protect yourself from any major risk.