---
How To Get Your Money Back From Scammers?
Want to get your money back from a scam?
Fill in the contact form on the page in this link and you will be able to get help in recovering your lost funds! You will be walked through the entire recovery process by a representative of a recommended fund recovery service after which a case will be opened for you by a case manager.
---
Crypto-Dock Review


One of the hottest trading instruments these days is none other than cryptocurrency, as the volatile nature of this asset class has made them immensely popular in the financial markets. People all across the world are clamoring to jump onto the crypto bandwagon due to the fear of missing out. After all, who doesn't want a share of the massive profits these digital currencies appear to be delivering? Obviously, it means that brokers offering access to the crypto space is in high demand and Crypto-Dock is one of them. But, signing up without checking out a Crypto-Dock review is not recommended.
This is due to the fact that the crypto market has become equally notorious because of its scams. Fraudulent brokers have increased twofold in the market because of the huge number of people participating in it and this means that extra caution is required to navigate it. Signing up with the first crypto broker you find wouldn't be considered a smart move because it exposes you to the risk of frauds and scams. Unless you are willing to lose your hard-earned money, you should do your homework first and then sign up.
A lot of people end up being fooled by the appearances of the scam broker; they deliberately create professional websites to create a false sense of security and that's how people become entrapped. It is something you need to watch out for in the case of Crypto-Dock as well, which is one of the brokers that's mainly focused on the crypto market. It is presented as the most trusted brand in the crypto industry and promises to deliver a crypto evolution that can help you finance your future. Likewise, their website appears to be friendly and neat, but this is what you should be wary of.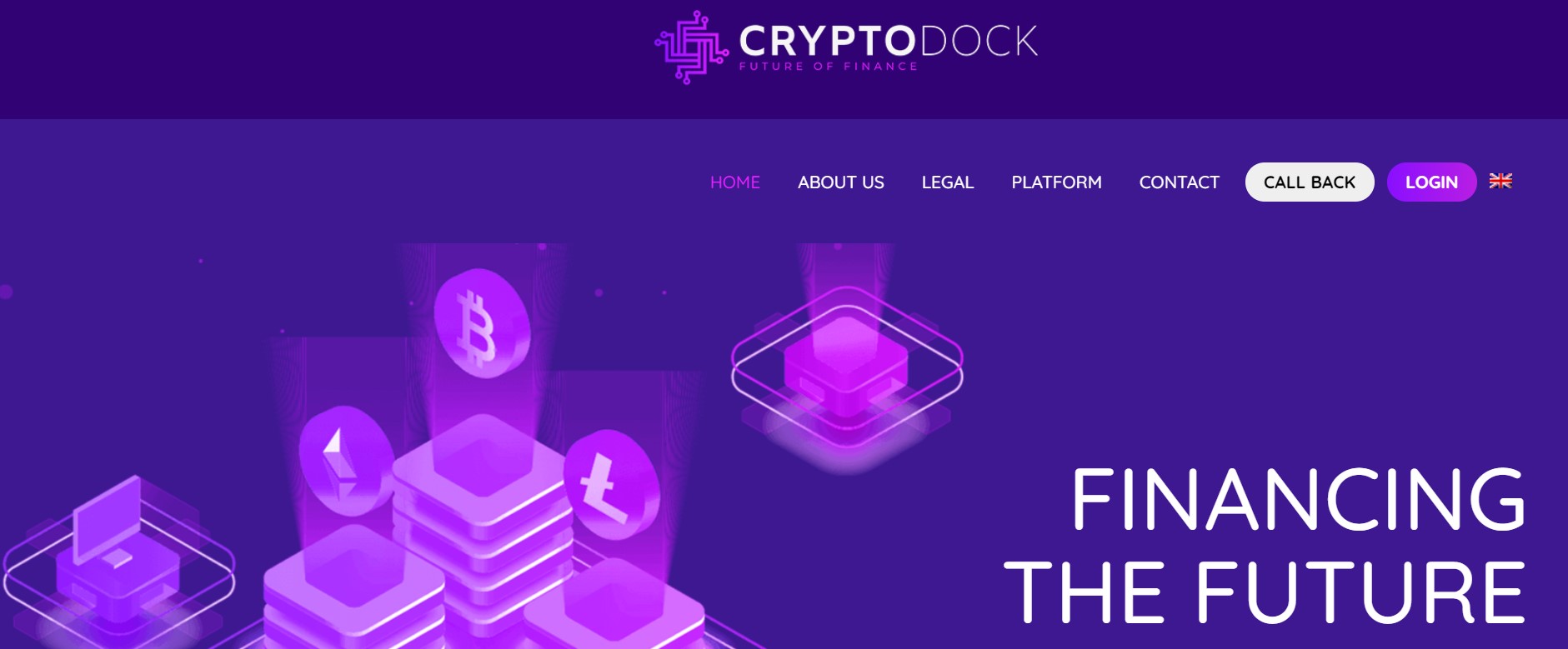 Check out the following Crypto-Dock review to find out exactly what is wrong with this platform:
An unregulated broker
Regulation should be your priority when you are looking for a broker because it adds a layer of security you cannot find in any other way. Regulated brokers are monitored by third-party authorities, which means they are answerable to someone and can be legally pursued. The same rules don't apply to unregulated brokers, due to which they are at the heart of most of the scams that occur in the financial markets. When it comes to a market as volatile and unregulated as crypto, it becomes even more important for you to opt for a proper regulated broker.
When you check the Crypto-Dock website, you will find that it is virtually anonymous and doesn't offer you much information about the company behind the broker. The only information that you will find is a post box address in St. Vincent and the Grenadines and this cannot assuage your fears. Why? This is because St. Vincent and the Grenadines is an offshore destination, which does not license brokers. Therefore, anyone can claim to set up a company there because you cannot follow up and verify the regulation. This means that Crypto-Dock is an unregulated broker that cannot be trusted.
Malicious Terms and Conditions
Brokers require you to sign up with some Terms and Conditions before you are permitted to use their services. These dictate what kind of a relationship you will have, including the fee to be paid and other policies that are applicable. You will find that Crypto-Dock has malicious Terms and Conditions in regard to withdrawals. You will not be allowed to withdraw even a single dollar because they have clearly stated that they will not commit to any timeframe when it comes to approving withdrawal requests. This likely means that your withdrawal requests will not be approved at all.
False profit claims
Another problem that you will come across on the Crypto-Dock website is their claim of offering you end-to-end services, which include offering you a personal broker to guide you and even trade on your behalf. This sounds very impressive because it means that you don't have to do any trading and someone else will make the profits on your behalf. Unfortunately, this is just a false claim.
It is because most brokers by nature are market makers, which means they make their profits when their clients lose their trades. So, why will they help you make profits? They certainly won't and you will end up losing your money if you trust Crypto-Dock to trade on your behalf.
No details about the trading platform
The trading platform provided by a broker is its most important offering because it is the software that will connect you to the financial markets. The problem with Crypto-Dock is that it has only mentioned the availability of a web-based trading platform. There is no other information available about the platform, neither have they given access to it. You don't know what features and tools will be provided. Most importantly, good broker usually offer the MT4 or the MT5 trading platforms, as they are considered the best in the market.
High leverage
As mentioned earlier, Crypto-Dock claims to focus primarily on offering crypto CFDs to its clients due to which the leverage of 1:20 is considered high. These digital currencies are already very volatile and carry huge risks. When you combine it with this much leverage, it can be extremely dangerous.
Lack of payment methods
You have to make deposits and withdrawals on a broker's website in order to use their services, which means checking what payment methods are provided to you. Unfortunately, you will not find any relevant information provided by Crypto-Dock in its presentation about these methods. This is very disappointing because a good broker would always be open and transparent about its services and features, including payment methods.
Ending Thoughts
After you have gone through the aforementioned issues, it becomes apparent that even though Crypto-Dock puts up a good appearance, it is not what it claims to be. The broker is unregulated and has a lot of other issues that you cannot compromise on.