---
How To Get Your Money Back From Scammers?
Want to get your money back from a scam?
Fill in the contact form on the page in this link and you will be able to get help in recovering your lost funds! You will be walked through the entire recovery process by a representative of a recommended fund recovery service after which a case will be opened for you by a case manager.
---
EVisionFX Review

There is no shortage of online brokers nowadays and every single one of them claims to be the best at what they do. However, it is easy for anyone to create a website and make some tall promises in order to attract people. There is no guarantee that you will find what they are offering and this is how scams happen. They lure people in through their impressive offerings and many have to learn the hard way. You have to do your research to find out if it is a trustworthy broker or not, as this will allow you to achieve your financial goals.
One of the options you will come across is EVisionFX, which is supposedly based in New Zealand. They have some offerings that can be attractive to traders, such as generous leverage. It goes as high as 1:200, which is quite impressive and can be used for increasing your profits, but the problem is that it can also lead to high losses as well. They have a web trading platform that you can access via a demo account and it looks decent enough. But, does this mean it is a good choice? There are some glaring issues with the broker that indicate it cannot be trusted. Check this EVisionFX review to find out: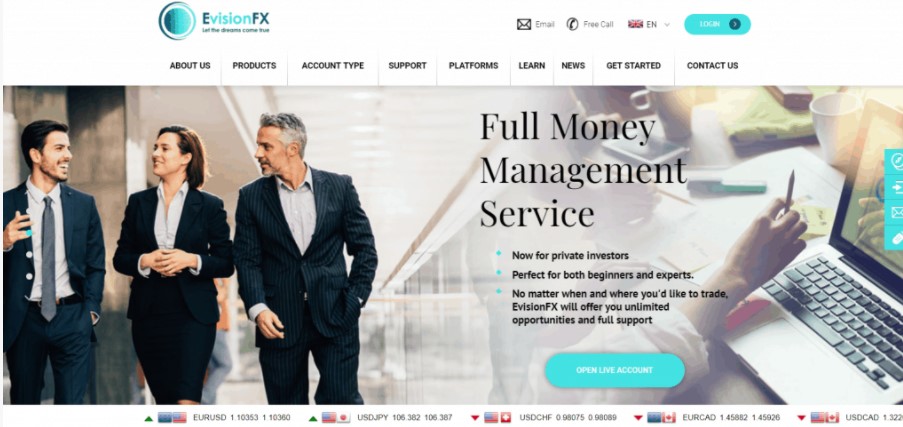 Regulation
The biggest issue with EVisionFX is that the corporate information they have provided is extremely chaotic. According to their website, the broker is regulated by the Claims Management Regulator in the United Kingdom, the Financial Markets Authority in New Zealand and Investment Industry Regulator in Canada. From all three of the regulators, only the one in New Zealand is related to forex trading and when you check its registry, you will not find EVisionFX listed anywhere. This means that they are misleading their customers regarding their regulatory status, which should immediately send up a red flag.
Minimum Deposit
While there are some brokers in the market that don't ask for a minimum deposit for opening an account, others do have this requirement. Therefore, it shouldn't be a problem if a broker is asking you to deposit a minimum amount to start trading. The issue with EVisionFX is that they ask for a hefty deposit and that should be worrisome. They require a deposit of $1,000 for the most basic account and this is approximately four times the average industry amount of $200 to $250.
This is a major downside of EVisionFX because they want their clients to risk a substantial amount of money and this is something not advisable. When you are trying out a new platform, you don't want to start with such a high amount and the fact they are asking for it should immediately give you a warning. It is usually scam brokers that ask for such heavy deposits and then come up with policies that make it impossible for people to be able to withdraw their funds.
Trading Conditions
Knowing the trading conditions of a broker is important because they will determine how much profits you make and the costs you incur. If you check out the spreads charged by EVisionFX, it will certainly be a concern because the demo account indicates they are charged 3 pips for the EUR/USD pair. This is on the high side and is a huge disadvantage because it means you will have to pay more to the broker on every trade.
Trading Platform
As mentioned earlier, you will find that EVisionFX has provided a web trading platform to their clients, rather than the leading MetaTrader4 (MT4). All authentic and professional brokers offer the MT4 trading platform to their clients because of its advanced trading technology and the powerful trading tools it has, but you have to settle for what they are offering.
Conclusion
After you have assessed all the features of EVisionFX, it becomes evident that it is an unregulated brokerage that claims to be registered in New Zealand. But, there is no coherency on their website and the trading conditions are also unfavorable.