---
How To Get Your Money Back From Scammers?
Want to get your money back from a scam?
Fill in the contact form on the page in this link and you will be able to get help in recovering your lost funds! You will be walked through the entire recovery process by a representative of a recommended fund recovery service after which a case will be opened for you by a case manager.
---
Hive Markets Review


When you are prepared to make an investment in the financial markets, it is vital to bear in mind that the brokerage you select can have a big impact on your success. A professional and quality platform can simplify the trading process and also give you numerous benefits, while the process is complicated and turned into a nightmare by fraudulent and scam brokers because you suffer from hefty losses. Of course, distinguishing between their offerings is not that easy because the scammers deliberately add features to confuse and attract traders. This is where Hive Markets review can be incredibly handy.
According to Hive Markets, they have years of experience in the financial markets, which makes them a reliable brokerage. They also offer their clients more than 200 trading instruments, along with leverage as high as 1:500 and ultra-low spreads. Other attractive features of Hive Markets include pure ECN connectivity, the industry standard MT4 trading platform and the choice of six accounts. At first glance, all of this seems quite professional, but in reality, Hive Markets is not a brokerage to be trusted. Why? Read on to find out: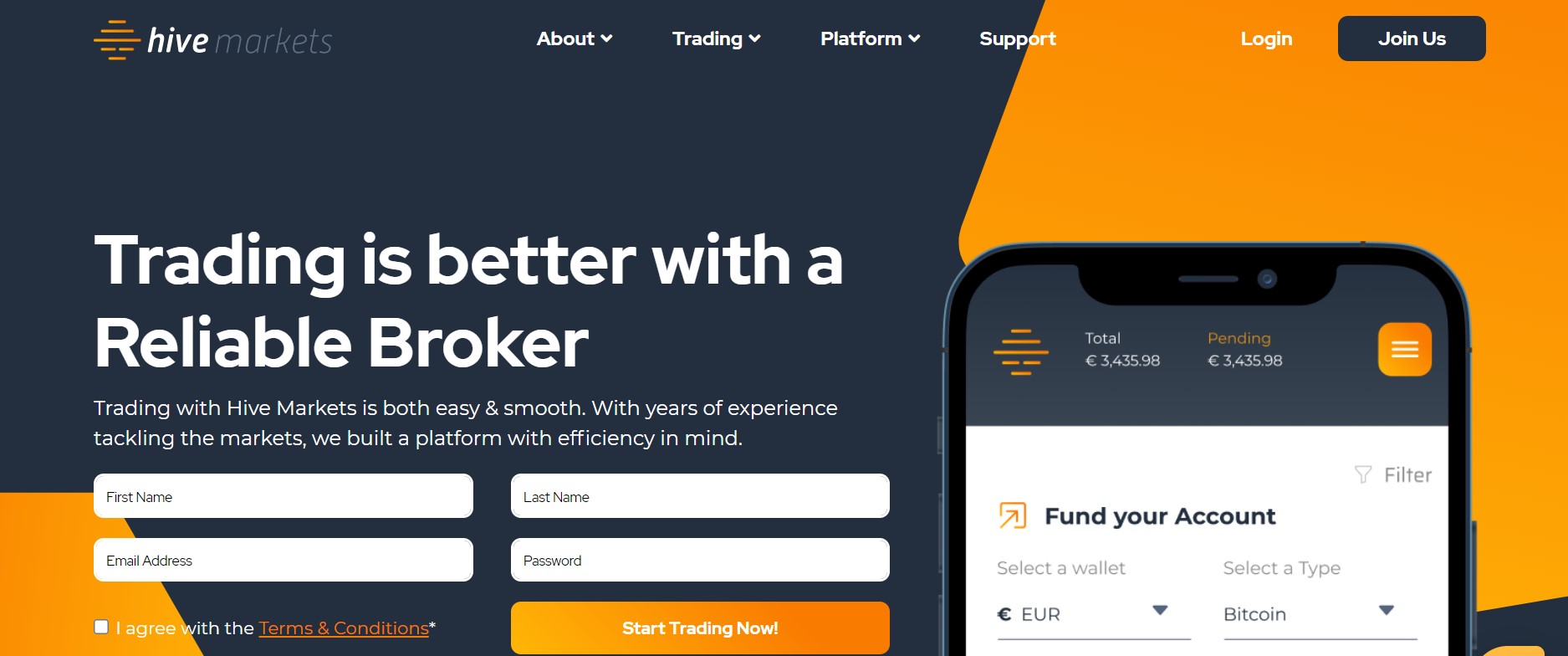 Background
The best way to judge the credibility of any brokerage is by looking at their licensing and regulation. The problem with Hive Markets is that this broker is virtually anonymous. What does this mean? It means that there is absolutely no information on the website at all. You will not find any corporate background, a physical address, or even a contact phone number that can be used. All that you do discover is the name of a company i.e. Hive Technologies LLC and this is seen in the section of 'Governing Laws and Jurisdiction' in the Terms & Conditions on the website. They imply that Hive Markets is probably an offshore broker that's based in St. Vincent and the Grenadines.
Terms & Conditions
The problem with unregulated brokerages is that they are not accountable to anyone. They are free to come up with their own rules and policies and those who sign up with them have to agree. Therefore, they are known to deliberately add such clauses in their Terms & Conditions to explore their clients and Hive Markets is no different in this regard. All you have to do is check their legal documents and you will know.
According to the broker's Terms & Conditions, customers will have to pay a bunch of charges, which include idle account charges, statement charges, markups and mark-downs, money manager fees, account transfer charges and order cancellation charges. Plus, they have added that the company is free to make any changes to these charges without notice.  Thus, if you sign up with Hive Markets, they will impose a variety of fees and charges on you, eating away your money.
Leverage
As mentioned in the beginning, you are offered a high leverage by Hive Markets and while this may be considered a benefit by some, it also carries high risk. It can undoubtedly multiply your profits, but can also increase your losses. Consequently, most regulated brokers are not permitted to offer high leverage and Hive Markets offering a leverage of 1:500 is certainly shady.
Payment Options
Another problem that you will come across on the Hive Markets platform is that they have made false claims about their payment options. The broker has made mentions of Visa and MasterCard, which is reassuring for traders because they know these methods allow for a chargeback in case there is a problem, so you will be able to get your money back. In reality, Hive Markets only allows you to use bitcoins for payments. These payments are irreversible and untraceable as well, which means you will not be able to claim for a refund in case there is a problem.
Ending Thoughts
Despite the availability of the MT4, it is apparent that Hive Markets is a fraudulent and scam broker that you shouldn't use at all.