---
How To Get Your Money Back From Scammers?
Want to get your money back from a scam?
Fill in the contact form on the page in this link and you will be able to get help in recovering your lost funds! You will be walked through the entire recovery process by a representative of a recommended fund recovery service after which a case will be opened for you by a case manager.
---
Markets Global Review


With more and more people rushing towards the financial markets, it is not surprising that the demand for online brokers is surging. They are the ones that open the doors of these markets for those who are interested and facilitate the process of online trading. Nonetheless, this doesn't mean that every company is the same and offers you professional and reliable services. There have been too many incidents pertaining to the matter of scam brokers, which means this cannot be ignored. You have to contend with the possibility that you may end up with a fraudulent broker, if you are not careful. This Markets Global review can show you just how these brokers operate.
There was a time when it was easy to identify scammers, as they had really big holes in their stories and their websites were not even close to professional. These days, it is easier said than done because making professional websites has become quite easy, due to advancement. Therefore, you have to be more vigilant and dig deeper to learn the truth. Otherwise, it would be hard to figure out if the broker is fraudulent and you may end up becoming another victim.
A lot of people have already suffered this fate because they were too eager and didn't think things through and you have to avoid this path. This applies to Markets Global as well, one of the names you will find when you initiate your search for an online broker. Just because they have a decent website doesn't mean their services will be of the same level. You will not have any difficulty in figuring out if this broker is any good or not by going through the following review: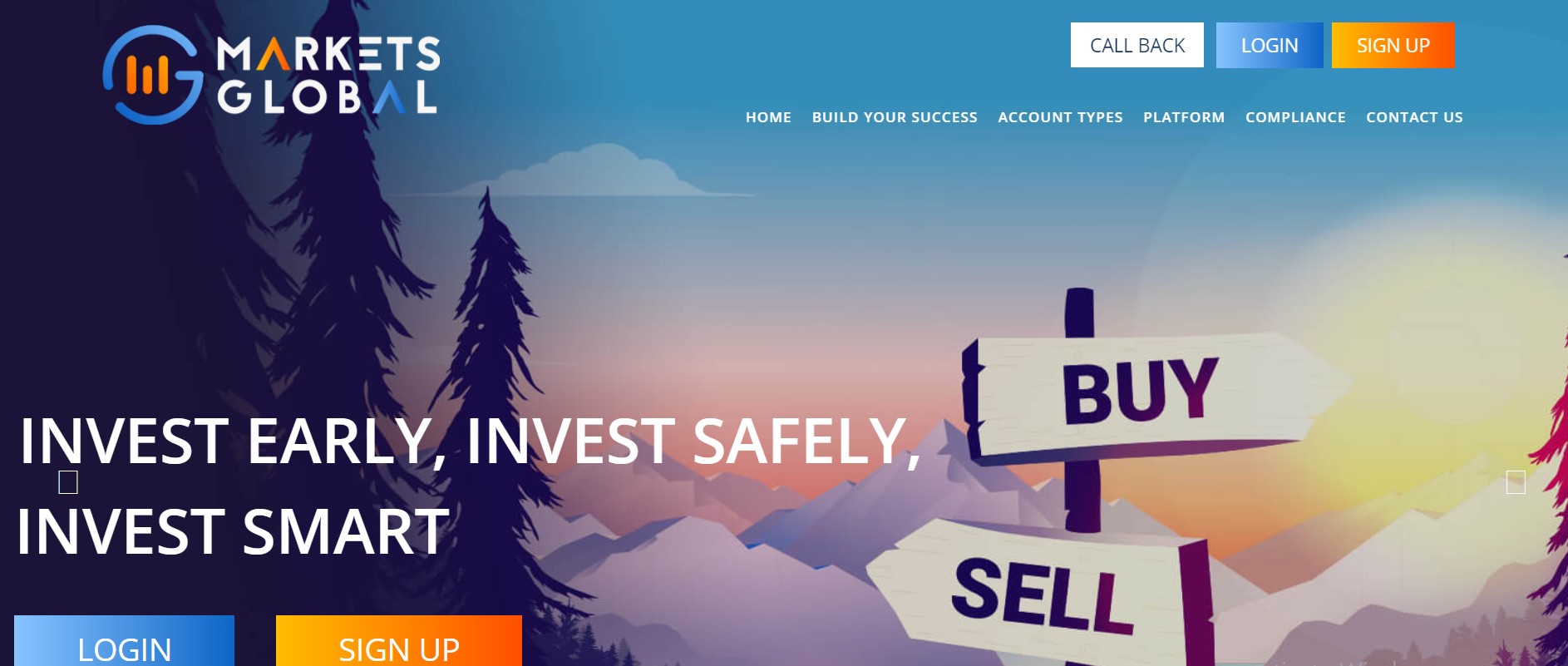 Their regulation and licensing
The first feature of a broker that gives insight into whether the company is any good or not is their regulatory status and licensing. It is obvious that a regulated and licensed company would be conscious of its actions and wouldn't do anything to damage their reputation. But, a broker that doesn't have a license to operate and is not regulated is an unknown quantity. The problem with Markets Global is that its website shows its office location to be in London, United Kingdom.
If they are being honest about their location, then it means that they are operating illegally. Otherwise, they are misleading you regarding where they may be based. In order to operate in the UK, Markets Global would have to be licensed by the Financial Conduct Authority (FCA). But, you can check the FCA's online register and you will not find the broker's name. Likewise, they have not mentioned anything regarding their licensing status and this is a question mark in itself.
In case you need more proof, you can simply consider the fact that Markets Global is breaking several of the rules imposed by the FCA on brokers operating in the country. These include offering crypto CFDs as part of their offerings, which have been banned in the UK, due to the high risk associated with the asset class because of its volatile nature. The other two policies they are contradicting are discussed later on.
Their Terms and Conditions
It is best for you to check the Terms and Conditions of a broker before signing up with them because it will tell you what rules you will have to follow and your relationship with them in the long run. It also gives insight into the fee they will charge you. The first thing you will find is that Markets Global is offering a trading bonus to its clients, another practice that has been banned by the FCA because it was unfair to the traders due to strings attached.
You will find that Markets Global is trying to lure people in by charging no fee for withdrawals, but after you check the conditions associated with the bonus they offer, it becomes evident that they don't charge any fee because they won't have to process any withdrawals at all. After all, they offer a bonus package in which withdrawals are not permitted for 120 days and then they have such trading volume requirements that they are impossible to achieve.
Their leverage
Leverage is part of the trading conditions that are provided by brokers to people who want to trade in the financial markets, but have limited finances. You will find that Markets Global is offering high leverage of 1:400, which you may find appealing because it gives you more room to trade. However, you shouldn't forget that there are risks associated with such high leverage. Most importantly, it is not possible for the broker to offer this leverage if it is indeed based in the UK because the FCA does not permit leverage levels of more than 1:30.
Their minimum deposit
Of course, you will have to deposit some funds initially to open an account and this shouldn't be a problem. Yet, it seems that Markets Global has made it one because they are asking for a whopping $10,000 as minimum deposit. Most brokers are now letting their clients open micro accounts for as low as $10 and even if they do ask for a higher deposit, it is never more than $250. This is 40 times more than the standard amount, which clearly shows that the broker is after your money.
Their trading platform
To add to your concern, the trading platform provided by Markets Global is a web-based one, which has very limited features, especially when you compare it to the MT4 or the MT5. There is no automated trading and most scam brokers are now offering similar web trading platforms to their clients.
Their payment methods
You will notice that Markets Global only offers you wire transfers for your payment needs, which is suspicious because these payments are final and do not let you apply for a chargeback.
Conclusion
After the long list of problems associated with Markets Global, you can safely conclude that it is not a good broker.