---
How To Get Your Money Back From Scammers?
Want to get your money back from a scam?
Fill in the contact form on the page in this link and you will be able to get help in recovering your lost funds! You will be walked through the entire recovery process by a representative of a recommended fund recovery service after which a case will be opened for you by a case manager.
---
SmartMetaTrade247 Review

If you have been seriously thinking about trading in the financial markets, then you have probably learnt that the online broker you decide to use will play a very important role in your journey. Yes, these markets have lots of opportunities and you want to start trading right away, but this does not mean that you choose a brokerage hastily because the consequences will reverberate throughout your career. Even a slight misstep can be a recipe for disaster, so you need to be very cautious. How can you do that? Checking this SmartMetaTrade247 review is one way to go about it.
What you need to remember is that scammers are very active over the internet and they often disguise themselves as legitimate brokerages to exploit people. Thus, when you are contemplating your options to sign up and start online trading, you have to ensure that you are not actually falling for the trap laid out by cybercriminals. No website will have a clear, flashing sign warning you that it is a scam or an authentic one. You are responsible for doing your own homework, which means looking into the details to find out the truth.
The website itself, or the services advertised should be the basis of your decision. These fraudsters are very smart and they will blatantly lie to convince you that they are authentic, when the reality is quite the opposite. SmartMetaTrade247 is the perfect example of such a brokerage because when you check it out, you will find that it claims to be based in California and fully licensed and regulated. According to the platform, it also has offices located in other jurisdictions, such as China, Germany, Australia, France and UK.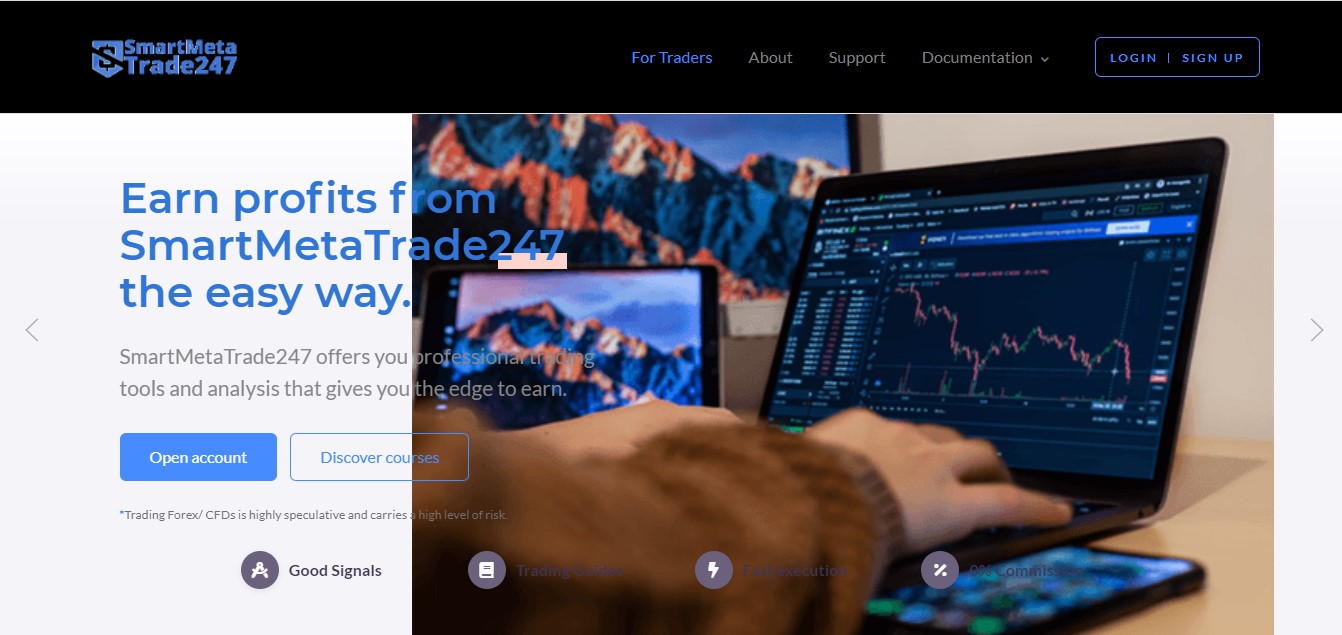 Some of the other details you will find on the SmartMetaTrade247 website is their claim to help you make 200% returns in your first session and easy money throughout. The offer is undoubtedly very tempting and you may want to give the brokerage a try. But, you have to do some homework and this can definitely pay off in this situation. How? Let's find out:
False regulation claims
If there is one way for you to distinguish between a genuine and fake broker, it is through their regulatory status and license. The former will usually have a license and be regulated by a renowned authority, while the latter will obviously be lacking in this area. The problem here is that most cybercriminals are aware that people understand this distinction. Therefore, they try to create the illusion of regulation and licensing to trick people. Those who do not look closer can fall into their trap, something that can happen in the case of SmartMetaTrade247.
As mentioned above, SmartMetaTrade247 claims to operate in about eight different countries. Another prominent claim that you will find is that of being licensed by the Financial Conduct Authority (FCA) in the UK, which is recognized as one of the biggest and well-respected regulatory authorities in the world. As far as the broker's headquarters are concerned, it claims to have them in Redwood City, California, United States.
First off, you can check the online register of the FCA and not find SmartMetaTrade247 listed there, which means its regulation claims are false. Secondly, another problem with the brokerage is that it does not provide a clear corporate address, which is not something a legitimate broker would ever do. Most importantly, if it really does have its headquarters in the US, then the company would have to have a license from the Commodity Futures Trading Commission (CFTC) and also be a member of the National Futures Association (NFA).
But, if you check the online registers of both these entities, you will not find it listed, which means that SmartMetaTrade247 is not regulated and licensed anywhere.
Virtually anonymous
We have already established that SmartMetaTrade247 is not a regulated and licensed broker, which means that anything they have mentioned on their website cannot be accepted and trusted. Anyone can create a website and add whatever content they want; it does not automatically make it true and the same applies here. In the case of this broker, their website is virtually anonymous because there is no way for you to verify anything. As mentioned before, they do not give a clear corporate address or any such background. Since it is not regulated anywhere, you cannot hold them accountable and have no idea who is behind it.
Unrealistic returns
One of the draws of SmartMetaTrade247 for some people are the claims of making money 'the easy way' and 200% returns within the first session. However, you should bear in mind that the financial markets are known for their volatility and unpredictability, so no one can guarantee you any kind of returns. Even the most skilled and professionals traders will not do so, which means that you are not dealing with an authentic brokerage.
Unusual withdrawal conditions
Another issue you will come across when you check SmartMetaTrade247's Terms and Conditions are the unusual withdrawal conditions. They require you to upgrade your account before you are permitted to make a withdrawal, which is another thing a genuine broker would never do. No company would ever prevent you from accessing your own money with such absurd conditions. The fact that SmartMetaTrade247 asks you to upgrade your account is because it would mean making a higher deposit, confirming that they just want your money.
No trading platform
Even though SmartMetaTrade247 has claimed that they offer web, desktop and mobile trading platforms to their clients, which are well-designed and for global traders, but this is another illusion. This is because when you dig deeper to find the platforms, you will discover that there aren't any. There is no trading platform at all, which is not something a legitimate broker would ever do because this is their primary feature and you cannot do any trading without a platform at all.
Conclusion
All of these flaws make it evident that you should not choose SmartMetaTrade247 as your brokerage because it is nowhere close to an authentic and genuine company.