---
How To Get Your Money Back From Scammers?
Want to get your money back from a scam?
Fill in the contact form on the page in this link and you will be able to get help in recovering your lost funds! You will be walked through the entire recovery process by a representative of a recommended fund recovery service after which a case will be opened for you by a case manager.
---
Spacemarket.pro Review


Are you interested in the forex market? Do you want to trade stocks? Perhaps, it is commodities that have drawn your attention? No matter what financial market it may be, there are a horde of opportunities that you can explore, but only if you have the right platform. Indeed, the broker you choose can make a big difference because they provide the conditions and everything else that's part of your journey. The market is teeming with platforms, including Spacemarket.pro. The offerings of this broker are quite attractive, but should you just take them at their word or go through a Spacemarket.pro review?
Every company you come across will advertise itself to be the best out there. They will obviously highlight their pros and features and not discuss their downsides, if any. Even if the platform is top-notch, there is a possibility that its offerings may not be according to your preferences. It is smarter to assess the broker before making your decision. The same applies to Spacemarket.pro.
Introduction
Presented as a reliable brokerage, Spacemarket.pro promises to open up the financial markets for people all over the globe. They boast a horde of trading instruments, which include more than 60 currency pairs, leverage that goes as high as 1:300, an innovative, powerful and user-friendly trading platform, a choice of four account options, the most competitive trading conditions and superior trade execution. With such offerings, it comes off as an exciting option, but does it really live up to all these claims? This Spacemarket.pro review can tell you.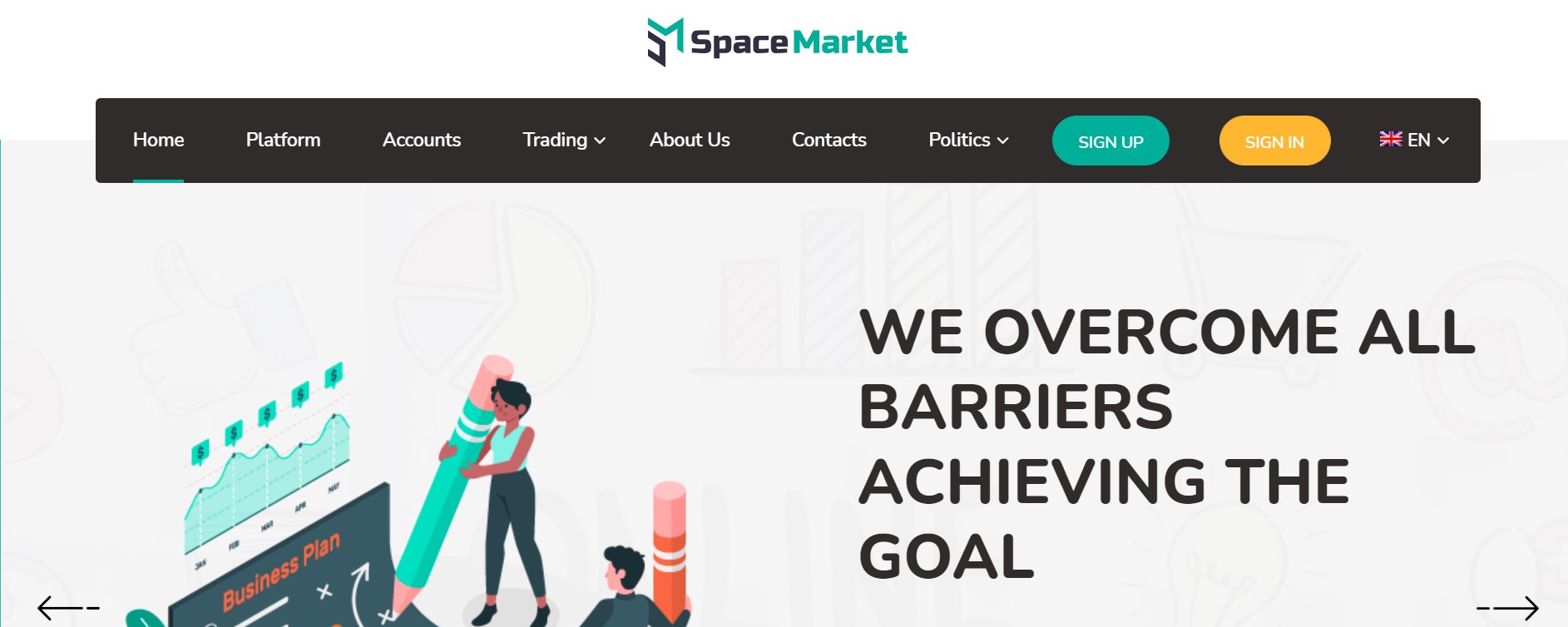 Licensing and Regulation
Located in the Commonwealth of Dominica is a company known as Widdershins Group Ltd, which is credit as the owner of Spacemarket.pro. The problem is that the company doesn't appear to have been regulated anywhere, which means that Spacemarket.pro is definitely not a legitimate platform. Yes, it is true that the local authorities in Dominica are not overly concerned about the forex industry, but given the fact that the broker is offering its services to traders globally, it should have registered itself with regulatory authorities in other regions like Australia, UK or even the EU.
But, you will come to know that Spacemarket.pro has done nothing of this sort and they are neither regulated nor licensed to provide their services anywhere. This means they are not a genuine platform and you need to steer clear of such shady ones.
Withdrawal Policies
Every trader would want to be able to access their money whenever they wish, but whether they are able to do so or not will depend on what kind of withdrawal policies are offered by their chosen brokerage. Spacemarket.pro appears to have some complex policies related to the trading bonus. They have stated that their clients have to meet certain trading volume requirements in order to make withdrawals after they have received the bonus. Only when the stipulated conditions have been fulfilled, then traders will be allowed to make withdrawals.
This was a tough pill to swallow because the trading volume requirement was on the high side. However, it gets even worse when you continue reading the Terms & Conditions on Spacemarket.pro. They have also stated that the terms and conditions applicable to the trading bonus can be changed and this means that they might impose additional withdrawal restrictions, even after you have managed to reach the trading volume requirement. Furthermore, they have also stated that there is no time frame for clearing withdrawal requests either, which is downright ridiculous.
Payment Methods
According to Spacemarket.pro, they are ready to accept all credit cards for your payments and this might be a relief until you find out that they are using a third party payment provider to do so. This is known as cashir.live and it immediately sends up a red flag. Why would they need a third party payment provider? It doesn't make sense and should alert you that your financial information could be compromised.
The bottom line is that Spacemarket.pro is not a safe choice for any trader looking to profit from the financial markets.