---
How To Get Your Money Back From Scammers?
Want to get your money back from a scam?
Fill in the contact form on the page in this link and you will be able to get help in recovering your lost funds! You will be walked through the entire recovery process by a representative of a recommended fund recovery service after which a case will be opened for you by a case manager.
---
ActivTradee Review


When you are thinking about trading in the financial markets, you would obviously want to connect with those who have actual experience in the market. Doing so will tell you one very important thing; online trading is undoubtedly very easy to jump into, given that there are no barriers to entry, but your success doesn't just depend on your knowledge, capital and skills. The broker you are signing up with can play a crucial role in your journey and this is one place where you shouldn't make any compromises. They provide you with the platform, tools and the services that are vital to the trading process. So, what is the problem? You will realize it when you check out this ActivTradee review.
A number of people are very eager to get started with trading, so they usually go with the first broker they come across. But, this can be a giant mistake on your part because scam brokerages are rampant in the financial markets. These are fraudulent companies that set up websites to attract people, get them to deposit their money, share their personal information and then either vanish without a trace or don't let them make any withdrawals, thereby stealing their money.
Unfortunately, you will find that millions of people all over the globe have suffered at the hands of these scammers. Moreover, they have only gotten better at it, which means spotting a scam broker has become more difficult than ever because they use very advanced tactics for this purpose. You will find ActivTradee in this category as well. How? It is pretending to be an established broker, which is certainly is not. As a matter of fact, it is actually trying to imitate a legitimate broker called ActivTrades.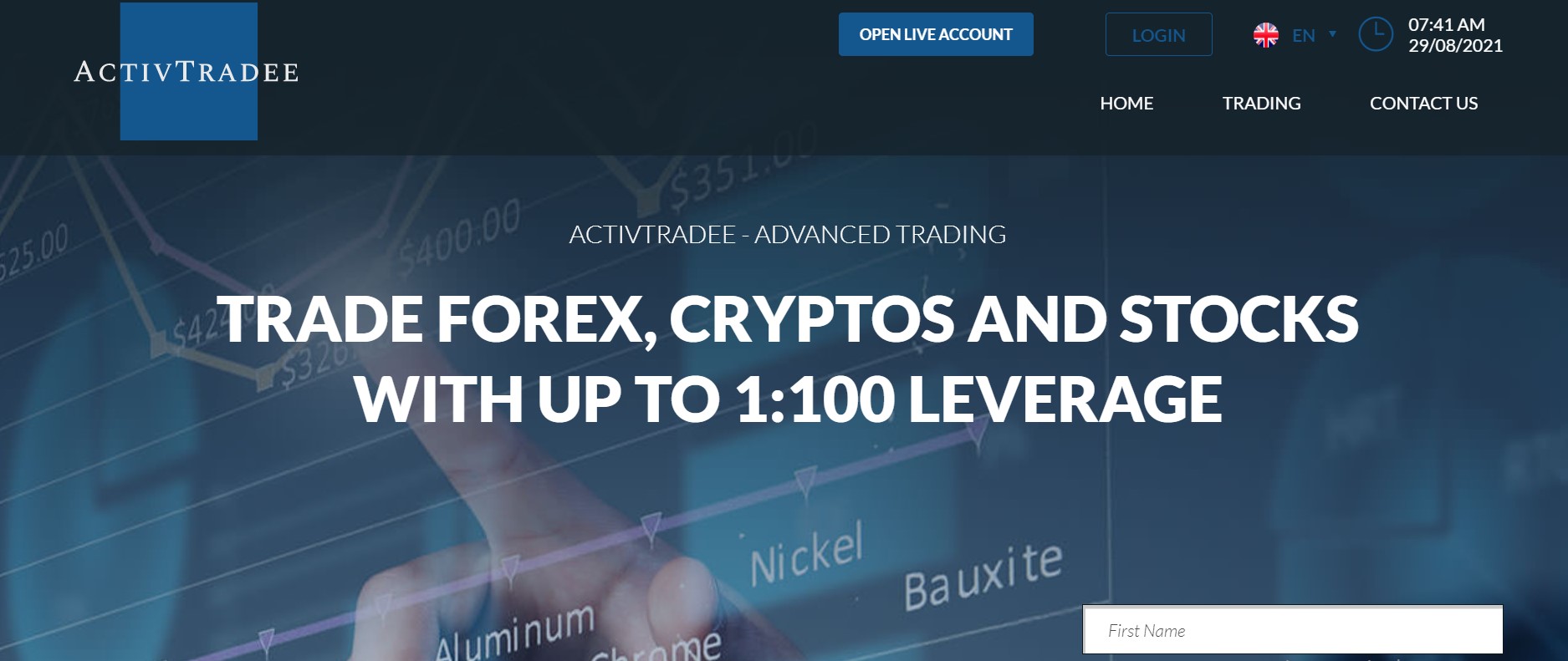 This tactic is known as a clone firm and scammers use it to confuse people into signing up with their company. Read on to find out more details about ActivTradee's scam.
Licensing and Regulation
Before signing up with any platform, you should definitely take a look at their licensing and regulation because this will show you whether it is a trustworthy firm or not. Every genuine company will be properly licensed and regulated because they understand its importance. ActivTradee has advertised a UK license for providing its services. In order to operate in the United Kingdom, a broker is required to be licensed by the regulatory authority in the country, which is known as the Financial Conduct Authority (FCA).
This is one of the well-reputed regulators in the world because of their requirements and rules, but all you have to do is check their online register to discover that ActivTradee is nowhere to be found. As a matter of fact, you will not even need to check their register to find out because the brokerage has broken a lot of rules set forth by the FCA for the brokers it regulates. These contradictions indicate that it is not a legitimate broker. For instance, ActivTradee claims to offer crypto assets to its clients, which were banned by the FCA last year. Other contradictions are discussed below.
Bonus Policy
Another major rule that FCA has set out for its brokers is that they are not allowed to offer traders any bonuses. This was introduced after it was noted that many companies were exploiting clients in the name of these bonuses by adding some strings. However, when you check out ActivTradee, you will discover that the company is offering bonuses to its clients. What is worrying is that they have not mentioned any terms and conditions that might be associated with these bonuses. This means you have absolutely no idea about what you will be expected to do. As in most cases, they probably have some minimum trade volume requirements that you will not be able to meet.
Leverage
Every broker offers leverage to its clients and it is no different in the case of ActivTradee, but the problem here is how much leverage they are offering. You will find that the maximum leverage you can get here is 1:200, which is against the rules of the FCA. The regulatory authority does not permit brokers to offer such excessive leverage to its clients because of the risks attached to it. Even though it claims to be licensed in the UK, ActivTradee is not following the rules of the country's regulatory authority.
Trading Platform
The software used for trading in the financial markets is known as the trading platform and every broker is responsible for providing one to its clients. The platform has to be capable of doing its job for traders to have a good experience, or else it can result in disaster. The problem with ActivTradee is that they have given their clients a web trading platform, which doesn't come anywhere close to the top trading platform in the market.
Every genuine and authentic broker is aware of the importance of the trading platform and so, they offer the industry standard MT4 or the MT5 trading platforms. These are known for their powerful technology and top-notch trading features. You would expect a licensed broker to offer this platform to you, but ActivTradee is offering an entirely different one, which is often provided by most of the shady brokers operating in the market. This is another clear indication that it is not a genuine broker at all.
Moreover, you will also find that there is a link to download a platform on the ActivTradee website, but they have not provided any information about it. This is likely to be malware that can steal all the private and sensitive information on your device.
Bottom Line
All of these red flags are clearly pointing towards one thing; ActivTradee is not a genuine and legitimate website and you should definitely avoid trusting such a platform. Even if they have a minimum deposit of $250 and support payments via wire transfers and credit card deposits, you should steer clear of this brokerage because of the major flaws it has.