---
How To Get Your Money Back From Scammers?
Want to get your money back from a scam?
Fill in the contact form on the page in this link and you will be able to get help in recovering your lost funds! You will be walked through the entire recovery process by a representative of a recommended fund recovery service after which a case will be opened for you by a case manager.
---
AGKapital Review

Signing up with a broker means that you will be required to trust them with your personal information, along with your hard-earned money. Of course, this is no small commitment, especially if you plan on trading in the financial markets in the long term. You have to have a reliable broker by your side that can offer you everything you need and also provide a safe trading environment. Unfortunately, not every brokerage will fit the bill and the number of scams that have been happening in the markets indicate that you have to exercise extreme caution when selecting a broker. How can you do that? Checking out this AGKapital review is one way to go about it.
After all, it is not a good idea to opt for a brokerage simply by looking at their website and accepting their claims at face value. These days, anyone can create a website within minutes and make lots of promises. The key is to ensure they can really deliver and are what they claim to be. Most scam and fraudulent platforms advertise themselves as professional and authentic brokers and turn out to be the complete opposite later on. This can be quite devastating when you have trusted them and you do not want to deal with the disastrous consequences.
Therefore, it is a must to do your research and ensure that the broker you are choosing is exactly who they claim to be. This also applies in the case of AGKapital, one of the options you will have at your disposal. Can you rely on this broker? You can only find the answer to this question when you take a close look at it. Let's do that: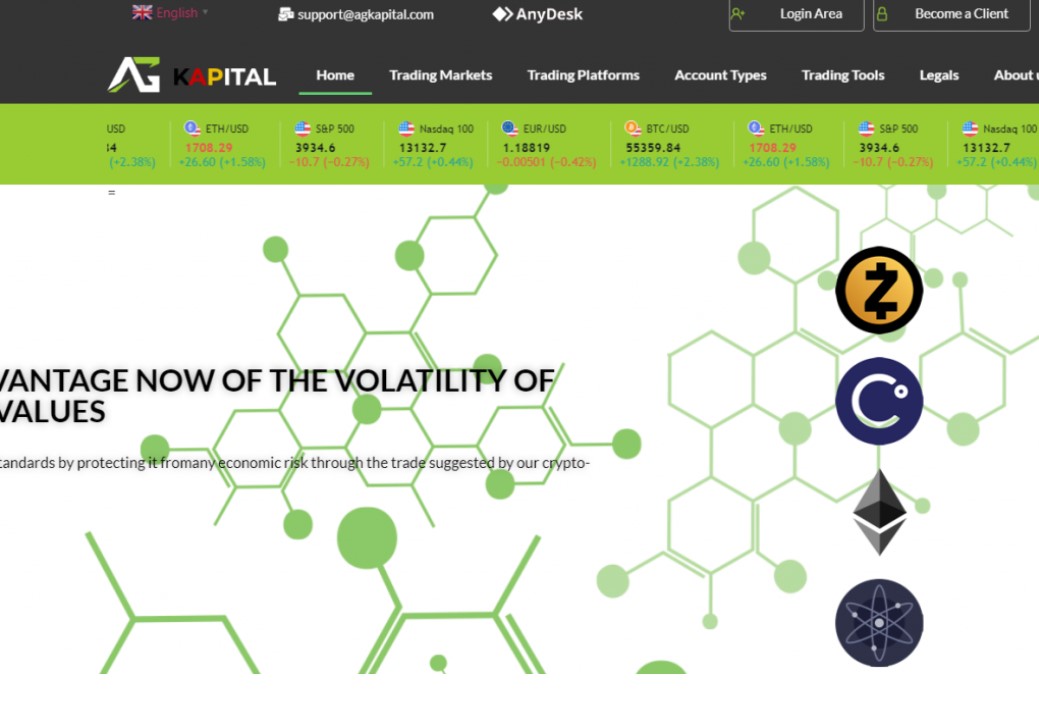 Licensing and regulation
When you are checking out a broker to assess its reliability, the top place to begin is their licensing and regulation. If you go through some of the scam incidents, you will find that they all have one thing in common; the brokerage was unregulated and did not have a license. Thus, the takeaway is that you should steer clear of brokers operating without the proper license and regulation. You need to ensure that AGKapital has the proper license to offer its services.
Unfortunately, you will be disappointed because AGKapital is just another one of the shady and unregulated platforms out there. First off, their website doesn't provide any information about the entity behind it and this lack of corporate background should trigger an alarm. Secondly, they have listed an address in London, United Kingdom, which means they should have a license from the Financial Conduct Authority (FCA), which is the regulatory body in the UK.
But, a quick check of the FCA's registers shows that there is no company by the name of AGKapital listed. Moreover, there is further conflict because in the Terms and Conditions of the brokerage, they have mentioned Estonian law, which indicates that the company may possibly be based in Estonia. The lack of information is already worrying and even if it is based in Estonia, there are no details given about it.
If this wasn't all, you will find that AGKapital has also been blacklisted in Spain by the country's regulatory authority. It appears that the brokerage attempted to offer its services in Spain and this brought it to the attention of the Spanish authorities. The National Securities Market Commission (Comisión Nacional del Mercado de Valores), or the CNMV, has black-listed the brokerage, which is the final nail in its coffin.
AnyDesk
The fact that AGKapital is an unregulated and unlicensed broker is already a concern and you will find some other problems with the broker as well. When you are going through their website, you will notice the AnyDesk icon provided. This application is designed to give people remote access to their home PC, which is usually advantage when you are somewhere else and need to access your data.
However, when it is offered by unregulated platforms, it is a warning sign because they usually offer apps like AnyDesk and TeamViewer to gain access to your PC. This enables them to get a great deal of your personal information, including your banking details and your passwords. Hence, they will be able to steal directly from your bank account and you will not be able to do anything about it.
Trading Platform
It doesn't appear that the problems with AGKapital are over as yet because you will find that they do not offer an appropriate trading platform either. The trading platform is undoubtedly one of the most vital tools that any broker can offer to you and it has to be up to the mark because it directly affects your trading performance. There is some web-based platform at your disposal when you sign up with this broker and it doesn't even come close to the MetaTrader.
Such web-based platforms are commonly offered by shady brokers, whereas legitimate ones usually provide the MT4 or the MT5 trading platforms, as they are well-recognized and offer advanced trading features and tools to the users.
Trading Conditions
It is a must for you to know what kind of trading conditions you will be provided because it affects your bottom line. Therefore, it should trigger an alarm when you find that AGKapital does not provide you any such relevant details. They have not disclosed what kind of leverage ratios they offer to their clients. Likewise, they don't even disclose the trading fee or transaction costs that you will incur and this is another concern because they can charge you anything you want and you will be required to pay, when you agree to their Terms and Conditions. An authentic broker is transparent and open about its policies and fees and this certainly doesn't seem to be the case.
Ending Thoughts
If you are looking for a broker you can rely upon in the long run, you can determine that AGKapital does not fit that criteria at all and is not a platform that can be trusted with anything.