---
How To Get Your Money Back From Scammers?
Want to get your money back from a scam?
Fill in the contact form on the page in this link and you will be able to get help in recovering your lost funds! You will be walked through the entire recovery process by a representative of a recommended fund recovery service after which a case will be opened for you by a case manager.
---
Expert Financial Solutions Limited Review


Finding a legitimate and reliable brokerage should be your priority when you want to start trading in the financial markets. There are millions of people who have suffered at the hands of the wrong broker and lost their money and this is not an experience you want to have. Most people are focused more on the instruments they are going to trade and the strategies they will use, so they sign up with the first platform they come across. However, you have to remember that not all brokers are authentic and you need to check them thoroughly before depositing your money with them. This Expert Financial Solutions Limited review can help you in this regard.
With thousands of brokers in the markets offering you their services, it is easy for anyone to get confused and not be sure of where to sign up. Most people just go with a random option and this can have very dire consequences. Likewise, no matter how impressive a company's website may be, you still need to follow up to find out if they are any good. This rule is also applicable in the case of Expert Financial Solutions Limited, which is one of the brokers you will find.
When you check out their website, you will find that Expert Financial Solutions Limited claims to be licensed and authorized to provide trading services and appears to be a comprehensive brokerage for your trading needs. But, this doesn't mean that you take their word for it and create an account right away. There is some due diligence required on your part and this means checking into their claims and verifying them. Let's get started: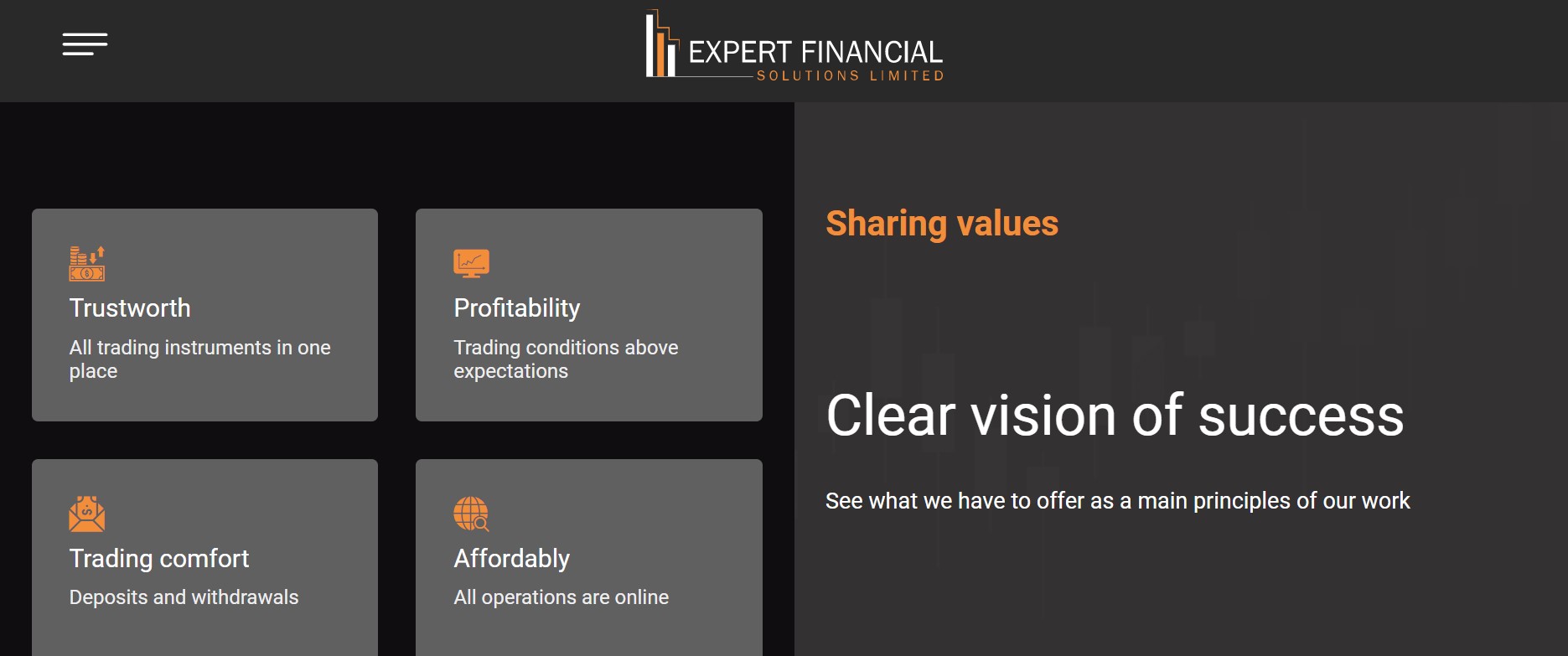 Licensing and regulation
The first and most important feature of a broker that needs to be evaluated to figure out whether it is a good option or not is their licensing and regulatory status. As mentioned above, Expert Financial Solutions Limited is already claiming to be a licensed firm and you need to confirm this. If you take a look at their address, you will notice that they have listed an address in London, United Kingdom.
In order to operate in the UK, brokerages are required to be regulated by the Financial Conduct Authority (FCA). Therefore, you need to check the register of the regulator to confirm whether Expert Financial Solutions Limited is licensed or not. When you do so, you will discover that the FCA has actually issued a warning against the company. It has been identified as a scam referred to as a 'clone firm', which means it is using the details of a legitimate FCA-authorized entity to appear legitimate.
Moreover, it is just not possible for Expert Financial Solutions Limited to be regulated and licensed by the FCA because they are in violation of several of their policies. First off, you will notice that they are offering crypto CFDs, which have been banned in the country by the FCA due to the volatile nature of the assets. This means that they are either operating illegally from the United Kingdom, or they are lying about their offices and are operating from elsewhere.
Terms and Conditions
Checking the Terms and Conditions of a brokerage should be your next priority because you want to ensure that the company has legitimate, fair and transparent policies. Similarly, you also want to know how much fees, the trading conditions they offer and the policies to be followed. The problem with the Terms and Conditions of Expert Financial Solutions Limited is that they are talking about the trading bonuses the broker offers.
This is another violation of the rules of the FCA, as trading bonuses have been prohibited because of their exploitative nature. The Terms and Conditions you find at Expert Financial Solutions Limited not only mention trading bonuses, but also highlight the strings attached to them, which are not fair to the traders at all. The purpose is to prevent traders from withdrawing their funds due to which such impossible conditions are added.
Secondly, you will also find that Expert Financial Solutions Limited also has some pretty salty withdrawal fee applicable. This is another red flag because most legitimate brokerages are waiving withdrawal fees these days as a sign of good faith, which seems to be in short supply here.
Leverage
It is also necessary to check what kind of leverage Expert Financial Solutions Limited can offer and this is when you will find that the broker is violating the policies of the FCA yet again. There is no doubt that leverage can make trading very lucrative, but it also increases the risks. Keeping this in mind, a leverage cap has been imposed in a number of regulated jurisdictions and this also includes the UK.
The FCA does not permit brokers to offer a leverage of more than 1:30 to its clients. However, scam brokers like Expert Financial Solutions Limited offer a high leverage of 1:200 in a bid to attract more clients, thereby proving they are not legitimate and licensed in any way because they are breaching the policies set forth by the FCA.
Trading Platform
One of the most crucial features that a brokerage can offer to traders is their trading platform because it shapes your experience the most. The trading platform that Expert Financial Solutions Limited offers is a web-based one and this distribution, which doesn't really offer much to the traders. Such web distributions have become a common offering where shady brokers are concerned. Professional brokers, on the other hand, usually offer the MT4 or the MT5 trading solutions, which are renowned for their advanced functionality and features and can offer a seamless trading experience.
Final Thoughts
The warning of the FCA against Expert Financial Solutions Limited should be enough to convince anyone to avoid this brokerage at all costs. However, if you are still unsure, the rest of the issues outlined above should be enough to convince you that it is nothing more than a fraudulent broker you need to avoid.