---
How To Get Your Money Back From Scammers?
Want to get your money back from a scam?
Fill in the contact form on the page in this link and you will be able to get help in recovering your lost funds! You will be walked through the entire recovery process by a representative of a recommended fund recovery service after which a case will be opened for you by a case manager.
---
Bitaliana Review


Cryptocurrencies have snagged the interest of millions of people around the world and why shouldn't they? Sure, they are a volatile asset, but there is no denying that this volatility has made them incredibly profitable. There are thousands of people who have successfully made massive amounts of money in the crypto market because their risks paid off. Therefore, it is not surprising that people are rushing towards this space in droves. Like other financial instruments, you require a broker to trade cryptocurrencies and this Bitaliana review is aimed at providing insight into this crypto provider.
You will not have to deal with a shortage of options when it comes to finding a broker for jumping onto the crypto bandwagon. Considering the hype and popularity of these digital currencies, the number of companies facilitating people in investing in this market has gone up rapidly. While this is undoubtedly impressive, you shouldn't forget that quantity doesn't really promise quality. The crypto market has become infested with scam platforms, as they are trying to exploit the lack of common knowledge about this relatively new asset class.
Consequently, people have to be careful when choosing a broker for their crypto needs and this also applies to Bitaliana that's focused on crypto CFDs. Of course, when you want to start trading cryptocurrencies, you don't want to waste any time as the market moves very quickly, but learning the facts about a broker is necessary to avoid disastrous consequences. In the case of Bitaliana, it can actually prove to be a smart move because you will discover that this broker is not what it promises to be at all. Let's check the important facts: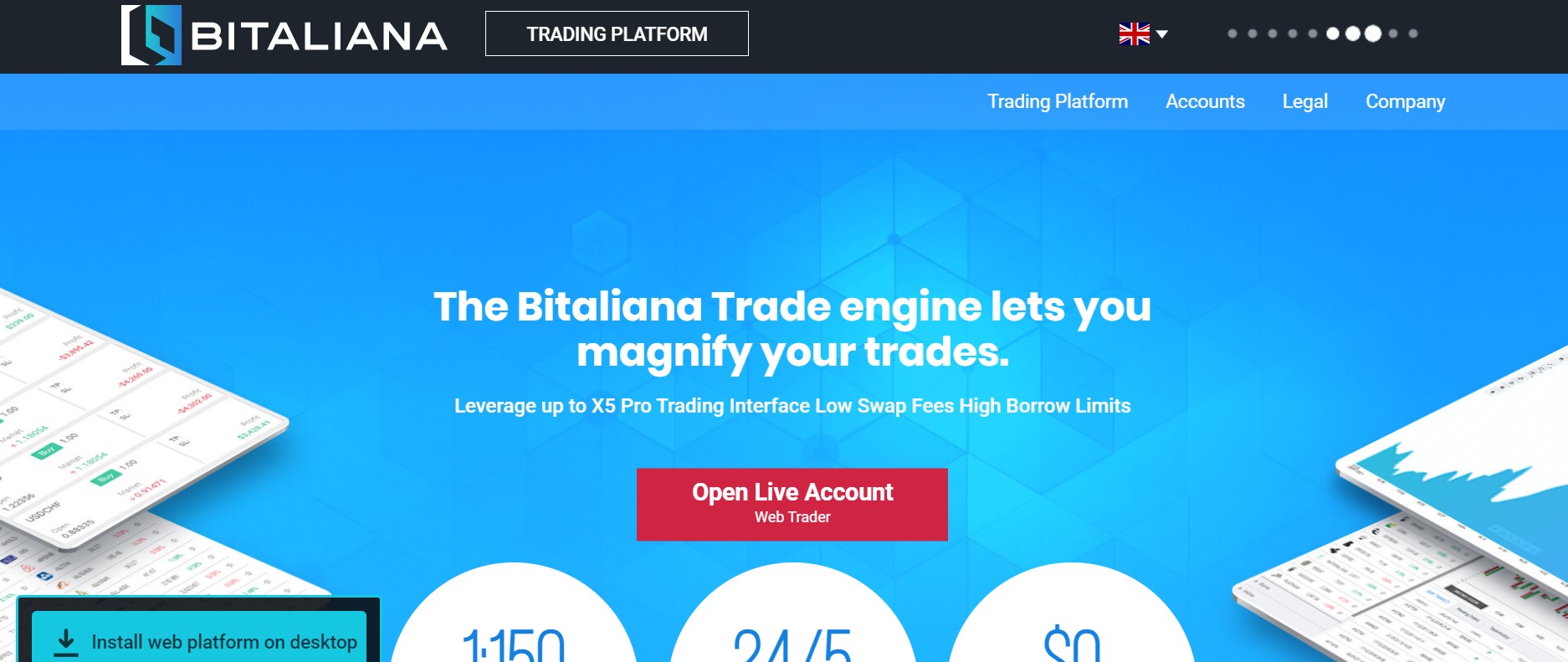 Background and Licensing
The best place to start learning the facts about any company is to look at their background and licensing. It provides you details about the kind of company you are dealing with, so you can know what to expect. Shockingly, you will not find any such information on Bitaliana's website. Why wouldn't they share details if they are really a legitimate company? It doesn't make sense, which means that they must be a scam broker.
Any licensed and authentic company would be straightforward about their background, but you have to dig deep into Bitaliana's website to discover that they are registered in St. Vincent and the Grenadines. Even discovering this information is not reassuring because the jurisdiction is rather renowned for being a haven for scam and fraud brokers, given that the authorities there do not regulate brokers in any capacity. Why sign up with an unlicensed and unregulated broker when you could enjoy the protections offered by a licensed company? Going with the former when trading in a market as volatile as cryptocurrencies is a big mistake.
Terms and Conditions
Of course, the problems with Bitaliana don't really stop with its regulatory and licensing issues. You will find plenty of others when you check out the Terms & Conditions. First, you will discover that they offer trading bonuses, a practice that has been outlawed in most jurisdictions as it is not considered fair to the traders. Furthermore, you will find that the broker divides trading profits into two categories; those that are made by the funds you deposit and those generated by the bonus given to you.
As per the conditions set forth by Bitaliana, traders cannot withdraw the profits generated via the bonus and the bonus itself. This doesn't sound too bad, but it really is because they don't mention how they plan on distinguishing between the two kinds of profits. Hence, you will just not be able to withdraw any funds or profits at all, meaning the company will get to keep them. What else is this, if not a scam?
The withdrawal fees charged by Bitaliana is another issue because they have mentioned on their website that such fee is applicable, along with handling fee. Yet, you will not find any elaboration about the charges, which means you have no way of knowing how much you will be expected to pay in order to make a withdrawal.
Minimum Deposit
You will not come across any mention of how much you are expected to deposit for opening an account with Bitaliana and this is also a problem. Moreover, the deposits you make have to go through an account manager, which unnecessarily complicates the process and takes up a lot of time.
Trading Platform
Since it is the most crucial feature of any broker, they should certainly focus on it and provide their clients with the best possible option. You will be disappointed yet again with Bitaliana in this regard because they don't offer you the MT4 or the MT5 trading solutions that are known for being the most advanced and leading ones in the market. Instead, they have a basic web trading platform that doesn't really offer much and is just not worth it.
Leverage
The leverage that you will be provided by Bitaliana for trading purposes is 1:150, which is not permitted by many regulatory authorities. But, this is not the only issue. The problem is that Bitaliana is actually offering this leverage on crypto assets, which is downright shocking because it is just too high and no legitimate broker would ever do so. In fact, they usually don't go past 1:5 because it is extremely risky.
Payment Methods
You would want to know what payment methods are available to you for making a withdrawal on the broker's website and yet, Bitaliana has chosen to withhold this information. This makes it quite shady because an authentic broker wouldn't have any issues in sharing this essential piece of information with their clients.
Ending Thoughts
It will prove to be worth it to spend some time in learning the facts about Bitaliana because this proves that it is just another one of the scam brokers operating in the market. It is not one you should use for trading cryptocurrencies because it cannot be trusted and doesn't offer anything it claims.