---
How To Get Your Money Back From Scammers?
Want to get your money back from a scam?
Fill in the contact form on the page in this link and you will be able to get help in recovering your lost funds! You will be walked through the entire recovery process by a representative of a recommended fund recovery service after which a case will be opened for you by a case manager.
---
GrandTrade Review

It is understood that when you are investing your hard-earned money into something, you want to have the best quality. This applies to both products and services, which means that you have to take some time and do some research in order to make a good decision. This is also applicable when you go looking for an online broker to start trading. These brokers are just as important as they were in the traditional form of trading and provide you with everything that's required for your journey. This GrandTrade review sheds some light on one of the online brokers you will find.
Sure, you could choose to skip it and not bother to know more about the broker you are signing up with. However, this wouldn't be smart because you will not only put your money at risk, but also leave yourself vulnerable to identity theft and a host of other issues. Everyone wants to avoid such consequences and the best way to make it so is to get to know the broker. Those who have made the effort have found that it was a good investment because they were able to make a smart and good decision for themselves.
It is exactly what happens when you look into GrandTrade, which is presented to you as a 'luxurious' and award-winning broker that offers professional and dependable services. They claim to offer their clientele reliable, fast and easy-to-use trading platforms, superior order execution and multiple ECN accounts. All of this makes it come off as the perfect solution you need for exploring the financial markets and you would want to begin right away. However, don't apply your strategies just yet because this GrandTrade review shows you a whole different truth altogether: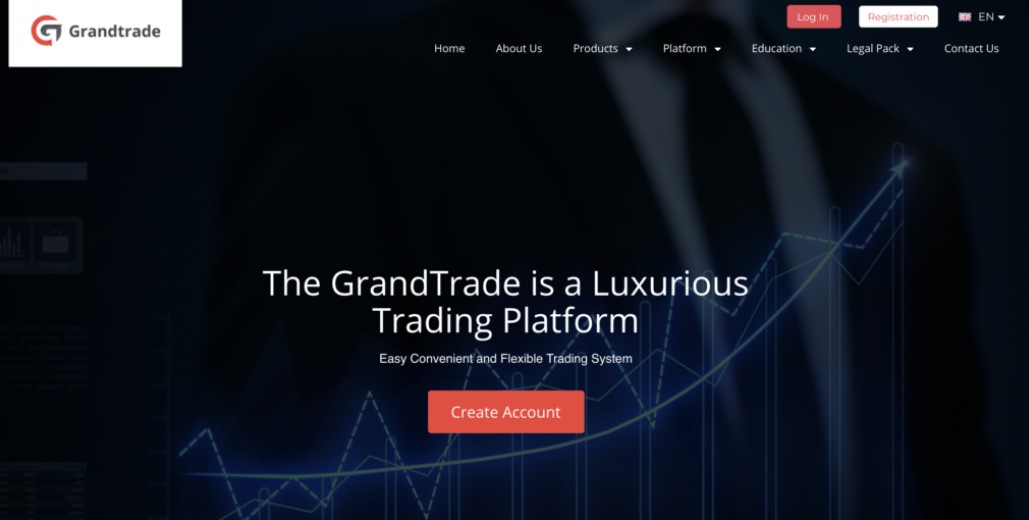 Background and Licensing
Checking the background and licensing of any broker is a reasonable step that every trader should take before signing up. After all, you need to know who you will be trusting your money and your information with. When you do this with GrandTrade, you will be shocked at the lack of information on their website. All you will come to know is that they are owned and operated by a company named GrandTrade Pvt Ltd. This is all you will come across on their website and nothing more.
This means that GrandTrade essentially has a completely anonymous website, where you don't find any corporate background, contact address or anything else. There is absolutely no mention of a forex license either. In the Terms and Conditions of the website, there is a reference to the jurisdiction of Cyprus. The problem is that if the broker was really based there, then it would have to be regulated by the Cyprus Securities and Exchange Commission (CySEC). You can check their online register, but you will not find the broker anywhere. All of this clearly highlight that GrandTrade is just a scam and nothing more.
Terms and Conditions
As we have already ascertained that GrandTrade appears to be a scam broker, you will find other details that only seem to add to this conclusion. First off, they are offering a trading bonus to their clients, a practice that's no longer allowed in most jurisdictions, including Cyprus, because it is considered unfair to traders due to the minimum trade volume requirements it comes with. Scam brokers offer these bonuses with similar strings attached in order to prevent their clients from being able to withdraw their money.
What's worse is that GrandTrade does not offer any information about the requirements that traders would have to meet in order to withdraw their bonus. Essentially, it means that you will not know what you are agreeing to. Apart from that, the broker has also openly admitted in their Terms & Conditions that they will not commit to any time frame to approving your withdrawal requests. This means that your requests may not be approved at all and there will be nothing you can do about it, as you would have already agreed to these conditions.
Trading Platform
How does any online broker facilitate trading? They provide their clients with a trading platform, which is basically the software used for making trades in the financial markets. It is one of their most vital offerings and plays a prominent role in your trading experience. Therefore, it is obvious that you want to know what trading platform will be provided to you by GrandTrade and you will discover that they offer a web based trading platform.
This platform is commonly offered by numerous scam brokers, so it is another red flag you have to consider. The top trading solutions are the MT4 and the MT5 platforms that have become popular due to their technology and trading tools. Even though GrandTrade has mentioned the MT4 platform in its presentation, it doesn't really offer it to its clients.
Payment Methods
Making deposits and withdrawals is part of the trading process, so you need to know what payment methods are supported by the broker when you sign up. When you check out GrandTrade's website, you will notice that they have mentioned payments like VISA and MasterCard in their presentation. However, the reality is not even close because they just have a bunch of third party payment providers, such as Amaid, Cardpayz, Epaysecure, Securepayment and Ganechangers. These are unknown payment solutions that no one has heard of and this is another indication that something is not right with the broker.
Final Word
When you have put all of these red flags together, it should be understood that GrandTrade is nothing but an elaborate scam. They have used tactics like offering high leverage of 1:500 to traders and have also kept the minimum deposit to $200 to make it easy for people to sign up. But, you need to bear in mind that they have zero credibility and you need to beware of the red flags because every single one of them is just shouting the fact that GrandTrade is a scam broker.