---
How To Get Your Money Back From Scammers?
Want to get your money back from a scam?
Fill in the contact form on the page in this link and you will be able to get help in recovering your lost funds! You will be walked through the entire recovery process by a representative of a recommended fund recovery service after which a case will be opened for you by a case manager.
---
ConiusFx Review

When you have made up your mind to start trading in the financial markets, your first priority should be to find a suitable broker to help you. This decision should not be rushed because it can have long-term consequences. The broker provides you with the trading platform, the tools and everything else that you need for profiting from the financial markets. Therefore, your performance is strongly linked to the broker you decide to use for your trading activities. Considering their importance, you need to choose a broker carefully and this means going through this ConiusFx review.
As scam brokers have become a common occurrence in the market, it has become more important than ever for traders to exercise caution. In your eagerness to start trading, you shouldn't make your decisions based on your first impression of a broker. After all, appearances can be deceiving and this turns out to be true in the case of ConiusFx. This is one of the brokers you will come across and it is an excellent representation of how scam brokers are operating nowadays.
Since people have become cautious, scammers have had to up their game, due to which they now present themselves as authentic companies to fool people. They appear to be legitimate and impressive on the surface and it is only when you take a closer look that you discover their deception. You will find the same in the case of ConiusFx. It claims to be one of the most innovative brokers and offers 50 currency pairs, along with a ton of CFDs on a secure and professional platform. They also have three account types and leverage that goes as high as 1:400.
However, the most important claim of ConiusFx is that of being licensed and authorized by the regulatory authorities in the United Kingdom. This sounds downright fantastic, as the FCA is one of the top regulators in the world. But, when you learn the truth about this broker, you will be in for a surprise. Let's take a look: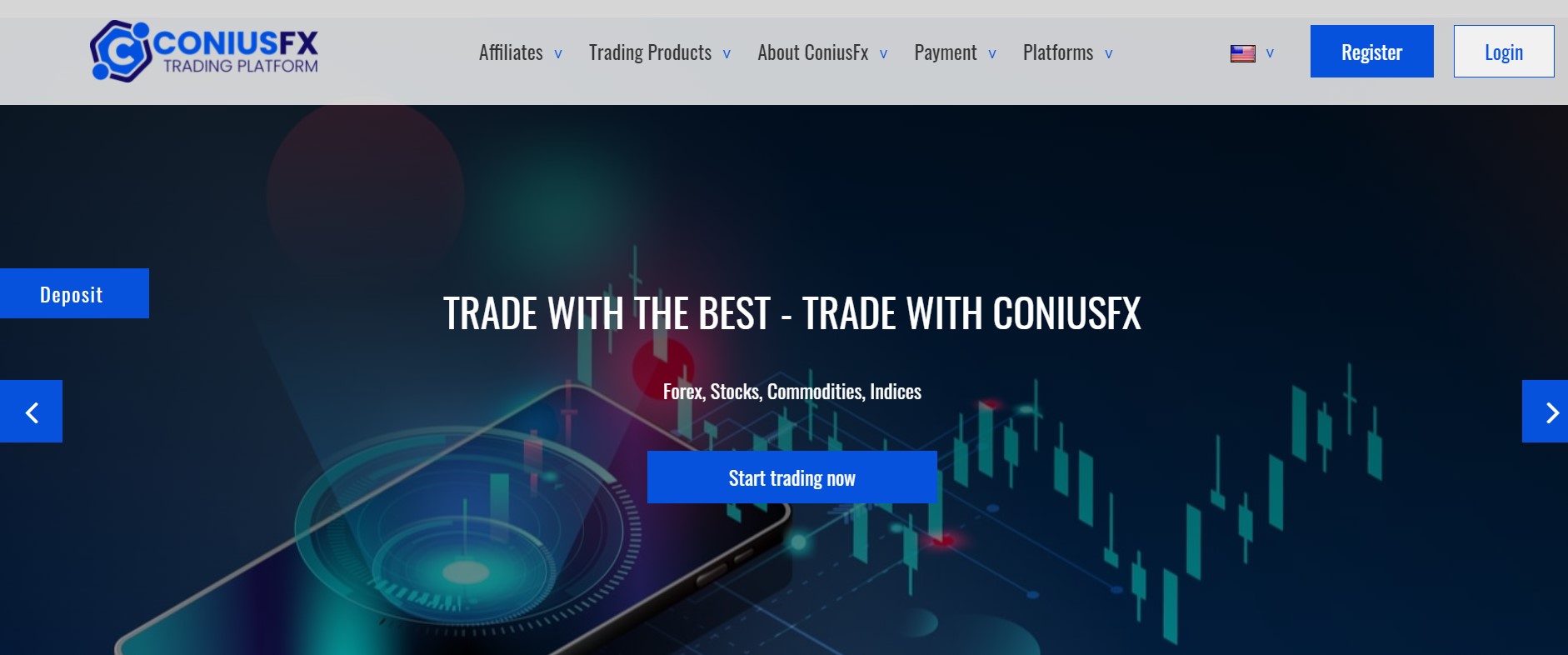 Licensing and Regulation
The most important aspect of every brokerage is their licensing and regulation because it makes it obvious if the platform is legitimate or a shady one. As mentioned above, ConiusFx claims to be regulated by the financial authorities in the UK and this is no small feat. The Financial Conduct Authority (FCA) is the regulator in the country and it is one of the toughest ones out there. Therefore, a license from them is considered highly valuable.
When you visit the ConiusFx website, you will find the license number mentioned on their website, but a follow up shows that this number belongs to LMAX Limited, which is also based in the UK. The only difference is that it has absolutely nothing to do with ConiusFx. This is because LMAX Limited only has one approved domain address and that's lmax.com.
Apart from that, you will also discover that the British regulator has also issued a warning stating that scammers are using the licensing details of LMAX Limited. This is referred to as a clone firm, which is just an elaborate scam to convince people they are authorized by using the details of an actual company. This means that not only is ConiusFx not licensed by the FCA, they have gone to great lengths to lie about it in order to hoodwink their clients.
Minimum Deposit
It is expected that you will be required to make a minimum deposit in order to open an account with a broker and this is no different in the case of ConiusFx. However, the important piece of information that's relevant here is the actual minimum deposit you are asked to make. These days, some brokers are permitting their clients to open micro accounts for as low as $10. Otherwise, the standard deposit amount is usually between $200 and $250.
Subsequently, when you check the minimum deposit required at ConiusFx, it comes as a surprise because they are asking for as much as $1,000, which is extremely high. Legitimate brokers wouldn't ask for a high deposit and scam brokers would do so in order to get as much money as possible from their victims.
Leverage
It is understood that you would want to know what kind of trading conditions the broker would provide when you sign up with them. Leverage is one of the essential elements to consider because it tells you if you will have flexibility to trade, even if you don't have a lot of money to invest. Thus, some people may be impressed when they discover that ConiusFx offers leverage as high as 1:400. But, there are certain issues that you have to remember.
First and foremost, high leverage is not without its risks and you can suffer from massive losses as well. Secondly, the leverage that ConiusFx is offering is a direct contradiction to their claim of being regulated by the FCA. This is because the financial regulator has expressly forbidden brokers from offering such excessive leverage ratios to traders because of the risk associated with it. It is just additional proof that the broker is lying to you.
Payment Methods
Checking the payment methods of a broker is a must because you want to be able to make deposits and withdrawals easily and securely. The fact that ConiusFx offers card payments may reassure some people because they are usually eligible for a chargeback, so you can get your funds back in case something doesn't seem right. The problem is that the broker is using a third party payment provider named Carpayz for this purpose and this doesn't really make sense.
Bottom Line
You will also find that ConiusFx mentions offering a web based platform as well as MetaTrader4 to its clients, but they are not accessible, so there is no way to verify this claim. These facts make it quite obvious that you are not dealing with a legitimate broker in any way and it is just another well-designed scam for exploiting people.