---
How To Get Your Money Back From Scammers?
Want to get your money back from a scam?
Fill in the contact form on the page in this link and you will be able to get help in recovering your lost funds! You will be walked through the entire recovery process by a representative of a recommended fund recovery service after which a case will be opened for you by a case manager.
---
CoolCrypto Review


You have to make an account with a broker if you are thinking about online trading in the financial markets. But, the real challenge is finding a broker that can meet your expectations and provide you with professional services. Sure, you can find thousands of companies that are more than willing to offer you their services, but a little research will tell you that not all of these are legitimate platforms. Scam brokers have become very common and it is not that simple to identify them. This CoolCrypto review can help you understand why this is the case.
The fact is that scam brokers have existed for a long time, yet people still continue to fall into their traps. This is because these fraudulent platforms are designed in such a way that they immediately grab your attention and look authentic on the surface. It is only when you go deeper that you come to know the truth. The problem is that most people are so eager to start online trading that they do not bother to do in-depth research and this can lead to a setback. CoolCrypto is one of the online brokers that you will find and they have made impressive claims of regulation and offering professional trading services.
If you don't do your research, this can be your downfall because CoolCrypto is not a broker that can be considered legitimate. How? You can peruse this review to learn more: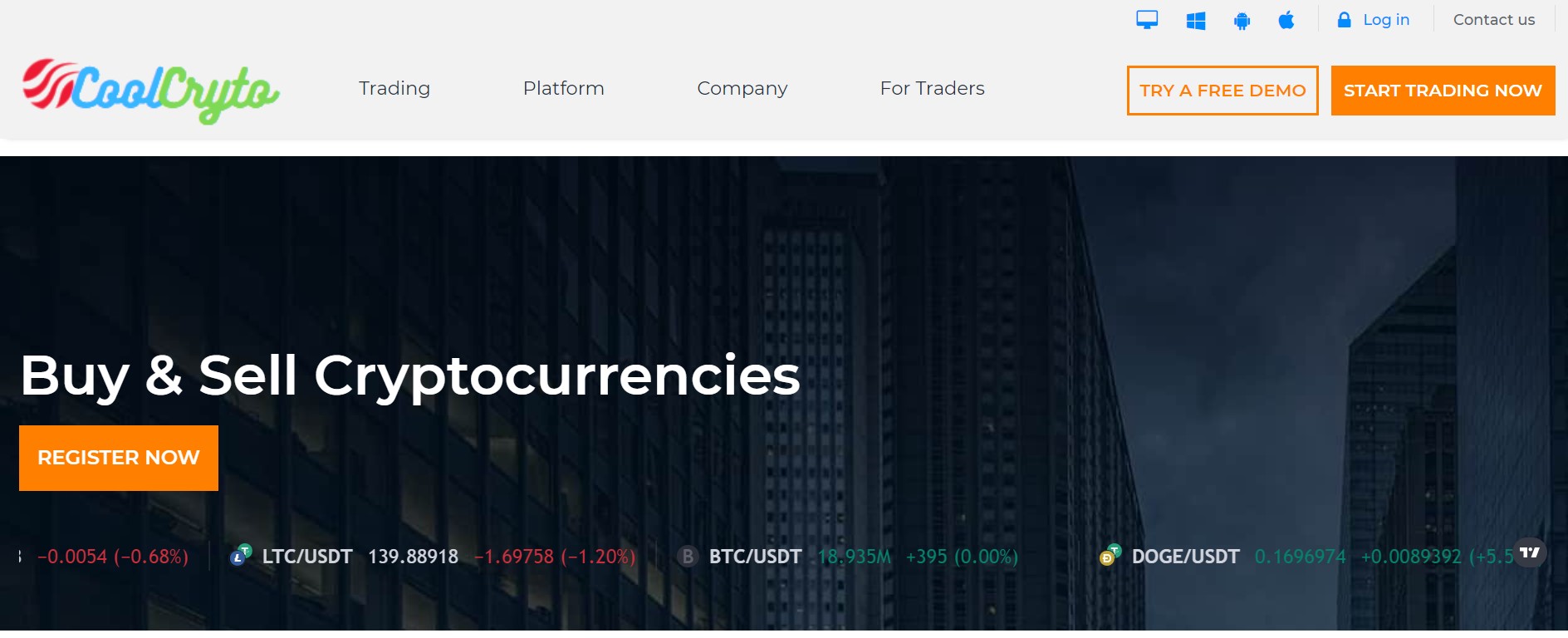 Licensing and regulatory status
The quickest way of determining the authenticity of a brokerage is by taking a look at their licensing and regulatory status. These are not just granted to any company and brokers have to fulfill a certain criteria and also comply with strict rules and regulations to obtain it. Therefore, having a license confirm their legitimacy and also keeps them accountable. As mentioned before, CoolCrypto has claimed to be a licensed and regulated broker in not just one, but several jurisdictions.
First off, according to their website, CoolCrypto is licensed by the Financial Services Authority (FSA) in Australia. No, the broker is not regulated in Australia and what's more is that it hasn't even gotten the regulatory authority right. It is the Australian Securities and Investment Commission (ASIC) that oversees brokers in the country and you will not find the broker listed in their online register.
The second regulation claim that you will find on the CoolCrypto website is that of the Cyprus Securities and Exchange Commission (CySEC), which by extension would mean that it is regulated in the EU. A quick check of their register also shows that the broker is lying about its regulation. Most importantly, it is also in direct contradiction with the leverage policies of the ASIC as well as CySEC, which means it is definitely not licensed. Thus, it will not offer you any of the protections and security that come with dealing with a licensed and regulated broker.
Terms and Conditions
The Terms and Conditions that you find on a company's website are meant to highlight the fee they will charge and the policies they expect you to follow. Therefore, it is essential to check what Terms and Conditions you have to agree with before signing up with a broker. When you do the same with CoolCrypto and come across their Bonus Policy rules, you will notice that they appear to have copied the entire thing from a different platform called Fondex.
Either CoolCrypto has stolen the legal documentation of another company, or they have failed to mention their connection with Fondex. Most importantly, they have not clarified what fees or the bonus policy that will be applicable, so you will be going in blind when you sign up and they can charge whatever they want.
Leverage
Checking the trading conditions offered by a broker is necessary before you decide to use their services because you want to know how easily and flexibly you can trade. Leverage is one of the most important ones to check and you will find that CoolCrypto is offering leverage ratios as high as 1:500. While some traders might find this attractive, you should consider this a warning sign. Why?
This is because such high leverage ratios will never be offered by a legitimate broker, as most regulated jurisdictions have imposed a cap on the levels available. This is also applicable in Australia and Europe, where CoolCrypto claims to be regulated. Brokers are not permitted to offer a leverage higher than 1:30 in these regions, yet CoolCrypto is doing so and this confirms that it is not a regulated and licensed entity and is just lying about it.
Trading Platform
One of the most important features of a broker is their trading platform because it plays a key role in your trading experience. Therefore, it is alarming that CoolCrypto doesn't let you check what kind of trading platform they are offering. They are not offering the MT4 or the MT5 trading platforms, which are considered an industry standard because of their powerful trading features and also offer automated trading. But, there is no information about the platform available and this is another practice that you will not find when you check a legitimate broker.
Payment Methods
Looking at the payment methods offered by a broker is also a must before you open an account because not only do you want convenient and easy payment options, but safe ones as well, such as credit cards. Both VISA and MasterCard give people the option of filing for a chargeback, which makes them a good bet because you can get your money back in case of a problem. Unfortunately, CoolCrypto has not disclosed its payment methods on their website, which is another warning because genuine brokers are transparent about their offerings.
Closing Thoughts
Considering the false claims of regulations, the obscene levels of leverage and the unavailability of important information, such as the trading platform and payment methods, all indicate that CoolCrypto is not a trustworthy broker for anyone.