---
How To Get Your Money Back From Scammers?
Want to get your money back from a scam?
Fill in the contact form on the page in this link and you will be able to get help in recovering your lost funds! You will be walked through the entire recovery process by a representative of a recommended fund recovery service after which a case will be opened for you by a case manager.
---
DLF Capital LTD Review

When you have made up your mind to trade in the financial markets, the first thing you need to do is find an online broker. This seems very straightforward, until you come across the substantial number of companies that are offering you their services. It will not take you long to end up confused and unsure of which one to opt for because most of them are offering you impeccable trading services. Choosing a platform at random can have disastrous consequences and those you want to avoid, which means checking out this DLF Capital LTD is a must.
Many people make hasty decisions because they do not want to miss out on the opportunities the markets have to offer and searching for a brokerage, reading reviews, doing comparisons, can take up a lot of time. But, what makes it worth the effort is that you can find a broker to rely on at the end of the day. It keeps you safe from scam and fraudulent platforms that are looking to steal your money and data. That certainly is incentive enough for you to do some homework because these scammers can disguise themselves as perfectly legitimate platforms.
This makes it harder for people to find the truth about them because they don't go around with warning signs. The only way for you to determine their reliability is by doing your research and this is the approach to be taken in the case of DLF Capital LTD as well. It claims to offer you forex trading and crypto investment services and have listed the MetaTrader platforms in their offerings. But, are they what they appear to be and can you rely on them? Let's find out: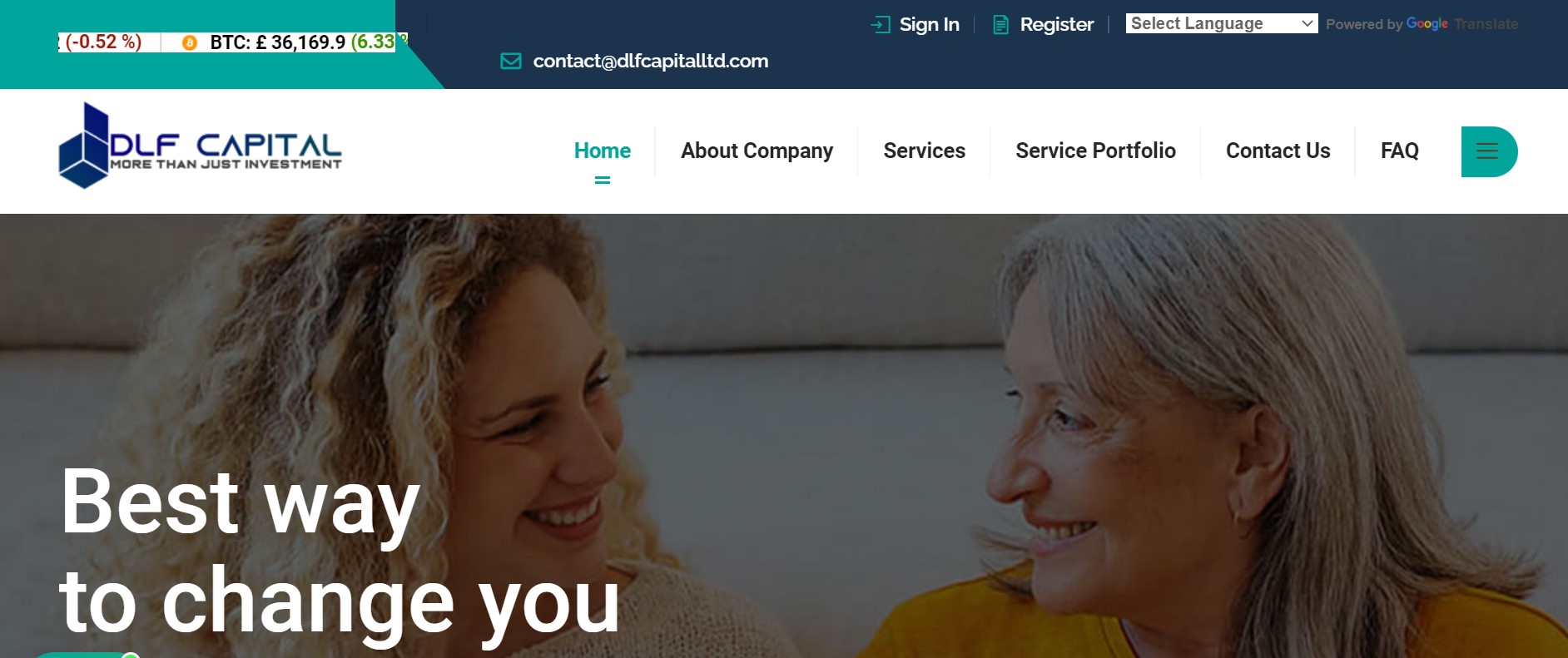 No license
The best way for anyone to assess the reliability of an online broker is by checking their licensing and regulatory status. Any company that has a license from a reputable regulatory authority to provide trading services can be relied upon because it means that they comply with standards, laws and policies. This means they provide protection to their clients and you can also take some action in case of a problem. The same does not work in the case of unregulated brokerages, which is how scammers operate. So, where does DLF Capital LTD come in?
If you check out its parent company, which is DLF Capital Limited, it claims to be based in and is registered in the United Kingdom. However, it is important to remember that a registration in the UK Companies House does not make the brokerage legitimate. Why? This is because brokers need to get a license from the Financial Conduct Authority (FCA) in order to operate in the UK. The license is not given out easily, as there are requirements to be fulfilled before it is granted.
You can check the online register of the FCA and not find DLF Capital Limited listed anywhere. This means that the broker does not have a license to operate in the UK. It can indicate one of two things; either the company is lying about its location and does not have any office in the United Kingdom, or it is operating from the region illegally. No matter which situation applies here, it is clear that DLF Capital LTD is not a broker to be trusted.
Warning issued
The lack of licensing is already a big concern for prospective traders when they are looking at a brokerage. If you sign up with such a platform, it means you will be vulnerable to a lot of risks, even if the broker is not a scam. But, when you take a closer look at DLF Capital LTD, you will find that there is another issue. It turns out that an independent organization that aims to offer dispute resolution named the Financial Commission (FinaCom) has blacklisted the broker. They have advised against dealing with the platform because it is interested in scamming and defrauding traders only. This is just confirmation that it is not a broker you can rely on.
Lack of trading platform
One of the most impressive features about DLF Capital LTD, which is bound to catch your eye is the availability of the MetaTrader 4 and the MetaTrader 5 trading platforms. If you have done even a little research into trading platforms, then you probably know that these are some of the best trading platforms in the market. Most professional and well-reputed brokers offer these platforms because of their advanced technology and features.
The problem is that when you have completed registration with DLF Capital LTD and try to access the trading platform, you will find that they don't offer any of these trading platforms. In fact, there is no platform at all. Instead, you find a panel that shows some Bitcoin coins that are provided by a third-party provider. The only functions that you can use on the so-called platform are deposit and making referrals to other users.
Since it is the primary tool that a broker offers to its clients, the lack of trading platform on DLF Capital LTD shows that it is not a real brokerage at all.
No chargeback possible
A look at the payment methods supported at DLF Capital LTD is also important because it tells you if you can get your money back in case of a problem. Unfortunately, this is not the case here because it appears that there are only two payment methods that they support. These are bank wire transfers and cryptocurrencies. These methods are commonly used by scammers because it allows them to get away with your money and you cannot file for a chargeback. The latter is only possible in the case of credit cards like VISA and MasterCard, which the broker does not support.
Conclusion
Considering the lack of licensing, the warning, the absence of a trading platform and the inability to get a refund, it is safe to say that DLF Capital LTD is not a brokerage you can rely on.