---
How To Get Your Money Back From Scammers?
Want to get your money back from a scam?
Fill in the contact form on the page in this link and you will be able to get help in recovering your lost funds! You will be walked through the entire recovery process by a representative of a recommended fund recovery service after which a case will be opened for you by a case manager.
---
AstroFX Trade Review

For decades, people have been trading in the financial markets in order to make money. In fact, you will find lots of stories of people who were able to accumulate a great deal of wealth and fortune through these markets. There was a time when it was not that easy to trade, but online trading has changed the game entirely. These days, you only need to find an online broker to start, which sounds quite simple. In many ways, it is easy, as long as you can find the right platform. You will need this AstroFX Trade review to do so.
This is primarily because there is a multitude of online brokerages operating these days and while they might appear to be reliable and comprehensive platforms at first glance, it does not mean they are without their problems. Of course, you cannot expect a brokerage to be perfect; there will always be some flaws that you will have to put up with. However, this does not mean that you opt for a scam brokerage because they are only going to compromise your data, steal your funds and leave you empty-handed. Is that what you want?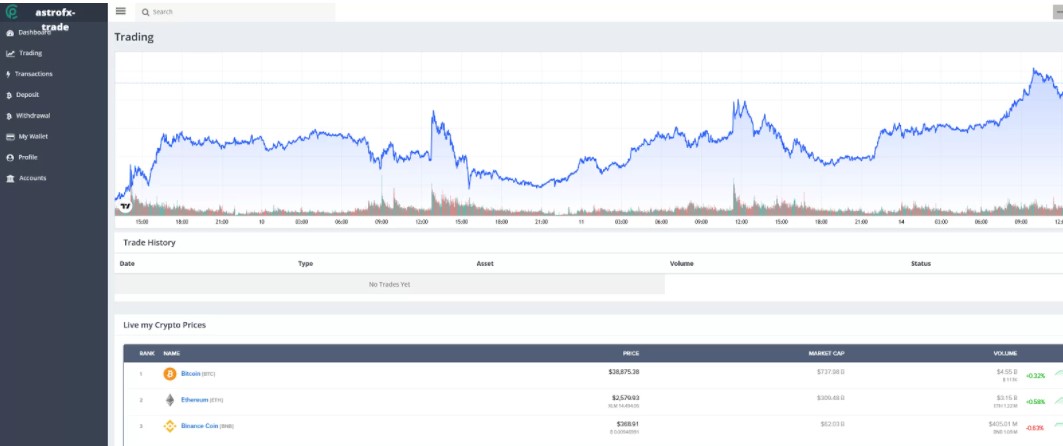 No, you do not want that, which makes it necessary for you to do your research and this is where the review comes in. By all accounts, AstroFX Trade seems to be a good platform, promising a wide variety of trading instruments, powerful trading tools as well as numerous complementary services like tax management, college savings, estate planning and retirement plans. All of this sounds truly great and would definitely be, if only it were true. A closer look shows that AstroFX Trade is not what it claims to be and there are a number of problems, which highlight that it is not worth trusting. What are these problems? Let's go digging:
False licensing claims
When you are considering signing up with a broker and want to determine its authenticity, the best thing for you to do is check their licensing and regulation status. Most genuine and legitimate platforms have a license for providing trading services in the jurisdiction they are operating in. This license is a confirmation of the company complying with the highest standards of service and operating legally. It also ensures that their operations are monitored, so they remain transparent and fair, and can be held accountable. So, is AstroFX Trade licensed?
Other than claiming to be a forex and CFD brokerage, you will find that AstroFX Trade also presents itself as an investment adviser that is registered with the Securities and Exchange Commission (SEC) in the United States. Since the United States is heavily regulated, having a license there would definitely be an impressive feat. However, you should bear in mind that for a brokerage to operate in the US, they need a license from the Commodity and Futures Trading Commission (CFTC) and be a member of the National Futures Association (NFA).
The SEC does not govern brokerages, which means AstroFX Trade is making a false claim. If you check the registers of the CFTC and NFA, you will not find the broker anywhere, which means it is clearly lying.
Exposed as a scam
You have already found that AstroFX Trade is lying about its licensing and regulation and that is enough to make you doubt their legitimacy. But, things do get worse when you continue looking because you will find that the broker has also been blacklisted by one of the most renowned regulatory authorities in the world i.e. the FCA.
The Financial Conduct Authority (FCA) is the regulatory body of the United Kingdom and issues licenses to brokers operating in its jurisdiction. It has issued a warning about AstroFX Trade, which is all the confirmation you need about the brokerage being a scam.
Conflict of interest
We have already established that AstroFX Trade is lying about its license and has been blacklisted by a regulatory authority. Next, you will find that there is also a conflict of interest where its services are concerned. When you go through its presentation, you will find that it not only acts as an online broker, but is also claiming to offer wealth management services. To the uninitiated, this might sound like a really good package because you can get two types of services on one platform.
However, you will find that when something sounds too good to be true, it usually is. Under their wealth management services, they claim to support you in making your investments. AstroFX Trade offers managed accounts where you can trust your funds with the broker and they will make investments on your behalf. So, what is the problem?
The problem is that AstroFX Trade by its nature is a market maker, like any other online broker. This means that they make money when a trader loses on their platform. So, how will they make profitable trades on your behalf? Doing so would mean continued losses for them. Would any company do that? No, it is a given that no company would willingly bear losses in order to let its clients make profits. Hence, a brokerage cannot offer wealth management services because it creates a conflict of interest.
Any company that promises you both services on a single platform like AstroFX Trade is only trying to mislead and exploit you.
Only crypto payments accepted
You have to check the payment methods supported by a broker for making deposits and withdrawals and it comes as no surprise that AstroFX Trade is only accepting bitcoin payments. Cryptocurrencies have become the favorite payment method of scammers these days for several reasons. First off, crypto payments are final and cannot be reversed, unless the recipient decides to do so. Secondly, they are also anonymous and untraceable for the most part, which enables fraudsters to get away with it quite easily. This means that you cannot file a chargeback, as in the case of credit cards like VISA and MasterCard.
Closing Thoughts
After you have identified the problems with AstroFX Trade, it is apparent that this brokerage is up to no good.