---
How To Get Your Money Back From Scammers?
Want to get your money back from a scam?
Fill in the contact form on the page in this link and you will be able to get help in recovering your lost funds! You will be walked through the entire recovery process by a representative of a recommended fund recovery service after which a case will be opened for you by a case manager.
---
EmiDeals Review

Technology and the internet brought about changes in numerous industries and the financial markets also underwent a number of them. Online trading was one such change that only benefitted the people, as it made the markets more accessible to everyone. But, like the traditional version, the services of a broker are still required for trading. Since there are thousands of platforms that you can find with just a Google search, it doesn't seem that difficult until you learn about scam brokers. Yes, not all platforms are legitimate, no matter how much they appear to be, as this EmiDeals review can highlight.
It is not possible for anyone to tell if a brokerage is fraudulent just by simply glancing at its website. If that could happen, so many people wouldn't have become victims of these scammers and yet they have. This is because these cybercriminals know just what kind of a front to present and who to target, which allows them to get away with what they are doing. So, how do you avoid such a platform? The best way to do so is to make an effort to know what you are getting into, which also applies to EmiDeals.
You will come to know that EmiDeals is advertised as a reliable and secure forex and CFD broker in the market, which is based in the United States. It also claims to be operated virtually in almost all leading countries, from Australia and the United States to South Africa, Dubai and the whole of the European Union via a license issued in Cyprus. If you were to make a decision based on first glance, you would want to open an account with the broker straight away. But, this is definitely not a wise move and you need to know what you are getting into. It will pay off in the case of EmiDeals because you can find out just what is wrong with it. Let's get started: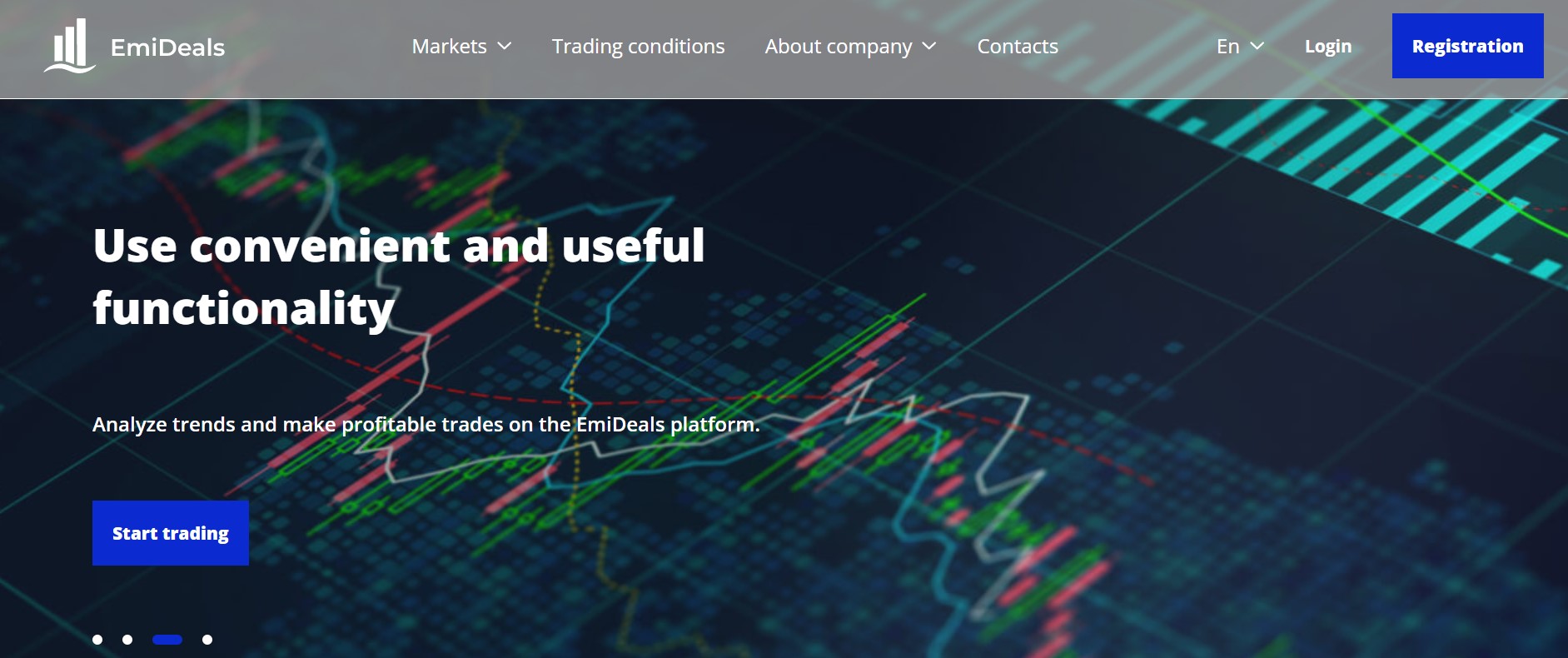 No legitimate license
As mentioned above, when you check out the EmiDeals website, you will see that the broker claims to be licensed and regulated in various jurisdictions. Had it been true, then it would have been a truly great broker, but this is nothing more than a lie. Amongst the claims, the regulatory authorities that have been named include the Australian Securities and Investments Commission (ASIC), the US Commodity Futures and Trading Commission (CFTC), the Cyprus Securities and Exchange Commission (CySEC) and the regulatory authorities in the United Arab Emirates and South Africa.
The problem is that when you try to search for EmiDeals in the online registers of any of these regulatory authorities, you will not find anything. This is all the confirmation you need that the company is only claiming about having a license and is not actually regulated anywhere. Obviously, no legitimate platform would ever do that and one that lies to you should never be trusted because only criminals would do that.
Promising returns
When something sounds too good to be true, it usually is and this is something everyone has heard at some point or the other. The same applies in the case of EmiDeals because when you check out their offerings, you will notice that they urge people to join their platform in order to 'earn quickly'. This is exactly what a too-good deal looks like because no one can promise you quick returns in the financial markets.
Anyone who tries to do so should be considered a fraudster because these markets are known for their volatility and their unpredictable nature. Even traders with years of experience under their belt cannot promise you any kind of returns in any trade. As a matter of fact, risks are quite high due to which brokers in various regulated jurisdictions like the European Union are required to warn their clients about losses instead of promising profits. They are told to provide statistics of the people who have suffered losses, so people are aware of the risks.
Unusual withdrawal conditions
It is understood that when you use a broker's services, you will make deposits and eventually want to withdraw your profits as well. The whole point of trading is to make returns that you can use. But, this is where scammers come in because they will never let you make withdrawals on their platform. Thus, when you want to find out if a broker is authentic or not, you should check out their withdrawal policies as well.
These usually give you an idea of whether a broker is really legitimate or not. Doing so with EmiDeals will definitely pay off because you will learn the truth about the platform. According to this broker, you are not permitted to submit withdrawal requests for a certain period of time. You should note that a legal company cannot prevent you from accessing your money, under any clause or condition. Hence, any platform that attempts to do it is a big fraud. Regulated brokers allow you to make withdrawals, no questions asked, at any time.
Unproven trading platform
Online brokers provide you a trading platform for executing trades and the one you find at EmiDeals is lacking in a number of functions and features. It is basically an unproven trading platform that does not come close to market leading options like the MT4 and MT5, or even cTrader. Instead, you are given a cheap web-based platform, which is common for scam brokers.
Bitcoin payments only
If you need additional confirmation about EmiDeals being a scam, you can see that they only accept Bitcoin payments. This is problem because crypto deposits are final, so there can be no chargebacks as in the case of credit cards. Plus, these transactions also tend to be anonymous for the most part, which means you have no idea where your money is going.
Final Word
Considering that the broker lies about its licensing and has a number of other prominent flaws and warning signs, you can see that EmiDeals is not worth signing up for.