---
How To Get Your Money Back From Scammers?
Want to get your money back from a scam?
Fill in the contact form on the page in this link and you will be able to get help in recovering your lost funds! You will be walked through the entire recovery process by a representative of a recommended fund recovery service after which a case will be opened for you by a case manager.
---
FX Swiss Market Review


Online trading has given millions of people all over the globe access to the financial markets. But, while they can benefit from the tons of money-making opportunities, they also have to contend with the risk. There may be no barriers to entry, but scam brokers can and do prevent people from achieving their goals and leave them empty-handed. You have to be wary of these brokers, but you cannot avoid this step altogether because the broker you choose will give you access to the markets. The actual dilemma is to figure out if the broker you are choosing is a scam or a good one. FX Swiss Market review is aimed at helping you find the answer.
When you come across the hundreds of companies touting their services, it is very tempting to close your eyes and just pick a random firm. Some people may fall for a broker when they go through the promises made. You have to understand that both these routes only end in disaster, with you losing your investment altogether. The scammers have gotten smarter and are using technology to trick people, which means they will come off as legitimate and reliable platforms.
It is only when you delve deeper that their flaws become more and more pronounced and help you see that you are making a mistake. The same becomes apparent in the case of FX Swiss Markets, which checks all the boxes at first glance. However, when you dig into it and try to verify all its claims, you will discover that it is deceptive from the very beginning. How? Read this review to discover more: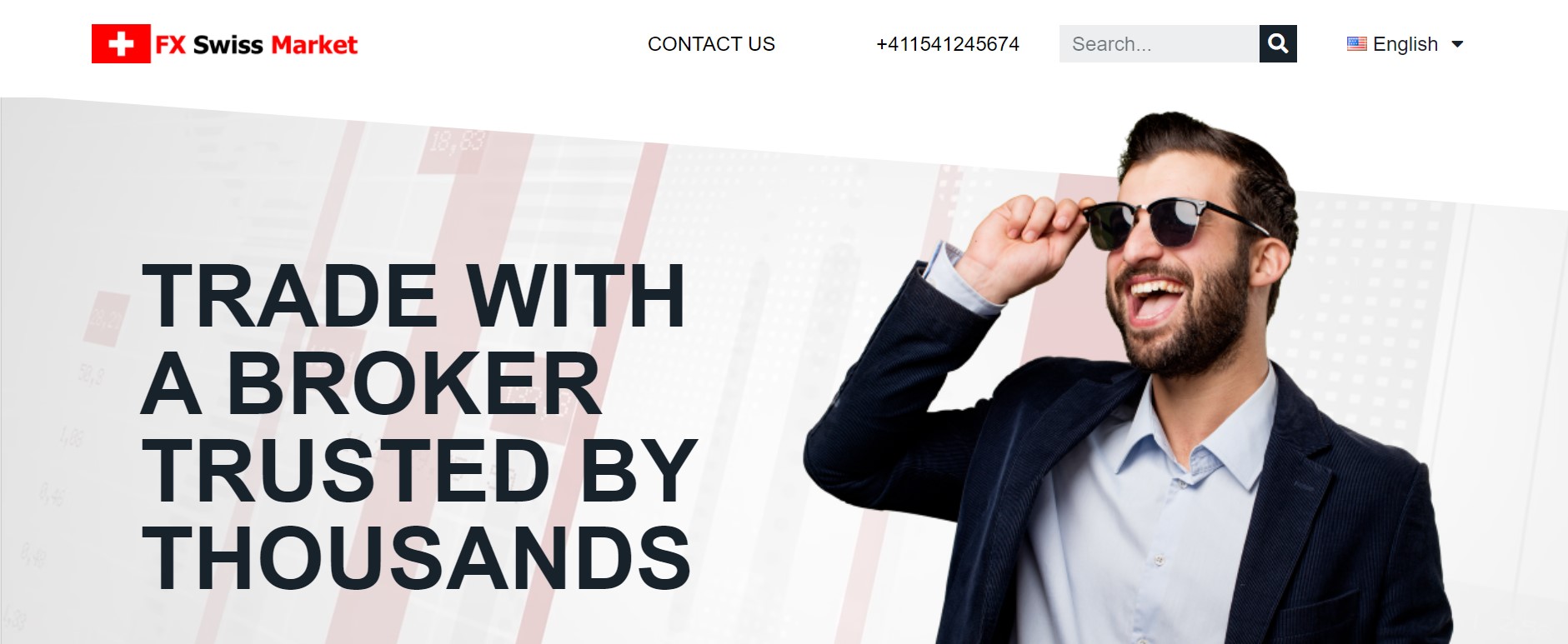 No licensing and regulation
If you are looking for the quickest formula to distinguish between a scam and authentic broker, you only have to check their license and regulation. Trustworthy brokers have the right license and are also regulated by renowned authorities, whereas scam brokers will have nothing to show in terms of licensing and regulation. Unfortunately, FX Swiss Markets falls in the latter category.
As a matter of fact, as mentioned above, it tries to deceive people from the get-go. How? All you have to do is take a look at its name and it will lead to confusion. The domain and logo indicate that the brokerage is either located in Switzerland or as the authority of dealing on its markets. But, the reality doesn't even come close. When you go through the legal documentation of the broker, you will find that it is actually based in Saint Vincent and the Grenadines.
It is important to note that the company has made a great deal of effort to conceal this very important piece of information, which shows that FX Swiss Markets has every intention of misleading its clients. They are not forthcoming about their location because St. Vincent and the Grenadines is notorious for being the home of plenty of scam companies. This is because the country has stated outright that it doesn't regulate the forex markets, which means anyone can establish a company and begin operating. The licensing and regulation of such a region is absolutely worthless.
Malicious Terms and Conditions
When you sign up on any online platform, you are asked to agree with some Terms and Conditions and this is no different in the case of online brokers. They also have these legal documents that outline the kind of relationship traders will have with the broker. But, when you go through these on the FX Swiss Markets' website, you will discover how malicious they are.
To begin with, FX Swiss Markets offers trading bonuses to its clients and they have also added a non-deposited funds clause to go with them. This is just an excuse to prevent people from making withdrawals on their platform. The clause dictates that trading profits from the bonus are not eligible for withdrawal, but profits from other funds can be withdrawn.
The trouble is that you cannot distinguish what money was used for making which profits, thereby preventing withdrawals altogether. Likewise, if you wish to withdraw bonuses on FX Swiss Markets, then you will find some ridiculous turnover requirements as well, which are almost impossible to achieve. This is another way of ensuring no withdrawals can be made.
You will also find fees and charges mentioned in the FX Swiss Markets' terms and conditions and they are also quite high. They demand a 20% commission upfront and also apply an additional levy on accounts that don't fulfill the turnover requirements. You cannot find a single authentic broker that would ever implement such practices.
High leverage
Some traders may view high leverage as an advantage, but the fact is that there is high leverage and then there is too much leverage. The ratio that you find on FX Swiss Markets falls in the latter category, as you can have leverage of 1:1000. This is quite excessive and most regulated markets will not even come close to half of this ratio.
No MT4 or MT5 platform
When it comes to the trading platform at FX Swiss Markets, you are in for further disappointment because there is no MT4 or MT5 provided. These are the top two trading platforms in the market and are preferred by most traders because of their technology and tools. Yet, a web-based platform is provided to you by FX Swiss Markets and it doesn't have anything special to offer. It cannot be compared to the offerings of the MetaTrader platforms in any way.
Limited deposit methods
Checking the payment methods of a broker is also necessary and the ones provided at FX Swiss Markets are further confirmation of its scam status. They only support two options, which are wire transfers and bitcoins and neither of these is eligible for a chargeback. As a matter of fact, the latter is completely anonymous and both methods are irreversible.
The Verdict
It appears that FX Swiss Markets is riddled with red flags that show this broker is not the one to trust for your trading journey.