---
How To Get Your Money Back From Scammers?
Want to get your money back from a scam?
Fill in the contact form on the page in this link and you will be able to get help in recovering your lost funds! You will be walked through the entire recovery process by a representative of a recommended fund recovery service after which a case will be opened for you by a case manager.
---
Haven Investment Groups Review


When you initiate your search for a broker, you need to bear in mind that not all companies that are offering their services to you are legitimate. The number of scam and shady brokers has gone up because the financial markets have become very active and this presents more opportunities for criminals to exploit people. These brokers deliberately add such offerings and make promises that can attract people and make it difficult for them to resist. Haven Investments Group is one such company, which claims to be the world's fastest growing trading platform.
It offers lucrative investment opportunities to people in gas, oil, forex, real estate and even cryptocurrencies. Moreover, Haven Investments Group is promising returns of up to 2,000% in just a few weeks, which is quite spectacular. But, is it genuine? This Haven Investments Group review will shed some light on why you need to be wary of their offerings: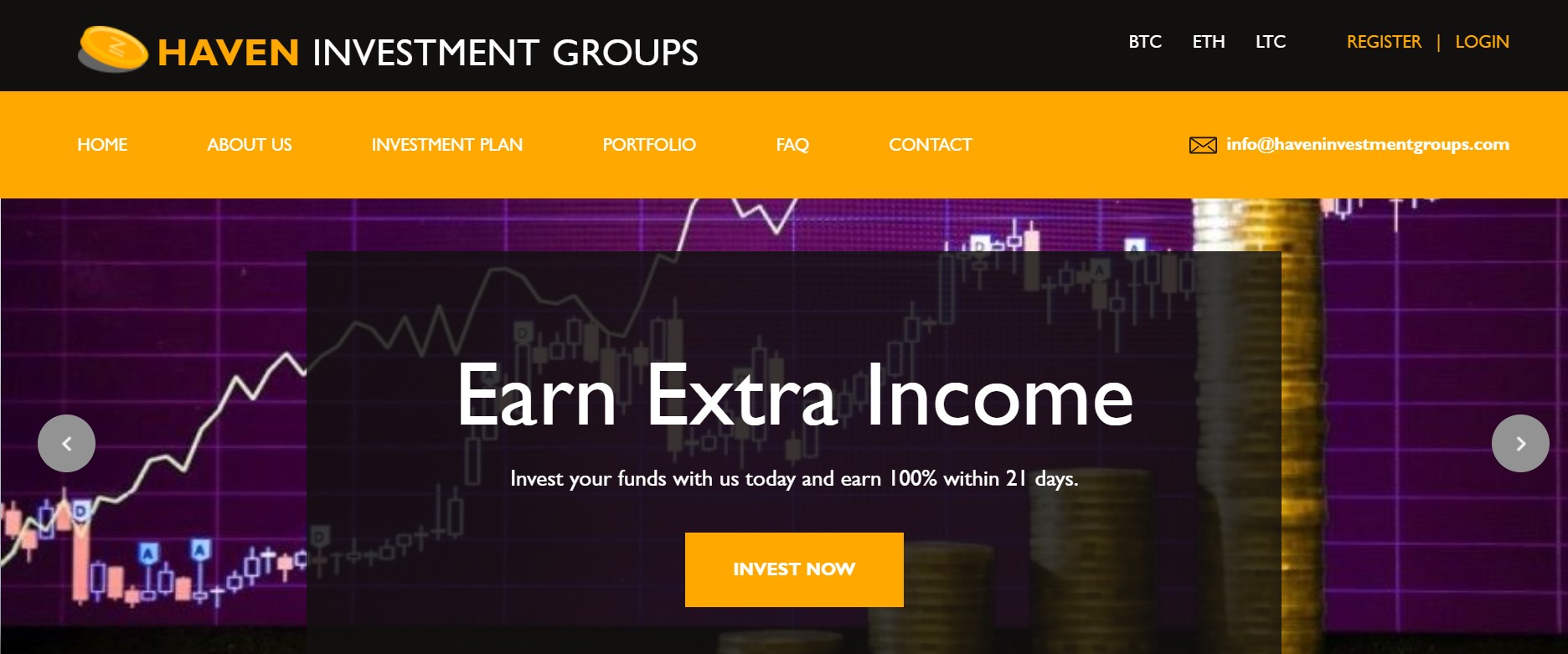 No regulation
The first thing you will note about Haven Investments Group is that the brokerage claims to be located in Michigan, USA. If the company is truly operating from there, then it would require to be duly licensed and authorized. A broker cannot operate in the United States without being authorized by the local Commodity Futures and Trading Commission (CFTC) and should also be members of the National Futures Association (NFA).
However, you will discover that this is not the case at all where Haven Investments Group is concerned. As a matter of fact, they have already been exposed as a scam in Canada by the British Columbia Securities Commission (BCSC). In addition, the financial regulator in Italy i.e. the CONSOB, has also blacklisted them. These signs clearly point to the fact that this brokerage is a scam.
Impossibly high returns
One of the offerings of Haven Investments Group is earnings of between 1,000% and 2,000% in a time span of just 21 days, depending on the account you decide to open. This is extremely unrealistic because nothing is certain or guaranteed in the financial markets. They are highly volatile and unpredictable and no one can guarantee you profits of any kind in any time duration. Anyone promising to do that is just trying to scam you, which Haven Investments Group is definitely doing.
Managed accounts
Another problematic offering that you will come across on the Haven Investments Group website is that of managed accounts. According to them, their management team will deal with your funds and invest them on your behalf. This simply cannot be true because the broker is a market maker, like others operating in the market.
This means that it wins when a trader loses and they will certainly not do anything to help traders win because it doesn't help them at all. Hence, they have every reason to mismanage your funds and lose them all for their own profit. Furthermore, the Haven Investments Group claims that your funds are covered by insurance, but no proof is provided on the website. You cannot just take their word for it.
High minimum deposit requirement
Making a minimum deposit with a broker is expected, but the amount that Haven Investments Group is asking for comes as a surprise. They require their clients to deposit at least $1,000 to start using their services, which is four to five times more the standard amount charged by other brokers. In fact, some companies don't have a minimum deposit at all, or it begins as low as $10.
No trading platform or conditions
The trading platform is the most crucial offering of a broker, yet Haven Investments Group doesn't appear to have one at all. So, how will you trade? Plus, you will not find any mention of leverage or spreads on the website and this is another issue.
Final Word
It is clear that you need to be wary of the offerings of Haven Investments Group because they are just empty promises and it bears all the hallmarks of a scam.