---
How To Get Your Money Back From Scammers?
Want to get your money back from a scam?
Fill in the contact form on the page in this link and you will be able to get help in recovering your lost funds! You will be walked through the entire recovery process by a representative of a recommended fund recovery service after which a case will be opened for you by a case manager.
---
Meta Trade Access Review


With the global pandemic continuing to wreak havoc and economies struggling, more and more people are turning towards the financial markets to supplement their income. These markets boast numerous lucrative opportunities, thanks to the hundreds of thousands of trading instruments. However, you need the services of a reliable and good broker to tap into their potential. Meta Trade Access is one of the brokers that you will come across. It claims to offer the ultimate trading conditions, but you have to through a Meta Trade Access review to verify their claims.
You will notice that Meta Trade Access promises leverage as high as 1:500, ultra-low latency, raw spreads, the choice of top two trading platforms i.e. MT4 and MT5, more than 70 currency pairs, six account options and no fees and commission. This sounds truly wonderful, but you cannot just take their word for it. You need to determine if they really do offer what they have promised to avoid getting scammed, as some brokers are known to do. This review can help you figure out why you need to steer clear of them: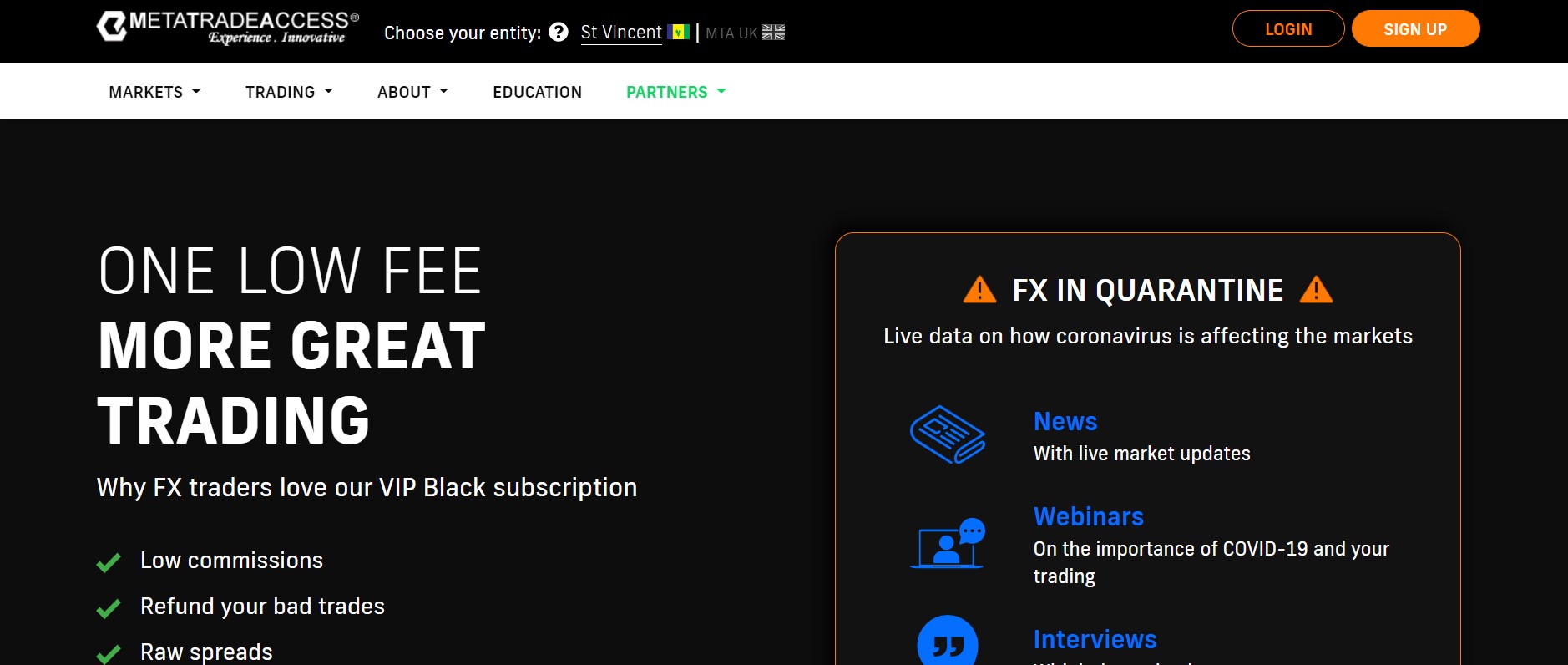 They are not regulated
The first problem that you will come across in the case of Meta Trade Access is that even though they claim to be regulated, they are not. They have quoted a contract address on their website that puts them in Mountain View, California, but if they were really based there, the broker should be authorized by the Commodity Futures Trading Commission (CFTC) and should also be members of the National Futures Association.
Furthermore, the statement that its parent company i.e. Meta Trade Access Ltd. is registered in St. Vincent and the Grenadines doesn't help either. This jurisdiction is known to be a hotbed for scam brokers because the forex industry is not regulated there and any one can set up a company easily. Thus, this shows that Meta Trade Access is not licensed anywhere and is just a scam.
They offer guaranteed returns
Another issue with Meta Trade Access is the promise of guaranteed returns that they make on their website. According to them, a deposit of $300 can earn you $2,880, which is impossible to guarantee. The financial markets are highly unpredictable and volatile and only scammers will ever guarantee you returns in order to lure you in.
They have shady Terms & Conditions
If you go over the Terms & Condition of Meta Trade Access, you will realize that it is not to be trusted at all. This is because they have a clause that asks for full access to your bank account. No legitimate broker would ever ask access to their clients' personal accounts and it is only scammers who would want this, so they can steal the funds.
They don't offer the mentioned platforms
As stated above, there are two trading platforms that are offered by Meta Trade Access to its clients and these are the MT4 and the MT5. These are the two most popular ones in the entire industry, but sadly, they are not what you will find on the broker's website. They only have a funny looking web-based trading platform that doesn't remotely resemble the MT4 or the MT5. This means that the brokerage is only claiming to offer the aforementioned platforms to lure people in.
They are lying about payment methods
According to the Meta Trade Access website, you can use a variety of payment methods on their platform. These include credit cards like Visa and MasterCard. In reality, the only payment method they do accept is bitcoin, another clear sign the broker is a scam. Bitcoin payments tend to be anonymous and are completely irreversible, which have made this the top payment method of scammers. You will not be able to claim a refund and your money will go to waste.
The Final Verdict
All of these are excellent reasons to steer clear of Meta Trade Access and look for a different broker altogether.