---
How To Get Your Money Back From Scammers?
Want to get your money back from a scam?
Fill in the contact form on the page in this link and you will be able to get help in recovering your lost funds! You will be walked through the entire recovery process by a representative of a recommended fund recovery service after which a case will be opened for you by a case manager.
---
TradingBloom Review

With the financial markets filled to the brim with lucrative opportunities, it is understandable that people want to engage in online trading. It is common knowledge that you need a brokerage to start, but this is not a piece of cake. You cannot just Google and opt for the first random platform you find because there have been too many scams in the market for you to be able to trust someone. Proceeding with caution should be your mantra if you are looking to make money and don't want to end up becoming yet another scam victim. This TradingBloom review can help you avoid this scenario.
You will find TradingBloom in the list of online brokers and it does not seem to be a scam website because it is a lot flashier than you would expect a fraud to be. Plus, they appear to offer some very good trading conditions and this makes them very hard to resist. The key is to take a deeper look because that is how you find out the truth about any broker. After all, you will be trusting them with your hard-earned money and a great deal of your personal information. You have to know they are worth it. You should do the same with TradingBloom and this review can give you the insight you need. Let's take a look: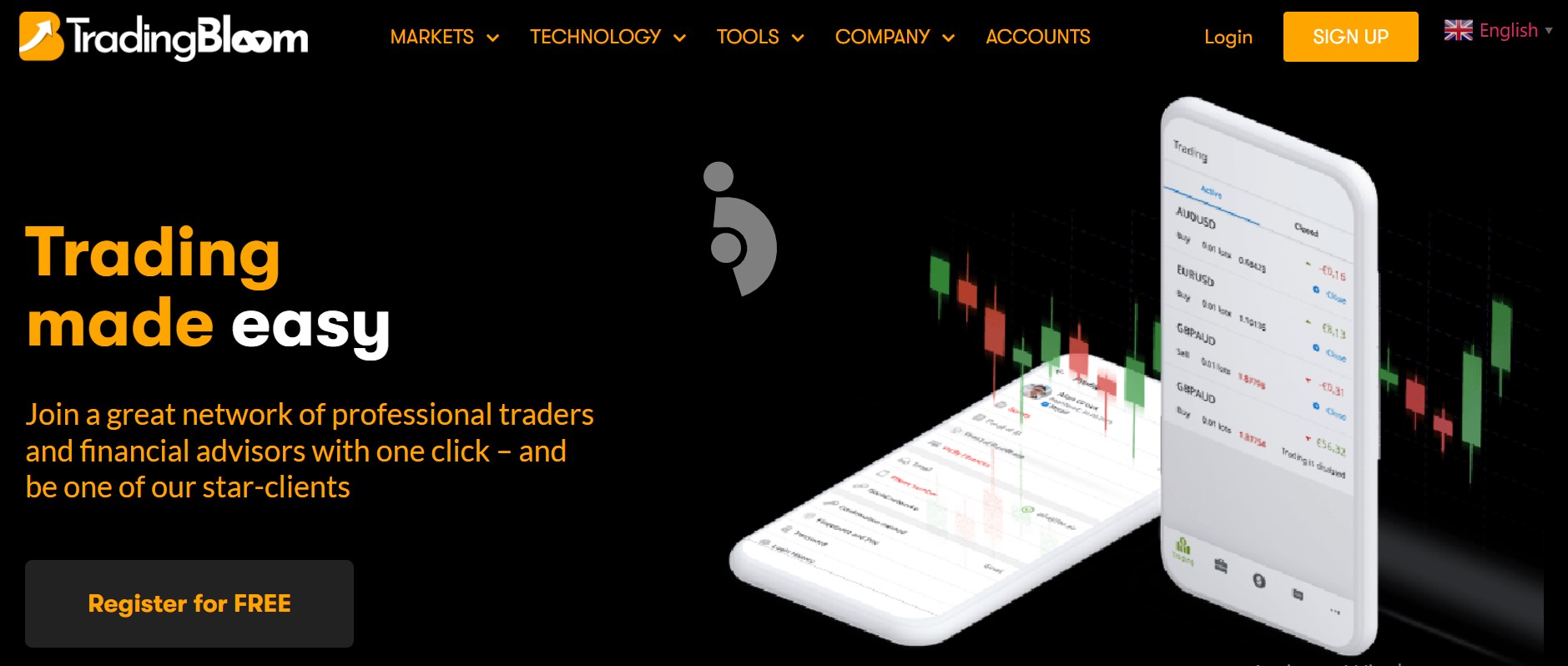 Blacklisted broker
The best way to determine the authenticity and reliability of any online brokerage is to check their licensing status. Any broker worth their salt would have a genuine license to offer their trading services and if they don't, then you need to be wary. When you try to check out the licensing status of TradingBloom, you will only be left disappointed. Yes, this means that the broker is not licensed at all, but this is not the only problem here.
You will further discover that there has been a warning issued against TradingBloom by the Netherlands Authority for the Financial Markets (AFM). According to the Dutch AFM, people should not use its services because it does not have a license. Furthermore, they have also warned that it is essentially a boiler room scam, which means they have a call center somewhere and use it for cold calling victims and offer them questionable financial investments or products. This warning is enough to tell you that you need to avoid TradingBloom if you don't want to be scammed.
Malicious bonus conditions
It is a given that you would want to check the policies and fees that you will have to deal with when signing up with a broker. A look at what TradingBloom offers can send alarm bells ringing in your head. First off, you will find that they are offering trading bonuses. This in itself is a problem because brokers in regulated markets are not permitted to do so. Bonuses were banned because of the malicious conditions that came attached to them, yet they are available at TradingBloom.
A closer look shows just why they were banned in the first place because they come with the malicious conditions that are associated with bonuses. You will come across a Non-Deposited Funds policy at TradingBloom, which states that traders will not be able to withdraw their trading bonus or the funds generated via the bonus until they have met a minimum trading volume requirement. This almost appears feasible, but the problem is that there is no way to physically separate the funds you deposit and that of the bonus.
In effect, the non-deposited funds policy at TradingBloom will just prevent you from withdrawing your own funds and this is not something any legitimate broker would do. Moreover, if you check the minimum trading volume requirement, you will learn quickly enough that it is too high and almost impossible to achieve. This is further confirmation that the intention of the policy is to prevent you from making a withdrawal altogether.
Unusual fees
As mentioned above, you will check the policies and fees of a broker before signing up and a look at the withdrawal fees at TradingBloom would show you a problem. Not only is their withdrawal fee on the high side, but they also have some unusual fee that should alert you right away. Apparently, you will not be able to able to make a withdrawal until you have completed a minimum turnover requirement. This is not very different from the bonus conditions mentioned above and again, it is not something an authentic broker would ever do.
You are never required to meet any prerequisites before accessing your own money, yet not only is TradingBloom restricting you, they even add a 10% levy if you make a withdrawal attempt. This is an indication that the brokerage is definitely not a trustworthy one because they would never try to stop you from withdrawing your funds.
Shady trading software
The most important feature that an online broker offers to traders is the trading software, which is used for trade execution and comes with trading tools needed in the process. The MT4 (MetaTrader 4) and the MT5 (MetaTrader 5) are recognized as the top trading software in the market and are a favorite of professionals. Therefore, if a brokerage offers any of these platforms, it is considered a good sign. You would think the same in the case of TradingBloom, but it doesn't seem to be the truth.
A look at the offerings at TradingBloom shows that they claim to have the MT4 and also a web-based interface. However, once you look closer, you will find that the MT4 they offer does not belong to them. There is actually a shady third party by the name of FXtoAll, which offers the platform this is certainly suspicious. Why do they need a third party? This is usually when the platform has been pirated.
Secondly, the web-trading interface you will find at TradingBloom is very basic and a common one that many scam brokerages offer in order to appear legitimate.
Conclusion
When you put everything together, you can see that TradingBloom is definitely not a brokerage that you can or should trust.