---
How To Get Your Money Back From Scammers?
Want to get your money back from a scam?
Fill in the contact form on the page in this link and you will be able to get help in recovering your lost funds! You will be walked through the entire recovery process by a representative of a recommended fund recovery service after which a case will be opened for you by a case manager.
---
Wellingtoncapitalinvest Review


Trading in the financial markets is a dream of many, but not everyone is able to accomplish this goal. Sure, there is no denying that online trading has made it easier than ever for people to join the trading bandwagon, but it also comes with its fair share of problems. The most prominent issue that people encounter is of fraudulent and scam brokers that can be demotivating for many. After you have lost your money, it can be difficult to get the courage back to trade once more. Therefore, you have to be diligent, which means checking out this Wellingtoncapitalinvest review before you decide to trade.
Indeed, being diligent can make a big difference because it can save you from making some major blunders. As aforementioned, no one wants to end up being a victim of a scam broker and the only way to ensure it doesn't happen to you is by taking action and knowing what you are getting into. This means that you don't just rely on the information you find on the broker's website, but actually verify it because it may not be true at all. This is exactly what you will discover in the case of Wellingtoncapitalinvest.
They are presented as an Australian broker that delivers the best online trading experience and industry leading forex services to people all around the world. Plus, they also offer services of dedicated wealth managers, who will essentially be trading on your behalf, helping you make profits while you sit back and relax. All of this undoubtedly sounds fantastic and would have been great if it were true. But, when you start peeling the layers, you will discover that Wellingtoncapitalinvest has all the hallmarks of a scam and is not a broker you can ever rely upon. Let's check out its problems: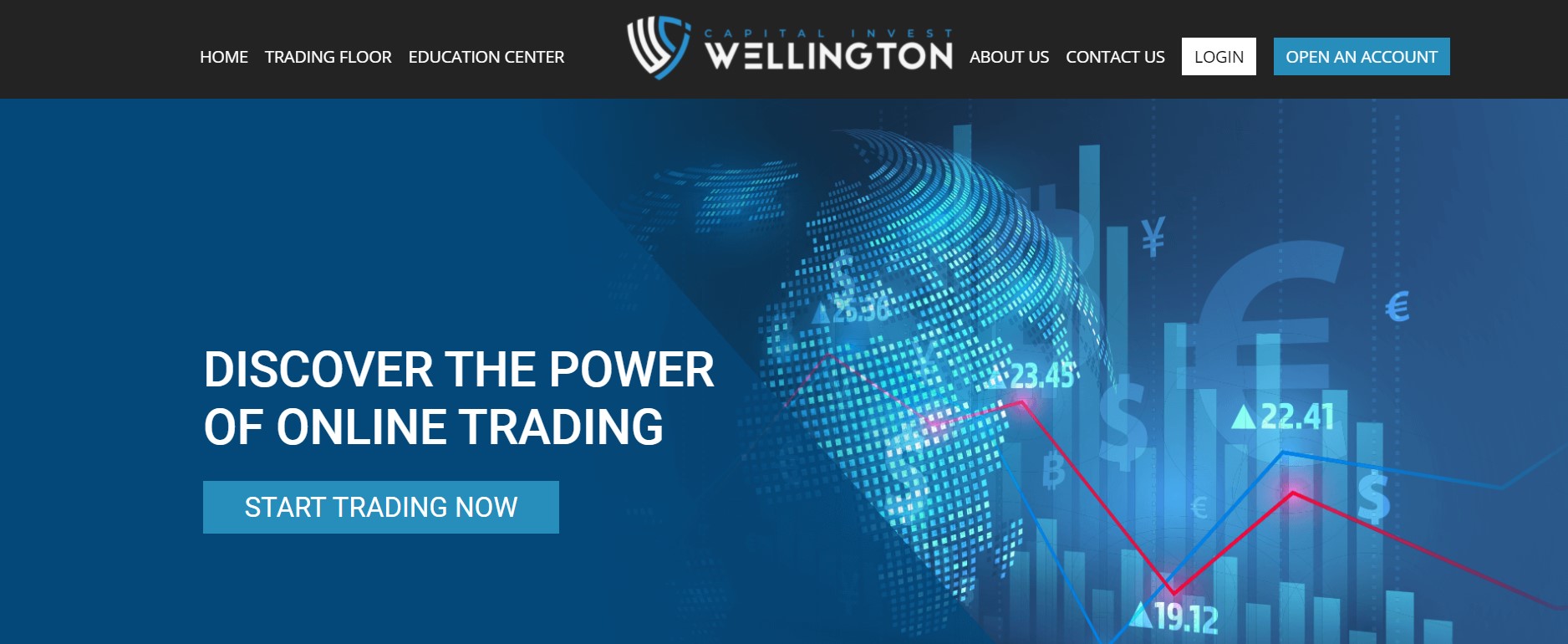 No regulation
It is best to begin with the regulation and licensing of a broker in order to know what they are really about because it will shed light on their dedication to provide their clients fair and secure services. When you do this with Wellingtoncapitalinvest, you should be prepared for a nasty shock because not only is the broker completely unregulated, their website is practically anonymous. Sure, you will come across a postbox address in Sydney, Australia, but this is the only piece of information you will find.
Plus, as the address is of Australia, you can check the register of the Australian Securities and Investment Commission (ASIC), which is the regulatory authority in the country, but Wellingtoncapitalinvest is not listed. There is no other information about the company itself or any other details, so you have no idea who is behind them. Moreover, if you check out the Terms & Conditions of the broker thoroughly, you will find that your transactions essentially take place with a company in Bulgaria, where they have their principal servers.
This means that the company behind Wellingtoncapitalivest is actually based in Bulgaria and not Australia, but this doesn't help their case either. It is because Bulgaria is also a strictly regulated market and any company operating there should follow EU regulatory standards, meaning it should be duly licensed and authorized by the Bulgarian Financial Services Commission (FSC), which it isn't.
Conflict of interest
If the aforementioned issues were not enough, you will come across another one. A quick tour of the Wellingtoncapitalinvest website shows that they are offered you 'Managed Accounts', which are handled by a dedicated wealth manager. They will trade on your behalf and help you make profits. This sounds reasonable, but it really isn't because brokers are market makers. This means that they make profits when traders lose.
Therefore, the fact that Wellingtoncapitalinvest is offering such accounts is a conflict of interest because helping you make profitable trades means they will be incurring losses. Why would they do that? Chances are that if you do hand over the money to them, they will simply make bad trades to cause you losses because this means profits for them.
Offering trading bonuses
Shouldn't trading bonuses be a good thing? No, most of the regulatory authorities around the world, including those of the UK, Europe and Australia, have imposed a ban on these bonuses because they come with strings attached and are not fair to the traders. The same is applicable in the case of Wellingtoncapitalinvest because when you check their bonus policy, it is stated that you have to achieve a certain trading turnover before you will be deemed eligible for withdrawal. What's worse is their statement that they can change their bonus policy whenever they want, which means that they will constantly keep on increasing the minimum trade volume requirement, if you even come close to reaching it.
High minimum deposit
Another major problem that you will encounter with Wellingtoncapitalinvest is the excessive minimum deposit they ask of their clients. You have to deposit at least 2,500 EUR for opening an account on their platform, which is 10 times more than what most brokers ask. The minimum deposit is not more than $250 in most cases. This aforementioned minimum deposit is for the Basic account and other accounts i.e. the Qualified, Institutional, Managed and Saving accounts ask for 10,000 EUR, 50,000 EUR, 750,000 EUR and 100,000 EUR, respectively.
No MetaTrader available
When you sign up with a broker, you would obviously expect them to offer you the very best trading platform in the market, which is the MetaTrader. Unfortunately, you will not find the MT4 or the MT5 platforms on Wellingtoncapitalinvest because they have a web based platform and it doesn't even come close to the performance of the MT4 in terms of tools and technology.
Conclusion
When you have weighed the numerous problems associated with Wellingtoncapitalinvest highlighted above, you can easily come to the conclusion that it is not a broker you should rely upon in any circumstance. Signing up with an anonymous and unlicensed broker that has a conflict of interest is the last thing you should do.