---
How To Get Your Money Back From Scammers?
Want to get your money back from a scam?
Fill in the contact form on the page in this link and you will be able to get help in recovering your lost funds! You will be walked through the entire recovery process by a representative of a recommended fund recovery service after which a case will be opened for you by a case manager.
---
Capital Index Fund Review

Trading in the financial markets is a popular activity because they are filled to the brim with opportunities to make money. You will not run out of options, but you have to have a broker that can help you access them easily. These days, finding something is not complicated because you have search engines like Google at your disposal, but the sheer number of companies that are touting their trading services will leave you flabbergasted. How will you be able to sort through the seemingly hundreds of options? This is where this Capital Index Fund review will come in handy.
You cannot possibly believe all the companies that promise you professional services because it would mean they all are created equal. This is practically impossible, so the challenge is looking for the one platform that will be in accordance with your needs. Not only do they have to offer what you want, but they also need to be authentic and legitimate. Some people have to learn the hard way that these things may not go together. Cybercriminals are very active in this space and their favorite strategy is to disguise themselves as scam brokers.
All they have to do is create a website, promise to provide the services and features people look for and they have the tool they need to trap victims in their web. Countless people have fallen for these fraudulent brokers because they didn't look closely enough to unravel the web and find that most of the claims were false. This is where this Capital Index Fund review helps because it shows you the reality of this broker that's offering you incomparable trading conditions, easy access to a ton of currency pairs and numerous other assets, fast execution and a state of the art trading platform.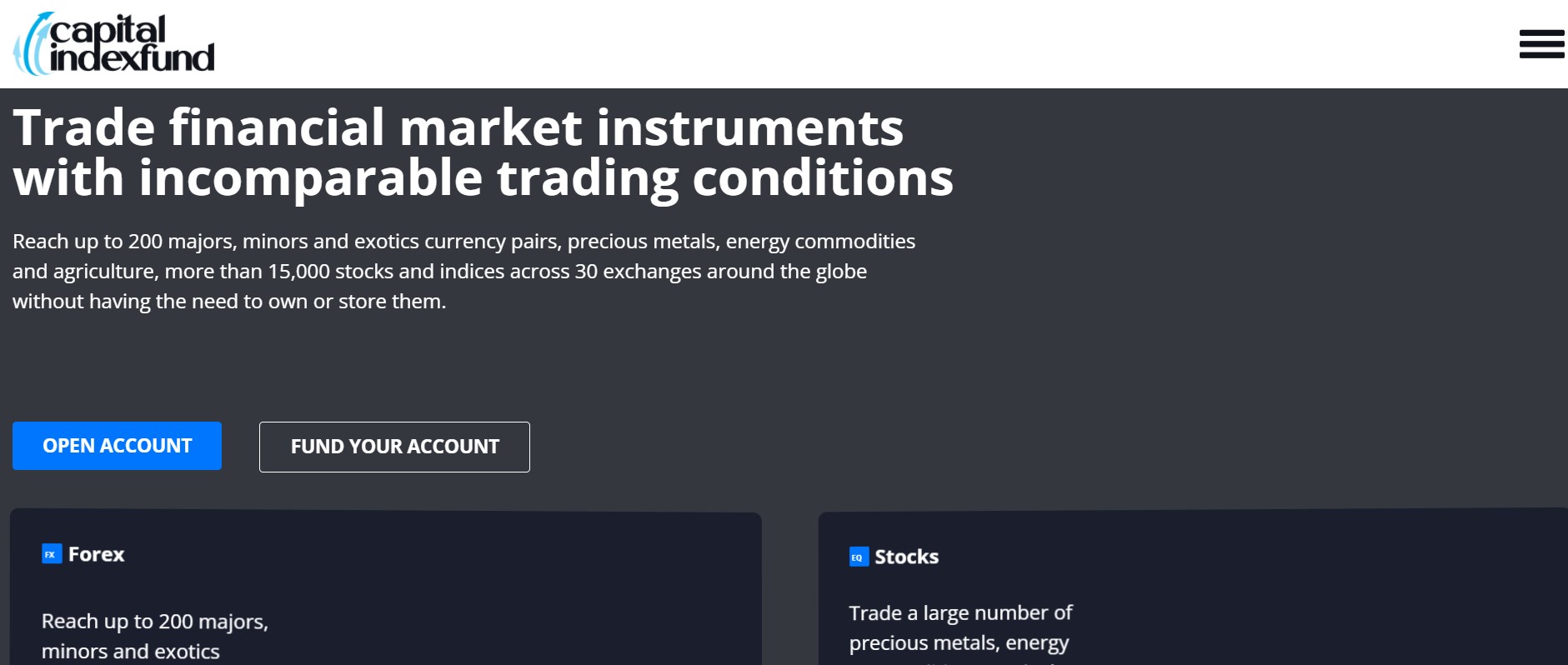 You add claims like it is catering to more than half a million people globally and you have a fantastic broker that seems like the best fit. So, what should you make of Capital Index Fund? Let's take a look:
Licensing and Regulation
Licensed and regulated brokers are touted to be the most professional and trustworthy options, so you should instantly prioritize those. Understanding this, cybercriminals have taken to claiming they are also regulated and licensed and since a lot of people don't follow up, they are able to find victims easily. This is how Capital Index Fund is also trying to deceive its clients. While it has not openly claimed that it is a licensed and regulated entity, they have shown an interactive map of London on their website.
This indicates that the brokerage is based in London, United Kingdom, which is one of the most strictly regulated jurisdictions in the world, as it falls under the Financial Conduct Authority (FCA). But, the truth is that Capital Index Fund is actually owned and operated by a company named MC Pro Trading LLC and when you dig a bit into this firm, you will find that it is an offshore company operating out of St. Vincent and the Grenadines.
It is regarded as one of the favorite location of scam brokers because they do not regulate forex brokers at all and anyone can set up a company there. Hence, Capital Index Fund is clearly not a platform to depend on.
Terms and Conditions
The lack of licensing and regulation of Capital Index Fund is already worrisome, but the problems you discover in their Terms and Conditions aggravate even further. These terms are meant to define the kind of relationship you will have with the broker, which includes their policies and fees. When you go through them, you will find that the company is being very malicious when it comes to withdrawals.
First and foremost, they have not specified a time frame for processing withdrawals and this is a big problem. Why? It is because the broker can take as long as they want and you will have to wait to get your money, whether it is hours, days, weeks, months or years. To put it simply, your withdrawal request is likely to not be approved at all as scam brokers like Capital Index Fund will not return your money.
Moreover, they also have outrageous fees to add to the existing withdrawal processing and handling fee. They state that you will have to pay 10% more if you request a withdrawal before meeting minimum trading volume requirements. As per the policy of Capital Index Fund, you have to achieve a 200 turnover to make a withdrawal, which is impossible for traders.
Trading Platform
One of the most vital offerings of an online broker is known as the trading platform i.e. the software they provide for helping you execute your trades and make your decisions. This varies from broker to broker, but market-leading options like the MT4 and the MT5 are usually provided by professional and authentic brokers because they are highly advanced and feature-rich. But, you will find that none of these are available at Capital Index Fund because they claim to have a Capital Index Fund Web Trader.
The broker has described it as state-of-the-art, but you will find that it is essentially an oversimplified web trading platform that doesn't offer much, especially when compared to the two leading trading platforms mentioned above.
Payment Methods
The payment methods provided by a broker are also relevant because they affect your trading experience as well. You will find that Capital Index Fund offers a strange combination of methods, which include credit cards like VISA and MasterCard, a payment provider named GameChangers and crypto coins. Only the first option is reliable because you can file for a chargeback, which means you can get your money back if you believe there is a scam. This is the only reassurance you have, but it only applies if this method is available.
Final Decision
It is clear from these problems that you cannot expect a good experience from Capital Index Fund because it is not a reliable broker.