---
How To Get Your Money Back From Scammers?
Want to get your money back from a scam?
Fill in the contact form on the page in this link and you will be able to get help in recovering your lost funds! You will be walked through the entire recovery process by a representative of a recommended fund recovery service after which a case will be opened for you by a case manager.
---
Infinitgain Review


There is no denying that you have to have knowledge, skills and strategies to succeed in the financial markets, but that's not all. It is essential to remember that your performance also depends a great deal on the online broker you sign up with. These are the companies that provide you the platform, tools and all the other essential ingredients you need for trading online, so they can have a big impact on it. Most importantly, all brokers are not the same and some are not even legitimate. The Infinitgain review below shows how some companies present themselves as authentic, but are only fooling clients into handing over their money.
This is what you need to be wary of when you are searching for an online broker. They hit all the right notes when you check out their website and this only results in confusion. Many people fall for their trap and sign up, only to find out that nothing that was promised actually exists. If you want to avoid such a scenario, you have to prioritize due diligence so you are not misled and can verify the claims for making the right decision. This is something that will benefit you in the case of a broker like Infinitgain as well.
When you check out their offerings, you will find that Infinitgain is presented as an innovative online trading broker that offers thousands of instruments for trading, spreading across five asset classes. They have offices in the United States and Austria and offer cutting edge technology, best trading conditions, including ultra low spreads, leverage as high as 1:500 and fast execution. Of course, this offer is undeniably exciting and you want to sign up straight away. However, if you try to verify the aforementioned claims, you will come to see that it is not the respectable broker it appears to be.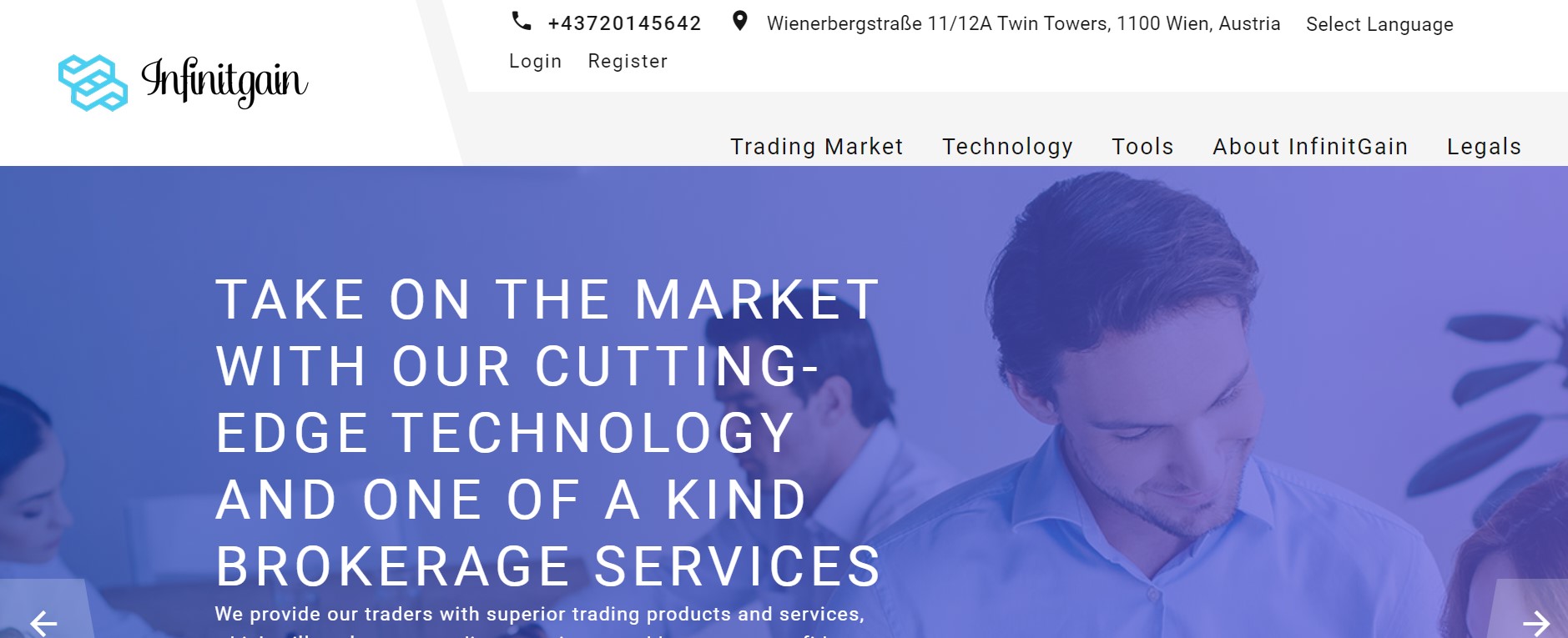 You can check the following Infinitgain review to know more:
Regulation and licensing
Signing up with a regulated and licensed broker is one of the best ways to avoid getting scammed; every experienced trader is going to tell you this. The problem is that many scam brokers claim to be licensed and regulated to draw attention and fool people, so it is essential to follow up and confirm that they are really what they promise. Doing so in the case of Infinitgain shows that it is all a sham. The website appears to be virtually anonymous and you will only find purported postbox addresses in Austria and the United States.
As per the company details, Inifinitgain has offices in Virginia, Alexandria, Florida and Orlando in the United States and in Vienna, Austria. They have also added that they are complying with regulatory requirements. But, since they are not regulated anywhere, they are clearly not making any effort. You can check the registers of the Commodity Futures Trading Commission (CFTC) and the National Futures Association (NFA) in the US and not find the broker listed there.
Likewise, its name will not appear when you check the register of the Financial Market Authority (FMA) in Austria. In fact, you will find that Infinitgain doesn't even disclose the name of the company behind it, which doesn't make it trustworthy at all.
Terms and Conditions
After regulation and licensing, the next most important feature of a broker that deserves your attention is their Terms and Conditions. These dictate what you are getting into and what you can expect in terms of fees and policies, so you are prepared to deal with it. Unfortunately, the Terms and Conditions on the Infinitgain website simply give you more reasons to distrust the platform. This is because they highlight just how complicated withdrawals will be if you sign up with the broker.
First off, there is a 10% levy imposed by Infinitgain on any withdrawal amount if you submit a request before fulfilling minimum trading volume requirements. You have to have more than 200 in account turnover before being permitted to withdraw, something that's practically impossible for even the most experienced traders to achieve. Secondly, they have also added that there is no time frame for approving withdrawal requests, which is essentially code for the fact that your requests will never be approved.
You will also discover that Infinitgain also offers trading bonuses, a practice that's not permitted in most regulatory environments due to their malicious conditions. Here as well, the trading bonuses have outrageous minimum trade volume requirements that make it impossible for you to get your money.
Trading Platform
Moving on, you should look at the trading platform provided by a broker because this can indicate what kind of trading experience you can expect to have. You will be in store for additional disappointment because there is no MT4 or MT5 promised at all, which are the two most renowned trading solutions in the market. Instead, Infinitgain promises to provide its clients with an InfinitGain WebTrader. Most scam brokers offer web-based trading platforms, so it shouldn't be a surprise.
The problem is that Infinitgain doesn't seem to be offering a trading platform at all, despite advertising it. There is a wired dashboard that's only available for depositing money and there is no trading option. This is another practice of scam brokers, which shows that you shouldn't trust this one.
Payment Methods
To make deposits, you have to check the payment methods to make sure they are convenient and safe. The Infinitgain website advertises major cards like VISA and MasterCard, which may be reassuring because these come with the option of chargeback. This means that if you are not satisfied or think something shady is going on, you can get your money back. The only problem is that there is no way to confirm that these methods are really available and since the broker is not credible, you cannot just take their word for it.
Final Words
At the end of the day, the glaring issues and misleading information at Infinitgain makes it obvious that it is not a broker you should trust.