---
How To Get Your Money Back From Scammers?
Want to get your money back from a scam?
Fill in the contact form on the page in this link and you will be able to get help in recovering your lost funds! You will be walked through the entire recovery process by a representative of a recommended fund recovery service after which a case will be opened for you by a case manager.
---
EliteTrading Review


Looking to supplement your income through online trading? There are many who are using this route, considering the struggling economy and this has pushed up the demand for online brokers. You can find a horde of platforms offering their trading services and at some point, they start blurring together. What should you do in such a situation? You obviously want a good and dependable platform that can fulfill your trading needs and during your search, you will find EliteTrading. It boasts to be a world-renowned financial services provider and this will pique your interest. EliteTrading review is what you need to learn what it offers.
You will find a range of investment products at EliteTrading, which include more than 1,000 currency pairs. They also offer leverage that is up to 1:400 and five account types for accommodating clients as well as the MetaTrader4 platform. Of course, this makes it a very attractive package, but does it really deliver? You can find out below: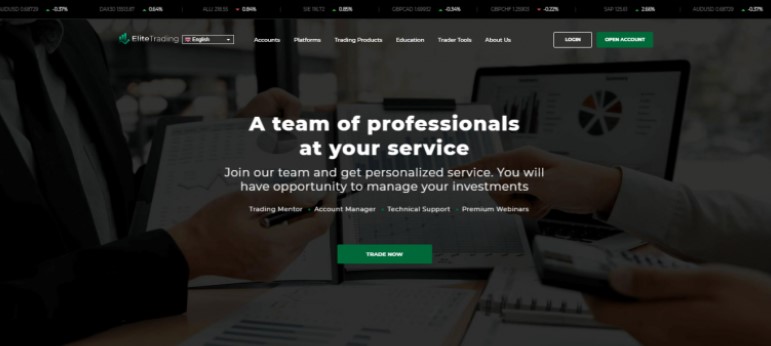 Licensing and Regulation
When you fill out the short registration form on the EliteTrading website, you will be transferred to a portal website, which is tradeidea.co. This is not a broker, but only acts as a portal website and as it turns out, it is on the warning list of a couple of regulators. This portal website is known for luring victims for scam and unregulated brokers and a warning has been issued against it by Belgium's Financial Services and Markets Authority and Italy's CONSOB.
As far as EliteTrading's website is concerned, it claims to be owned and operated by a company named Nesbit Services and Solutions Ltd, which is supposedly based in Estonia. However, the company does not have a legitimate forex license, not in Estonia and neither in the United Kingdom or Austria, where it claims to have offices. All of this only indicates that EliteTrading is definitely not a licensed and regulated broker, which means signing up with it is not safe at all.
Trading Conditions
If the licensing and regulatory status of the broker was not enough, the trading conditions and policies of EliteTrading are also a major red flag. The platform wants you to authorize them to directly withdraw cash from your bank account, which is just not practical or safe. No legitimate brokerage would ever ask its clients to do so and it also implies that they may try and trick you into sharing your personal bank information. To make this happen, you may have to share your security code and credit card number, which exposes you to numerous risks.
Apart from that, you will also notice that there are different kinds of fee being charged by EliteTrading, which includes a monthly maintenance fee, a profit clearance fee, along with a monthly dormant fee of 50 USD. This is applicable in two months of inactivity. These fees are also highly unusual and not charged by legitimate brokerages. Yes, they do impose dormant fee, but it is usually applicable after a year
A test with the demo account at EliteTrading also shows that the spreads for the EUR/USD pair is around 3 pips and this is at least twice more than what is usually charged in a standard account. No one would want to pay so much fee.
Trading Platform
As stated earlier, EliteTrading claims to offer you the MetaTrader4 (MT4) platform, which is certainly a huge perk, but there is something unusual about it. The presence of this reliable trading solution should be reassuring, but it becomes concerning when you realize that it is being provided by a third party known as Traders Volt Ltd. This is not a common practice and raises questions as to why it is being done.
Final Thoughts
You will also find that no information about payment solutions is provided by EliteTrading and their bonus policies are also restrictive, making it clear that it is not a good broker.