---
How To Get Your Money Back From Scammers?
Want to get your money back from a scam?
Fill in the contact form on the page in this link and you will be able to get help in recovering your lost funds! You will be walked through the entire recovery process by a representative of a recommended fund recovery service after which a case will be opened for you by a case manager.
---
MT5EXPO Review

Are you ready to engage in online trading? These days, all you need to do is open an account with a broker to get started and this sounds simple enough. However, this doesn't mean that you just choose a platform at random and sign up. Just because the broker is promising you professional trading services does not mean that they are actually going to deliver. The internet is known for its scams and the trading world has also seen more than its fair share of such incidents. Of course, no one wants to willingly fall into such a trap, but they do make this mistake. Going through this MT5EXPO review can come in handy.
This is because the best way for you to get around the trap is to know everything possible about the broker. You don't just accept their claims at face value, but actually verify them and this means looking into the broker closely and carefully. Scam brokers deliberately present themselves as professional and reliable platforms to confuse people and this is exactly the scenario you will come across at MT5EXPO. It has presented itself as an award-winning brokerage that provides forex and CFD trading services to its clients on the cTrader platform.
The broker also claims to have regulation in Cyprus and these credentials do sound very attractive. The only problem is that MT5EXPO is telling you nothing but blatant lies because it just wants to trick people into signing up on its platform. This is why you need to be careful because scam brokers are never what they portray themselves to be. How does MT5EXPO do so? Let's take a look: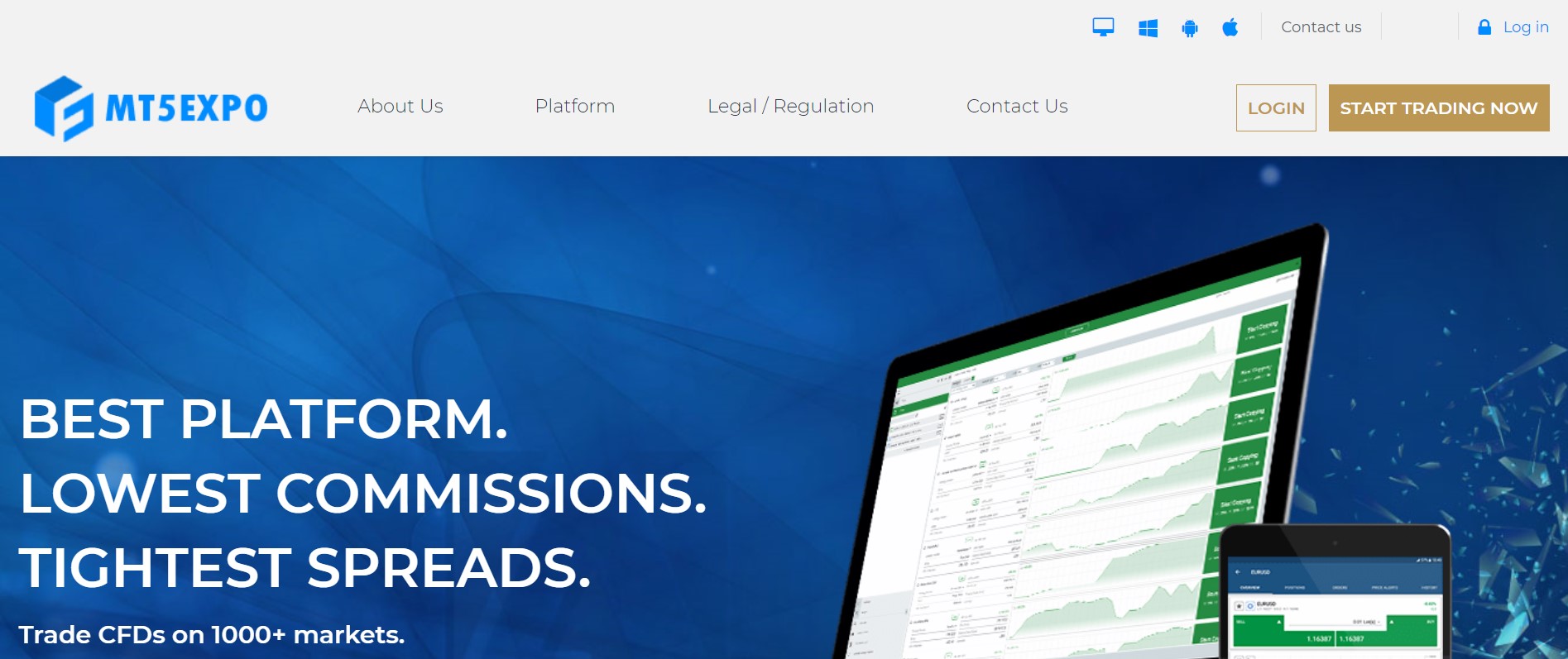 Regulation and licensing
It is understood that the best way for you to find out if a brokerage is legitimate or not is by looking at its regulation and licensing. Authentic platforms have a license to provide their services and are under the oversight of renowned regulatory authorities. So, where does MT5EXPO fall? It is well-aware that traders will first look at the regulation and licensing status, so it claims to be owned and operated by a company called TopFX Ltd.
This is actually a Cyprus Investment Firm (CIF), which is under the regulatory oversight of the Cyprus Securities and Exchange Commission (CySEC), which is one of the most well-known regulatory authorities in the world. The problem is that MT5EXPO is downright lying because it has absolutely nothing to do with TopFX Ltd. Yes, the company does own a brokerage, but MT5EXPO is not one of its tradenames. None of the domains belong to MT5EXPO, which means that this broker is pulling a clone scam.
This scam involves using the credentials of a legitimate company to pretend to be legitimate for the purpose of confusing investors. After all, a Cyprus-licensing would undoubtedly be valuable for any company. Another problem with MT5EXPO is that apart from this information, you will not find any other details on their website. There is absolutely no contact information and no physical address available either; essentially, you are dealing with a ghost company you know nothing about.
It is not just lack of a telephone number that's concerning, but also the fact that MT5EXPO does not have any Terms and Conditions, a Customer Agreement, or any other legal agreement that brokers usually have. If all of this was not enough to convince you that it is a scam, you will further discover that the brokerage has been blacklisted by the financial authorities in Cyprus, which is the equivalent of nail in a coffin. CySEC has very strict regulations and MT5EXPO is in violation of several of them, due to which they have blacklisted the broker.
Trading Platform
One of the most important features of a brokerage is none other than its trading platform because without this software, you cannot execute any trades. You need a trading platform to be able to trade and as mentioned above, MT5EXPO is claiming to offer you the cTrader. This seems rather strange because when you check out the name of the broker, you would think that it offers the MT5 i.e. the MetaTrader 5 trading platform, which is considered the leading platform in the market.
Unfortunately, you will find that MT5EXPO is just a name and there is no MT5 available. But, what makes things worse is that there is no cTrader available either. Indeed, it doesn't look like the brokerage is willing to offer any kind of trading because all they have is a dashboard. It only has a third-party chart and there is no option to trade. This is just more evidence that the brokerage is nothing but a scam. After all, you cannot possibly do any trading without a trading platform.
Payment Methods
When you want to trade online, it is understood that you would have to deposit your money for trading. Likewise, you expect to make withdrawals in the future as well, after you have made your profits. This obviously means that you need to check the payment methods supported by the broker. Traders want to have fast and easy solutions and MT5EXPO promises the same. You will find that it accepts deposits only in the form of Bitcoin.
Some people may not be surprised by this because Bitcoin has become very popular nowadays, so the fact that MT5EXPO is offering Bitcoin deposits may be seen as a modern payment option. However, you should note that crypto deposits are final and anonymous. This means that you will not be able to do anything in case you get scammed. Using payment options like Visa and MasterCard does give you the option of filing a chargeback and getting your funds back, but you cannot do this here. MT5EXPO has not given you these options for this purpose and if you deposit funds with them, they will be lost forever.
Final Verdict
After you have gone through everything that the MT5EXPO has claimed, you can easily conclude that this broker is certainly not what it claims to be.