---
How To Get Your Money Back From Scammers?
Want to get your money back from a scam?
Fill in the contact form on the page in this link and you will be able to get help in recovering your lost funds! You will be walked through the entire recovery process by a representative of a recommended fund recovery service after which a case will be opened for you by a case manager.
---
Profit4x Review

Everyone who is even remotely interested in the financial markets has heard of the existence of scam and fraudulent platforms. They have existed for as long as the markets themselves and there have been a multitude of stories of people who have suffered at the hands of these shady companies. But, the question is why do people continue falling for these scams? Shouldn't they know better by now? Yes, they should and they do, but the problem is that these scammers have also evolved and this makes it difficult for people to spot them. A look at this Profit4x review can show you how daunting this task is.
When you first check out the Profit4x website, it is undoubtedly going to leave a very good first impression. After all, you will not find any of the obvious scam signs. They have not given you any vague information and have presented all relevant information outright. This includes the trading conditions they offer, their licensing credentials issued by the Financial Services Commission of Mauritius, along with their account types and more. They are also offering the MT4 trading platform and their trading conditions seem to be very decent.
What does all of this tell you? You would obviously assume that Profit4x is a good investment platform and can offer you a profitable and smooth trading experience. There doesn't really seem to be anything wrong with the platform at all and this remains the case until you begin looking a little deeper. This is when you find out that there are plenty of things that don't sound right and you should probably avoid this broker. What are they? Let's take a look: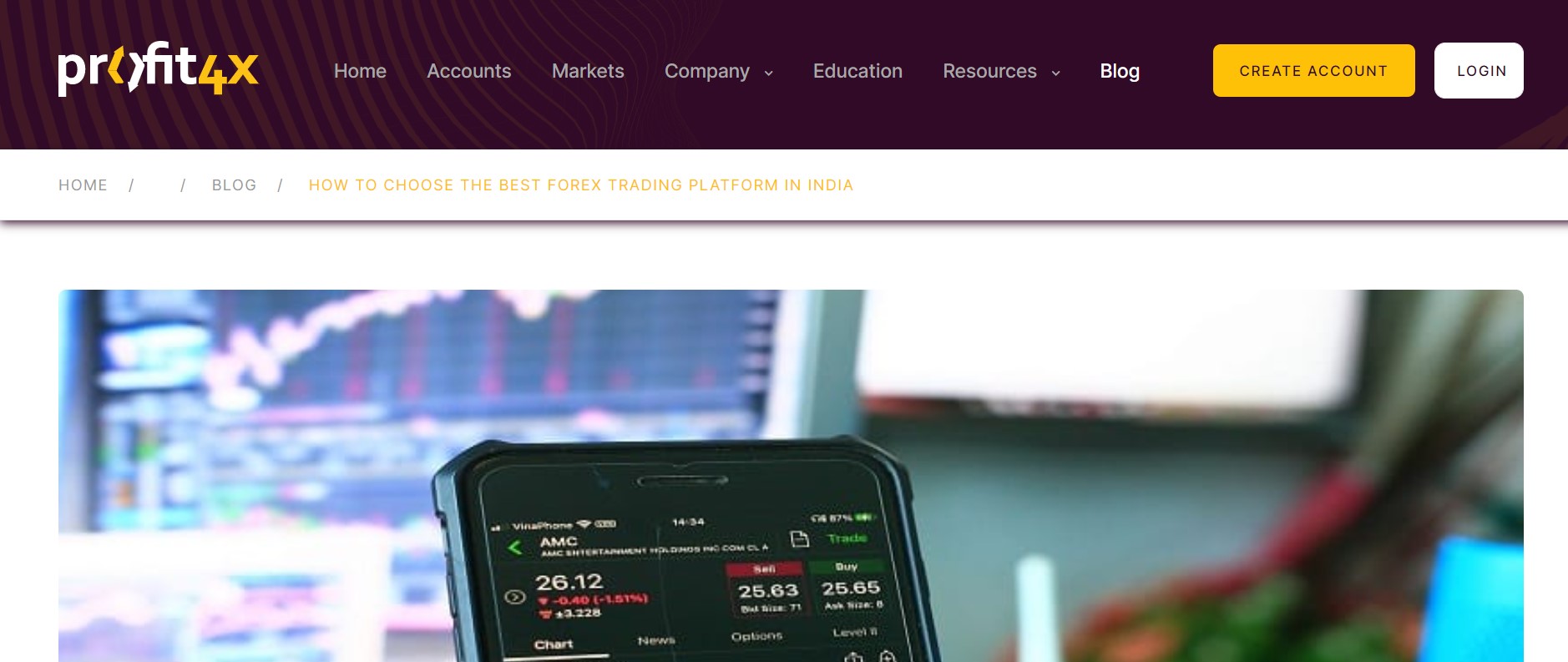 Their company information is inconsistent
At first glance, everything may look to be just the way it should be with Profit4x, but a closer look will tell you that the information you find is very inconsistent. Every broker needs to provide clear ownership information because you are handing them your hard-earned money and you don't want to do that when you don't know anything about the company. But, the information you will find at the Profit4x website is rather messy.
If you check out the footer of the Proft4x website, you will discover that they claim to be owned and operated by a company named GLO Emerging Markets Limited. This company is registered by the Financial Services Commission of Mauritius as an Investment Dealer. This would have been enough, but if you go through the legal documentation on the Profit4x website, you will come across some conflicting information.
Here you will find that Profit4x claims to be a tradename of a company called PROFIT4X LIMITED, which is registered and authorized in Seychelles. This leads to confusion because there is no way to determine who actually owns and operates the broker, which creates uncertainly. Moreover, it is important to note that both Mauritius and Seychelles are offshore jurisdictions and their licensing does not really hold the same value as some of the other destinations like the US, US, Australia and Europe.
Hence, even if Profit4x is licensed by the FSA in Seychelles, this doesn't automatically make it reliable. Also, GLO Emerging Markets Limited is indeed registered in Mauritius, but there is no information about the domains it operates. This means that there is no way to verify if it is even connected with Profit4x or not.
They ask for identity documents
The fact that Profit4x asks for identity documents from their clients should not be a problem. After all, most legitimate brokers do ask for such information for account verification before withdrawal requests can be processed. This is usually in compliance with AML (Anti-Money Laundering) and KYC (Know Your Customer) policies. But, it is a worry here because the broker is asking for an ID card even before you are allowed to make deposits.
This is definitely not the norm and should be considered a warning because your personal information could be at risk. It is possible for Profit4x to be involved in different scam schemes, including identity theft and you don't want your personal data to fall into the wrong hands.
Their spreads are unrealistic
It is of the utmost importance for traders to check the trading conditions they will be provided by a broker because they directly affect your profits in the long run. You need to know the costs and fees you will incur, so you can have an idea of the returns you should expect to make. You will find that Profit4x offers you a demo account that can be used for testing their MetaTrader4 trading platform. This is an advantage because it allows you to test their spreads.
It is a good idea to decide to do so because you will find that Profit4x is charging a spread of 0.2 pips for the EUR/USD currency pair. Now, this is definitely a surprise because when the spread is too low, it means that something is too good to be true. Profit4x doesn't charge any commission after such a low spread either and this is worrisome because no brokerage would ever do so. This is an indication that some manipulation might be going on.
Their leverage ratios are too high
Another trading condition that you need to check when signing up with a broker is their leverage ratios because they affect your trading flexibility. A quick check of the leverage offered at Profit4x is another surprise because they are offering excessively high leverage ratios. In addition, these high levels of leverage have been advertised as an advantage, which they really aren't. Why? While this financial tool does give your profit potential a boost, you shouldn't forget that it also comes with a great deal of risks. Therefore, most jurisdictions have imposed a limit on the maximum amount of leverage that can be offered.
Closing Thoughts
You should understand by now that falling for Profit4x's first impression is a mistake because it is not what it presents itself to be.