---
How To Get Your Money Back From Scammers?
Want to get your money back from a scam?
Fill in the contact form on the page in this link and you will be able to get help in recovering your lost funds! You will be walked through the entire recovery process by a representative of a recommended fund recovery service after which a case will be opened for you by a case manager.
---
Starleeft Review

Unless you have been living under a rock for the last few decades, you are probably aware that scams and frauds are a common occurrence over the internet. This means you need to be cautious when you are putting your money and data anywhere because you don't want to become a victim of financial fraud, or even identity theft. This is also applicable when you are signing up with an online broker to trade in the financial markets. You don't want to choose a shady brokerage that will end up scamming you at the end of the day. One way to mitigate the risk is to go through this Starleeft review.
How does this help? The best way for you to be able to identify a scam brokerage is by figuring out how they operate. This sheds light on the flaws they have that make them easy to distinguish. There was a time when people could identify scam brokerages just by looking at their website design and spotting some obvious mistakes. However, these scammers have gotten better and now it is not that simple. You will find Starleeft to be an excellent example of how these fake brokers portray themselves.
It is advertised as a legitimate brokerage, which is a part of an international group. But, when you start looking into Starleeft and its offerings, then it will not take you long to learn the reality. In fact, it is actually just a Ponzi scheme and nothing more. What are the signs of a scam? You can check them below: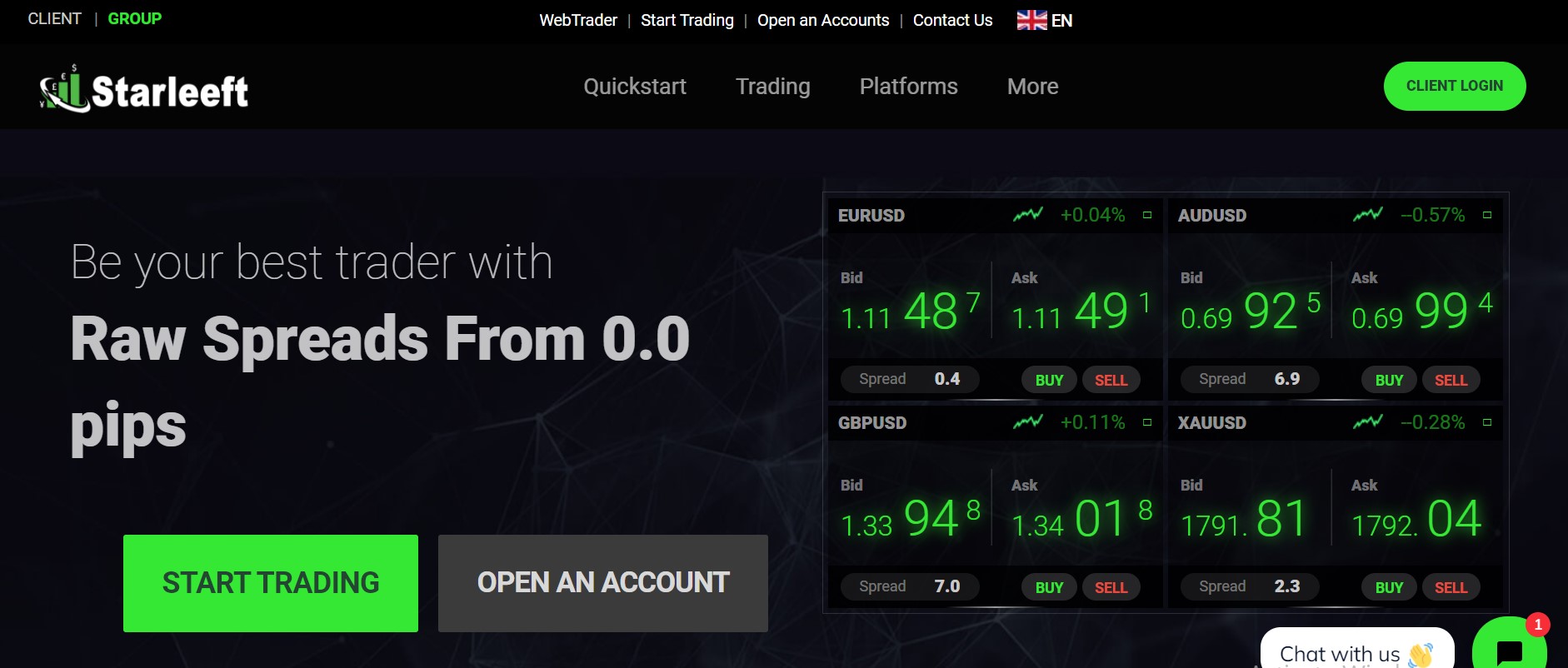 False registration claims
First things first, you should always check out the registration and licensing of a broker to determine its authenticity. As scammers are aware that this is where people look first, they have come up with the tactic of firm cloning. Essentially, this involves using the details of a legitimate company to portray itself as legitimate and this is exactly what Starleeft has done. It has made some big licensing claims, such as being under the regulation of the Seychelles Financial Service Authority (FSA), the Cyprus Securities and Exchange Commission (CySEC) and the Australian Securities and Investment Commission (ASIC).
Of course, all of these are quite impressive, until you dig into the details. First off, Starleeft claims to be a tradename of Raw Trading Limited, which is registered and authorized in Seychelles. This is an offshore entity and has nothing to do with the broker. Secondly, it claims to be registered in Australia under the tradename of International Capital Markets Pty Ltd., which is the parent firm of another renowned broker IC Markets. This also has nothing to do with Starleeft, which shows that all of these are just blatant lies and nothing more.
Blacklisted brokerage
If there is one thing that can prove for certain that a broker is unreliable, it is a warning issued against it by a regulatory authority and this is exactly what has happened in the case of Starleeft. It has been blacklisted as a scam by one of the world's most reputed regulatory authorities i.e. the Financial Conduct Authority (FCA) in the United Kingdom. It is understood that the broker has been blacklisted because it is providing illegal trading services to people in the UK, something that the FCA does not tolerate, as it is the entity that issues licenses to brokers in the region.
Impossible returns on investment
The financial markets are known for their volatility, which makes them quite lucrative. It opens up the possibility of making high returns, but it is also understood that there are no guarantees. As the markets are unpredictable and volatile, it can go in the opposite direction as well and you can end up with hefty losses. Therefore, anyone who is promising you guaranteed returns from any venture in the financial markets is an immediate scam. Even the most skilled and professional traders cannot do so because they may also incur losses.
Yet, when you go through the offerings on the Starleeft website, you will find that the brokerage is doing this. They have come up with investment plans that they are offering to their clients and each is offering people a certain percentage of returns. You need to be wary of such offers right away because they are completely ungrounded. Most importantly, a broker cannot help you in making profits because they operate as market makers.
Their business model is such that they make profits every time their clients lose a trade. Thus, when you give the responsibility of managing your account to the broker, it is obvious that they would mismanage it and you will suffer from losses, as this translates into profit for the broker. This is further proof of the fraudulent nature of Starleeft because a genuine brokerage would never offer such investment plans as they know they are against their business model and not practical either.
Lack of trading platform
Why is an online broker needed to trade in the financial markets? They provide the trading platform that people use for executing their trades. Without this software, you will not be able to track the market movements, or execute any transactions. Therefore, it comes as a shock when you discover that Starleeft does not offer a trading platform at all. No genuine broker would ever do that because this is the primary feature they offer to their clients.
Yet, when you visit the Starleeft website, you will find something that resembles a trading platform, but is just an illusion. It is just a Bitcoin price chart and you will not find any option of trading at all. This is clearly a scam because legitimate brokers would offer you a professional trading platform like the MT4, the MT5 or cTrader.
Final Word
These are some of the signs that you have to understand and spot when you are looking at brokers. All of these indicate that Starleeft is nothing more than a scam platform and cannot offer you genuine trading services.