---
How To Get Your Money Back From Scammers?
Want to get your money back from a scam?
Fill in the contact form on the page in this link and you will be able to get help in recovering your lost funds! You will be walked through the entire recovery process by a representative of a recommended fund recovery service after which a case will be opened for you by a case manager.
---
Selfkings Review

When you start looking for an online broker to trade with, you have to bear in mind that there are two kinds of brokers that exist; professional and authentic platforms that offer you good trading services and fraudulent and scam ones that are just after your money. You obviously want to sign up with a company that belongs to the former category, but the fact is that distinguishing between the two is not that straightforward. You have to be very thorough and attentive because it is very easy for these scams to masquerade as legitimate platforms. This Selfkings review highlights how this is done.
When you take a look at the Selfkings website, you will realize that it is advertised as a transparent, honest and open broker that boasts an incredible reputation. It is represented as a leader in online trading, one that is recognized by professionals all over the world. Sure, all of this sounds inspiring and may prompt many people into signing up, but when you read between the lines, you will come to know that Selfkings is nothing but a fraud. How? Let's find out: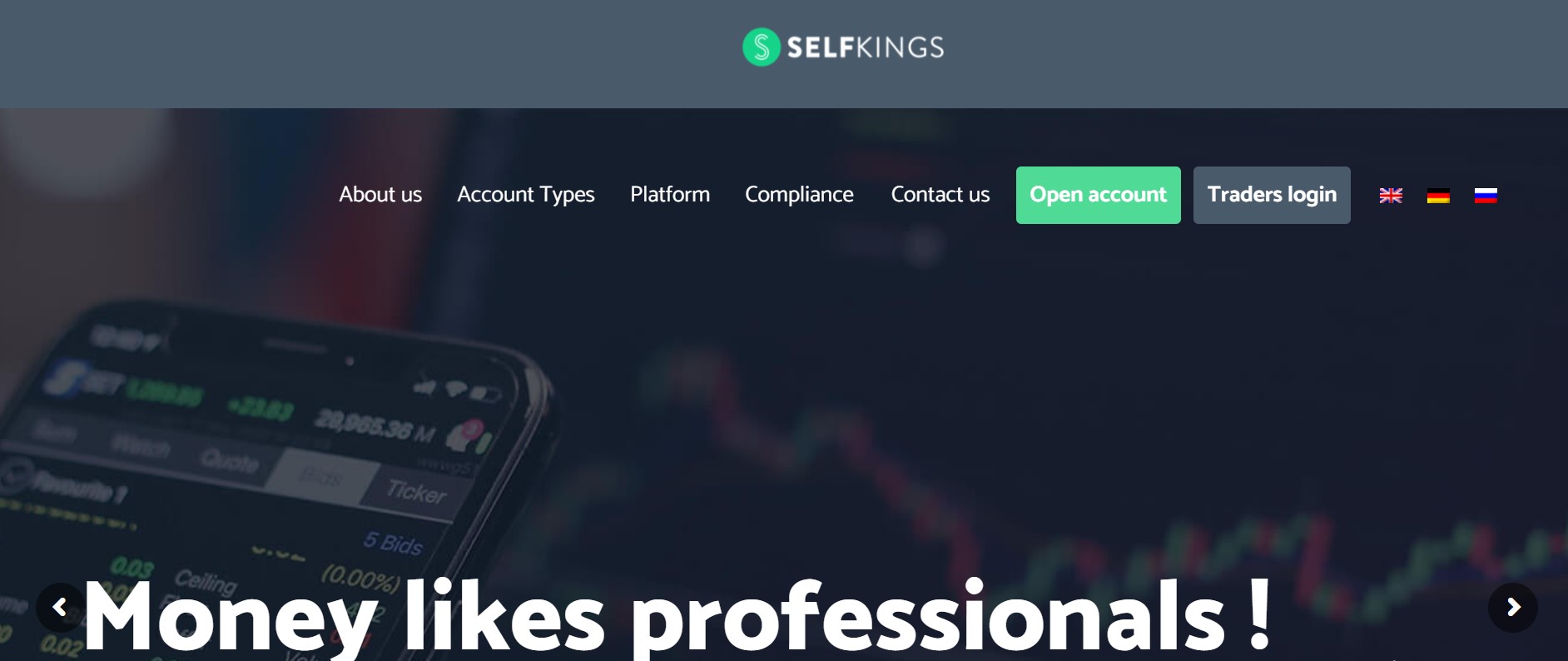 There is no regulation or license
The best way to determine the authenticity of a broker is to check their regulatory status and license and you will be disappointed in this aspect when you check out Selfkings. According to their details, they are owned and operated by a company named Xem Cloud Ltd, which is based in the Marshall Islands. This is an offshore jurisdiction, where brokerages are not regulated. This means they are not subject to any rules and regulations and can do pretty much anything. Plus, you will not be able to identify the true owners of the company, which means you cannot take any legal action if something goes wrong.
They have malicious terms and conditions
It is not just the regulatory and licensing status of Selfkings that's a problem. Their terms and conditions are downright malicious and clearly indicate what kind of intentions they have. First off, they are offering trading bonuses to their clients, a practice that's banned in various jurisdictions due to its abusive nature. The bonuses here come with the requirement that you have to make a deposit to match the bonus given, or else you will not be allowed to make any withdrawals.
No legitimate platform would ever stop its clients from accessing their funds like Selfkings does, which indicates it is a scam. Secondly, you will discover that they have also mentioned they are not committed to a time frame for processing withdrawal requests. This means they can take as long as they want to approve a request, or not approve it at all. It indicates that you will not get your money once it is deposited with the broker.
They don't have a good trading platform
A good trading platform can make all the difference in your trading experience, but unfortunately, you will not find one available at Selfkings. If you take a look at their offering, you will come across a cheap web-based trading solution that doesn't come close to conventional and industry-leading solutions like the MT4 and the MT5. These are known for their advanced technology and cutting edge tools and features, which you will find lacking in the platform provided here.
They don't disclose payment methods
Another major issue that you will come across on the Selfkings platform is that they have not disclosed what payment methods they support. This is a problem because you want to have access to solutions like debit and credit cards that come with a chargeback option, which means you can get a refund in case of a problem. Other methods are permanent and irreversible, which means your money will be gone forever.
Final Decision
Choosing Selfkings as your brokerage is not the right choice because it has all the hallmarks of a scam and should be avoided.