---
How To Get Your Money Back From Scammers?
Want to get your money back from a scam?
Fill in the contact form on the page in this link and you will be able to get help in recovering your lost funds! You will be walked through the entire recovery process by a representative of a recommended fund recovery service after which a case will be opened for you by a case manager.
---
WBIinvest Review


When you make a decision to start trading in the financial markets, your priority should be to find a good and professional broker that can help you throughout your journey. Sure, there are thousands of those out there promising to offer you everything they need, but a little bit of research will tell you that not all of them are good enough. In fact, some of the platforms are downright scams and have exploited a number of people, which is undoubtedly devastating. You need to read through this WBIinvest review to avoid a similar outcome.
Why? This is because WBIinvest comes off as an industry leading and reputable platform that's offering a substantial variety of trading instruments, dedicated service, competitive spreads and limitless opportunities for traders all over the world. Moreover, the broker is promising a bright future for its clients and this sounds downright fantastic. The reality, on the other hand, is the exact opposite. Here is the review that can shed some light on who WBIinvest really is: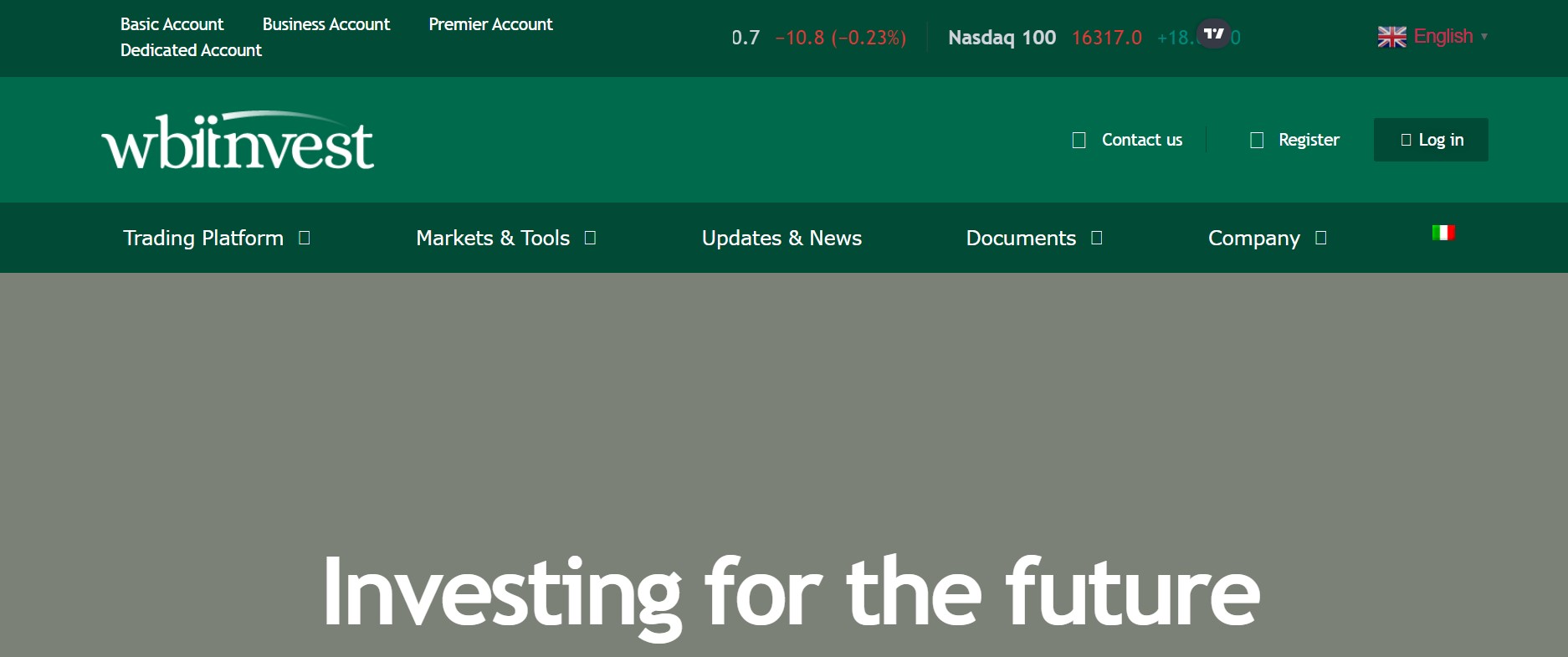 Absence of licensing and regulation
The first sign of a genuine company is proper licensing and regulation and you will find that this is one area where WBIinvest is lacking. A look at their website shows that they claim to have offices in the United Kingdom, but an unproven address doesn't really mean a thing. Their website appears to be virtually anonymous because they do not provide any details about the company behind the platform or any other relevant detail.
You are supposed to accept that WBIinvest has an office in the UK, but if you check the register of the Financial Conduct Authority (FCA), which is the regulator in the country, you will not find their name mentioned anywhere. Thus, either the broker is lying about where it is located, or is operating illegally from the UK because it does not have a license to do so.
Malicious Terms and Conditions
If you need further proof about WBIinvest not being a good broker, all you have to do is go through their Terms and Conditions. The purpose of these legal documents is to outline the relationship between traders and the company and theirs indicate just how malicious they can be. First off, you will come across their withdrawal policy, which shows that they will charge a 10% levy if you try to submit a withdrawal request without having achieved a specific turnover.
No authentic brokerage would ever impose such a requirement on its clients and prevent them from accessing their own money. Moreover, another issue with the WBIinvest's withdrawal policy is that they have said they are not committed to a time frame for processing withdrawal requests. This means they may never approve your requests at all.
Another problem you will find are the two benign icons near the lower right corner of the WBIinvest website. These are related to AnyDesk and TeamViewer, which are remote desktop applications. Scam brokers usually offer these apps to ask for installation details from their clients, which give them access to their PCs. Hence, they will be able to access all your personal and confidential data stored on your computer, including your banking details and passwords.
Problem with the trading platform
The fact that WBIinvest is offering the MetaTrader4 trading platform might impress some traders, as it is recognized as an industry-leading solution. However, you should note that the platform on the WBIinvest website is unbranded and it is being offered through a third-party website named Monographic Technologies Ltd. There is absolutely no information available about this company.
False claims about payment methods
As per WBIinvest, they accept VISA and MasterCard payments, but this turns out to be a lie. They only accept payments via a few obscure third-party payment services like Game Changers, Finanic and PayCent, none of which are reliable and there is no chargeback option available, as in the case of debit and credit cards.
Conclusion
Keeping in mind these big issues with WBIinvest, you can conclude that it is not a good broker for your trading journey.