---
How To Get Your Money Back From Scammers?
Want to get your money back from a scam?
Fill in the contact form on the page in this link and you will be able to get help in recovering your lost funds! You will be walked through the entire recovery process by a representative of a recommended fund recovery service after which a case will be opened for you by a case manager.
---
Trade Kings Review

The financial markets are the talk of town these days because despite the tough economic conditions, they are offering solid returns on investments to people. Therefore, it is not a surprise that the demand for online brokers has surged amidst the increase in traffic in these markets. A search on Google will reveal that there is not a shortage of companies offering their services, but the problem is that not all of these platforms are what they claim to be. Some of these are fraudulent and operated by scammers for the sole purpose of conning people out of their money. This Trade Kings review can show you just how it is done.
Scam brokerages are certainly not a new concept; they have been around for as long as trading itself, but the problem is that they appear to have evolved as well, making it immensely difficult for people to be able to identify them right away. They know just how to conceal their reality and present an attractive front to draw in and exploit people. What does this tell you? Put simply, when you are shopping for a broker, you need to find a legitimate one and this means doing some due diligence like going through this review below.
After all, a broker like Trade Kings is bound to catch your eye because it claims to be operating in the market for about 30 years, operating from Glasgow, Scotland and with more than 16 million satisfied and happy customers. Your first glance at this broker will make it seem as if it is everything you need for a smooth and profitable trading journey. They make some big promises and claims that can be very convincing. However, the reality of this broker is the polar opposite and you can find out the details here: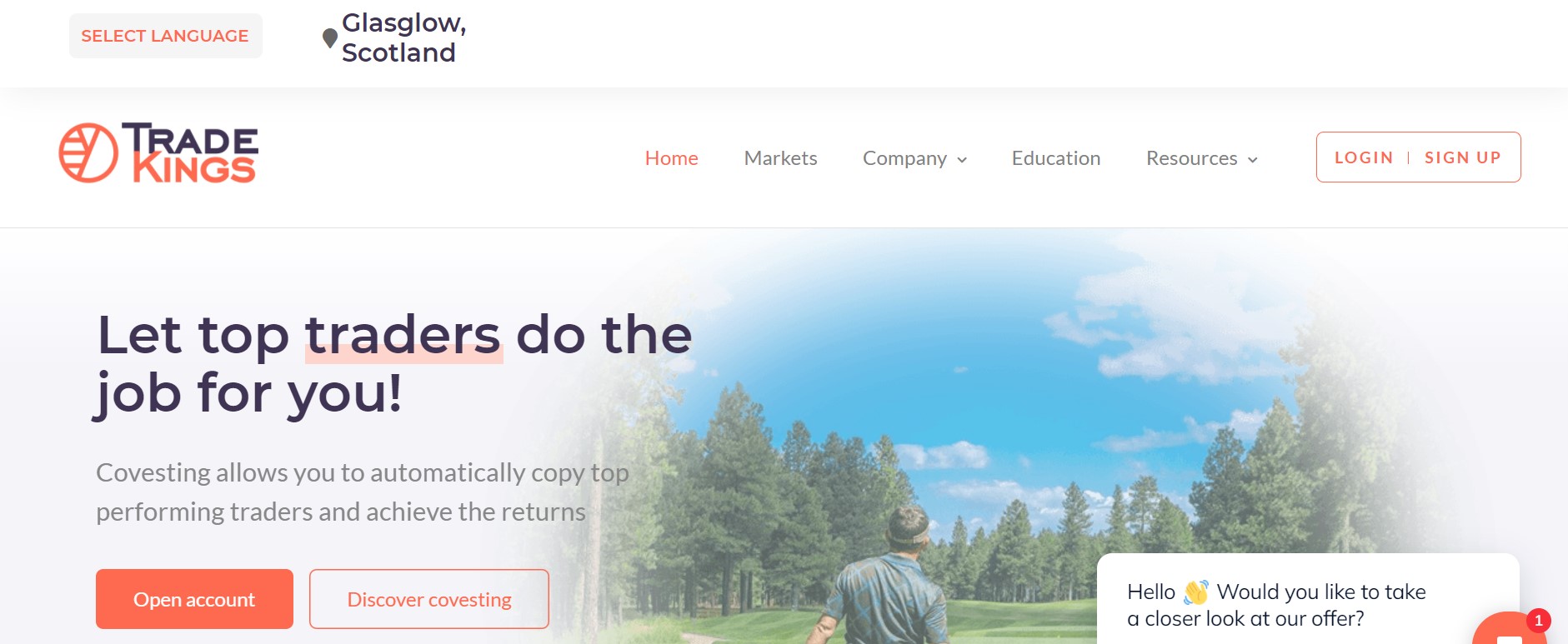 It is a serial scam
The first indication that Trade Kings is not a reliable broker is the fact that it is actually a serial scam. How? This is because the content and the virtual layout of the Trade Kings website is similar to a dozen others and the most recent one is fxperfectrade.com. You will find a ton of similarities between the two brokerages and even their Marketing Specialist and Chief Executive Officer are the same. This is a normal practice of scammers to introduce multiple platforms for exploiting as many people as possible.
It offers guaranteed returns
When you go through the offerings on the Trade Kings' website, you will find that they have two account types available, which are Classic and Platinum. The minimum deposit needed for these accounts is $1,000 and $10,000, respectively. First things first, the minimum deposit is on the high side, especially for the Classic account, as most brokers don't charge more than $250, or even less. Secondly, you will also find that you are promised returns of 2.5% and 3.5% on a daily basis.
There is no doubt that this sounds like a fantastic offer, but what it should do is set off alarm bells in your head. Why? This is because no authentic broker would ever promise you guaranteed returns the way Trade Kings is doing. The financial markets are not risk-free and their volatility is unpredictable. Hence, it is not possible for even the most experienced and skilled traders to guarantee anything and anyone trying to do so is just trying to scam you.
The same is the case with a broker like Trade Kings because it cannot promise you guaranteed profits if it is genuine. Secondly, it is important to note that if it is really a forex and CFD broker, then its business model is that of a market maker. This means that it will only make profits when its clients lose trades. So, how is it offering to help you manage your account?
Indeed, you will find that Trade Kings promises to help its clients in managing their account, but this creates a conflict of interest. If its clients earn profits, it loses, so how will it assist you? The truth is that all they will do is mismanage your account so they can make profits at the end of the day.
Absence of licensing and regulation
Licensed and regulated brokers are considered genuine and authentic everyone, as long as a reputable regulatory authority is behind them. Even though Trade Kings claims to be globally licensed and regulated, this is just a farce. When you scour through their website, you will find that they have added two certificates of incorporation, one of which is from the UK and the other from Bermuda.
First things first, certificates of incorporation cannot be substituted for a legitimate license issued by a regulatory authority, so these documents are essentially worthless. For instance, Trade Kings would need a license from the Financial Conduct Authority (FCA) to be able to operate in the UK, especially if it was really based in Glasgow, Scotland. But, it doesn't appear to have one at all, which means it is not licensed, or regulated.
No functional trading software
The trading software that a broker provides is what you use for executing your trades in the market, but you will discover that Trade Kings does not offer you a functional trading platform at all. After completing your registration, you are transferred to a funny looking platform that is not functional at all and is just meant to create the illusion of one. In contrast, legitimate brokers usually offer their clients one of the leading trading software in the market, such as MT4, MT5, or the cTrader.
Only crypto payments
When you go through the Trade Kings website, you will notice that they appear to support several payment methods, as they have logos of PayPal, Skrill, Neteller, VISA and MasterCard. However, the only payment method they do support is cryptocurrency, which is a favorite of scammers because it is anonymous and irreversible. This means there is no option of filing for a chargeback, as in the case of VISA, MasterCard, or PayPal.
The Final Verdict
These gaping holes in Trade Kings indicate that it is a scam brokerage and nothing more.